G: Tell us about what do you do?
I'm a street artist from Paris. I practice stencil, and I paste my creation on the walls of the city. I enjoy working on figures from artistic world, mainly from music but not only. It could be also actors or sculptors. In fact, I like working on people I like and who are (or were) important to me regarding to my artistic culture construction.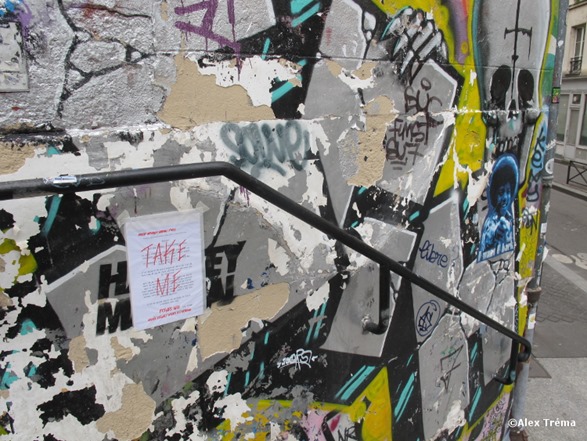 G: Tell us a bit more about your current project?
The innovation in my art, is certainly my artistic project called TAKE ME. I created it on last May just before a personal trip in New York. It was impossible for me to go there without realizing something in the streets. It was the beginning of TAKE ME, which was realized now also in Paris Marseille, Napoli, Lille & Milano. This project consists in dispersing in a city 24 original artworks packed in a translucent outer , taped on walls, and just written on it in red TAKE ME. Curious people who discover outers, find inside the artwork I specially created and also a letter to explain the project.
Explanations invite them to send me back, through Facebook or my email a picture they took of the piece they found. They are totally free about the mise en scene. Then, they become an active part of the project.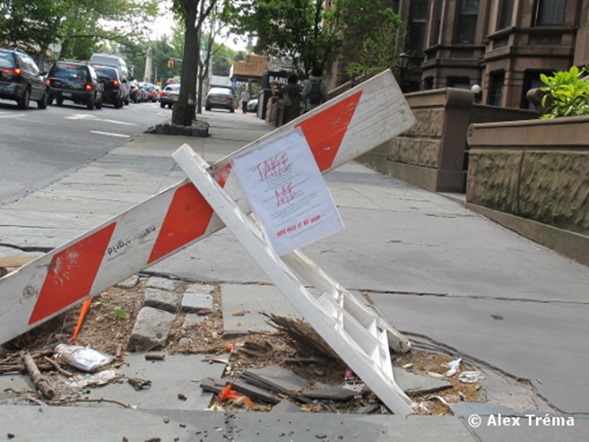 My aim with this project, is to offer something I created to somebody I don't know. It is a meeting by chance between me and someone I don't know, but someone who is positively curious. I'm very happy about contacts and feedback I can have through this project. It is rewarding a lot for me. I consider I'm very lucky and I thank a lot all people who contact me because it is my source of motivation and pleasure. This project is based on simplicity, and generosity, 2 values which are less and less present in our societies. The 7th step is now in London and mainly in East London, from the 24 to the 26th of February. I hope Londoners will be curious and active and creative on this project. The figure I chose to paint for TAKE ME LONDON is Joe Strummer, in tribute to the clash and their song London Calling.
G: How would you describe the art scene in Shoreditch/East London?
In my mind, Shoreditch is a very special place. Concerning street art, it is a reference in the world. You can find a lot of different styles, realized by the major street artists. In general, Shoreditch & East London are a source of creativity for a lot of domains art, fashion,… For me the most difficult thing is to keep this original spirit for the future time.
G: Who/what are your favorite Artists/Businesses in the area?
Of course my favourites one are street artists. Banksy, Ben Slow, Pure Evil,… and also all foreign artists who are coming to paint in this famous area.
G: What are your favorite places in Shoreditch?
One of my friend created a clothes shop (BLANK) in front of the famous beigel restaurant on Brick lane st. Then I came several times to Shoreditch. Last time it was 6 years ago. I think it changed a lot. Then I will wander in the streets, waiting for good surprises & good vibrations. I will also read some topics on Made In Shoreditch blog to find good spots ;)
G: What are your future plans?
My future plan is to continue my favourite project TAKE ME. I will realize it in Strasbourg on next March, Lisbon in April, and a second time in Paris to celebrate the 1st anniversary of this project for a collective session with other artists which will be called TAKE US. In the same time, I will also continue to paint and past my realizations on the Parisian walls.