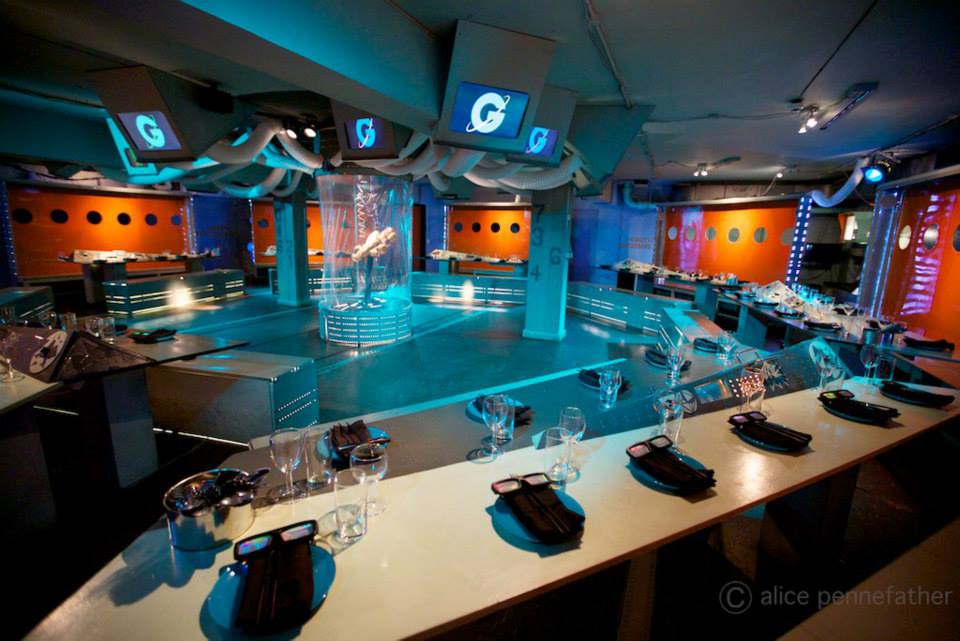 Having been hidden away inside a multi-dimensional dining Machine for nigh on nine solidly sold out months, with 20,000 intrepid explorers trekking through a series of parallel realities full of culinary capers; the time has come for Gingerline, the pioneers of underground immersive dining, to reignite their most famous nomadic theatrical supper club – Classic Gingerline –  on 12th April 2016 with a new mind-blowing dining adventure.
Taking place in a top-secret location somewhere on the East London Line (the Gingerline), brave diners and theatrical thrill-seekers are invited to come together in one immersive experience and encounter a fantastical food foray – where mouth-watering cuisine, delectable drinks and cutting edge performance collide into one tremendously tantalising tour-de-force.
As with all Gingerline projects, what happens behind hidden doors must remain shrouded in secrecy. Daring diners buy tickets without knowing a single detail about where or what the experience will entail. The location is revealed just 60 minutes before the event begin and once back in reality, Gingerlovers are sworn to a code of total secrecy; protecting the clandestine nature of the projects.
The welcome return to Classic Gingerline roots is certainly one not to be missed, with delicious five-course feasting, a welcome drink, menu keepsake and an extraordinary night of revels and revelations to boot. Past events have included initiation into the secret cult of Gingerline in a Canonbury Chapel, diving deep under-the-sea in a Shoreditch based submarine, soaring through space with alien encounters to approach Planet Gingerline and a tumble through labyrinth corridors into a mad puppeteer's workshop in Forest Hill.
Tickets will go on sale at midday on 08th March for Classic Gingerline adventures commencing in April 2016. Tickets will cost £55-£65. With previous events selling out at lightning speed, readers are advised to book early to avoid missing out and sign up to the Gingerline mailing list (www.gingerline.co.uk) to be one of the first to find out about future ticket releases