Draw Art Fair – the first fair to be held in the UK dedicated to modern and contemporary drawing in all its forms – will be staged in London at Saatchi Gallery from 17-19 May 2019.
More than 50 British and international galleries will take over all three floors of the Saatchi Gallery to present curated solo and group exhibitions of drawings in a museum-style context, showcasing modern masters (Henry Moore, Jean Dubuffet, Francis Picabia, Antoni Tàpies) alongside recent works from the 21st century. Designed to confirm drawing's place at the core of the creative process, the fair will demonstrate its scope and range with works in every medium, from charcoal stick to video and live performance. Founder and director of Draw Art Fair London, Laurent Boudier, likes to quote Ingres when he wrote: "Drawing is the probity of art. To draw does not simply mean to reproduce contours; drawing is also expression, the inner content."
British dealers exhibiting include Marlborough, which will focus on its long tradition of representing School of London and associated figurative artists, including Frank Auerbach, Leon Kossoff, Paula Rego, R.B. Kitaj and Lucian Freud; and Anthony Reynolds who will bring works on paper by the poetically inspired Brazilian artist, Lucia Nogueira, and Lucy Harvey, whose drawings relate to sculptures which, she says, "explore the documentation of the human condition." Bernard Jacobson will show new drawings towards a feature film in cardboard cinema by Bruce McLean and the latest, luminous, atmospheric works on paper by William Tillyer. Introducing a performative element, Redfern Gallery presents a solo display of patterned, geometrical drawings by Linda Karshan with related performances by the artist, while England & Co combine works by the avant-garde abstract pioneer Paule Vézelay with performances by Harald Smykla of his Movie Protocols in which he draws pictographs to transcribe a film he is watching.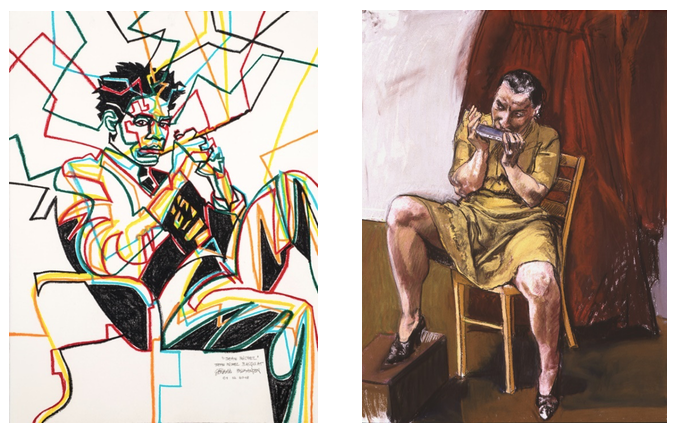 The fair's Strategic Director, Jill Silverman van Coenegrachts, emphasises the importance of the fair in celebrating drawing as the heart of artistic practice. "We read form, shape, line, colour, as if we were listening to music. It is beyond culture because drawing exists in every culture; you do not need to read or understand the language used by the artist. Drawing in this sense is a universal language that Draw Art Fair brings to the London audience in a new way."
Over half the exhibitors will be from outside the UK – from France, Germany, Italy, Belgium, Turkey, China, Japan, Korea, USA, Switzerland, Holland, Spain, Portugal – many of whom will be exhibiting in London for the first time. Jeanne Bucher Jaeger, the third-generation family gallery with branches in Paris and Lisbon, will show works made of and on paper by Zarina Hashmi, and works by Rui Moreira, who draws jewel-like works inspired by his travels. Caroline Smulders, also from Paris, is bringing works by French pop/figurative painter Gérard Fromanger to coincide with his exhibition at the Musée Marmottan Monet in Paris, and by sculptor, Emmanuel Régent, a painter and sculptor whose black felt-tip drawings appear, intentionally, unfinished like overexposed photographs. Otomys, with galleries in the UK and Melbourne, will feature Zarah Cassim's work, often resembling a blurred photograph, and Caroline Denervaud's abstract pieces that relate to movement and balance. For the first time in Europe, audiences will see the almost psychedelic works on paper by Gutai Group artist Minoru Onoda inspired by Japan's industrial mass production in the 1960s; they will be presented here by Anne Mosseri-Marlio Galerie, Basel. HdM Gallery, with branches in London and Beijing, will bring drawings and eerie abstractions by internationally sought-after Manuel Mathieu (Haiti), and the exotic figurations of Romain Bernini (France) and Barthélemy Toguo (Cameroon).
In addition to galleries, there will be rare drawings on show from distinguished institutions and collections in Milan, Berlin, New York and Paris, including from the Tchoban Foundation, Berlin, an exhibition of Utopian Architectural Drawings of Sergei Tchoban; and from the Boyarsky Collection, Twenty Years of Architectural Drawings from the Collection of Alvin Boyarsky, former Director of the Architectural Association. The Noguchi Museum, NYC will bring Isamu Noguchi: 2D to 3D, an exhibition of drawings and sculptures curated by Director Brett Littman.
Following Aleksandra Mir's recent exhibition at the Hayward Gallery and in collaboration with the Saatchi Gallery Collection, Draw Art Fair London is pleased to announce the installation of WALL STREET: Stock Market Up & Down, 2007, fifteen seminal large scale black and white drawings by Mir from the Saatchi Gallery collection. These works chronicle the sensational front pages of The Daily News and The New York Post during the roller coaster days of the millennium with giant front pages replete with the headlines like, SCARY, FREEFALL as the Dow Jones crashed.
Draw Art Fair London, 15–17 May (VIP/Preview 15/16 May)
Saatchi Gallery, Duke of York's HQ, Kings Road, London SW3 4RY