With 550 exhibitors from forty countries, the London Design Fair has many notable faces. Mixing both established and up-and-coming designers, exciting brands and clever curators, the Fair is an incredible showcase of creative talent. With so many faces to see, we've picked out just a few that visitors to the Fair will want to have on their radar.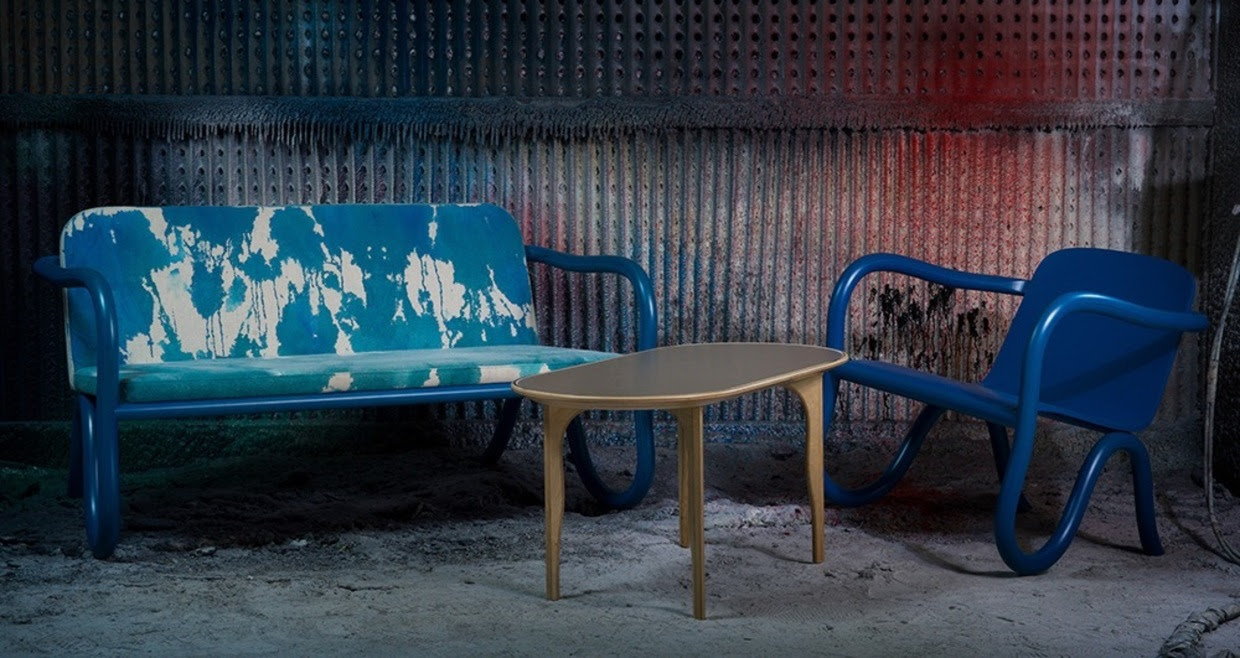 Matthew Day Jackson
Made by Choice, Superbrands
Matthew Day Jackson is a pioneering American artist and a man whose work embraces an impressive array of artistic mediums: sculpture, painting, collage, photography, drawing, video, performance and installation. Jackson was born in Panorama City, California, in 1974, and currently lives and works between Brooklyn, New York and Wilson, Wyoming. Through his art, Jackson tackles just some of the big ideas and conundrums facing humanity: he's curious about the evolution of human thought, the faith we place in technological advancement and, closer to home, the myth of the American dream.
At this year's Fair, Matthew Day Jackson will show his Kolho series of tables and chairs, a collaboration with Finnish brand Made by Choice and surface solutions company Formica. Kolho was inspired by the Apollo landing and is named after the town of Kolho in Finland. A mix of right angles and serpentine forms, Kolho is the physical embodiment of reason, chaos and play, as imagined through the mind of a curious artist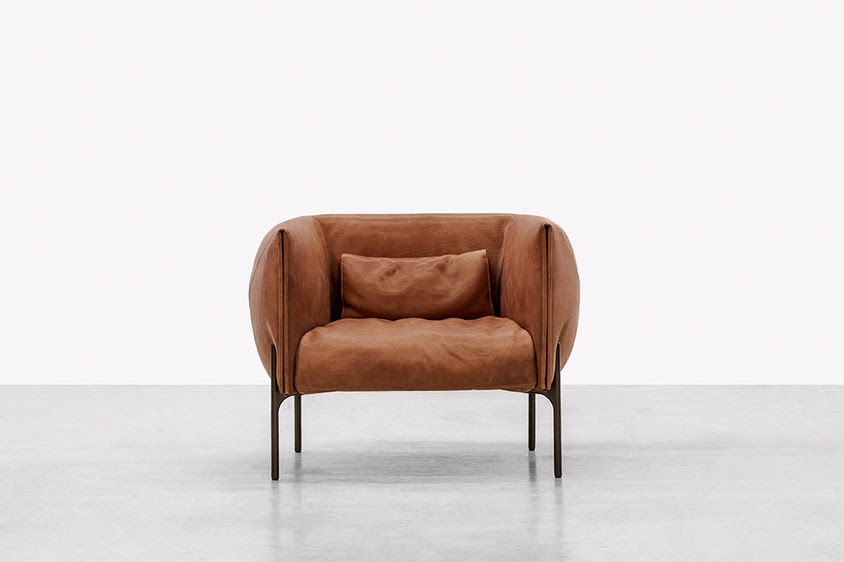 Lucy Kurrein
Molinari, Stand 1.03, Hall 1
A budding British designer, Lucy Kurrein has been diligent in her efforts to forge a creative path. Kurrein established her eponymous studio in London's docklands in 2013, and has since established herself in the design industry through collaborations with international furniture producers.
During 2016's London Design Fair, Lucy Kurrein was part of the 'Trentino Collaborations' exhibition, a venture that partnered four London-based designers with Trentino-based manufacturers. Kurrein created the much applauded 'punchbag inspired' Rondo chair and sofa for Molinari Design. This summer, Kurrein returned to Trentino to work on Otto, a new piece that will launch at the Fair.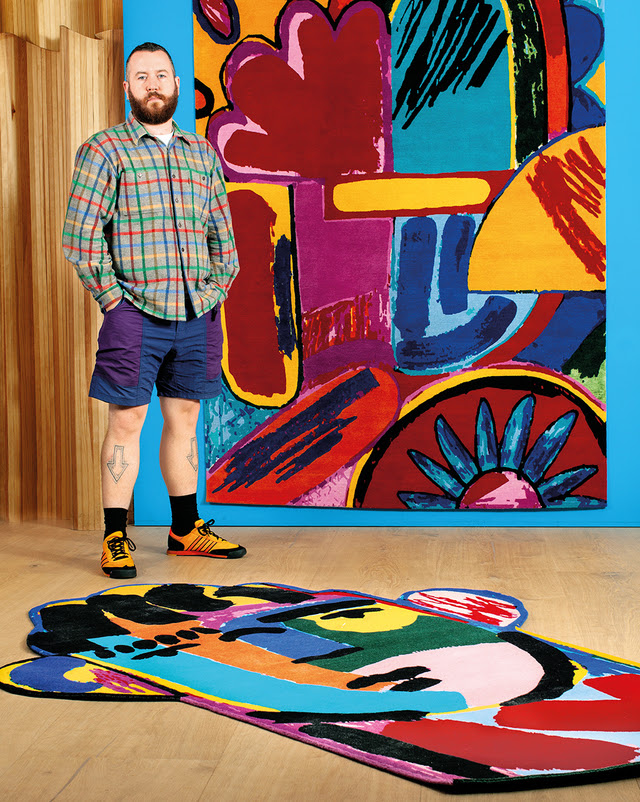 John Booth
FLOOR_STORY, Stand 1.04 Hall 1
John Booth is an artist, illustrator, ceramicist and a polymath of creativity. He was born in Scotland in 1984, raised in Cumbria in NW England and moved to London in 2004, where he studied fashion print design at the world-renowned Central Saint Martins. Since graduating in 2009, Booth has lectured at Central Saint Martins and the University of Westminster, and worked with a number of fashion brands, including Zandra Rhodes and John Galliano, and most recently Globetrotter and Fendi.
John Booth's work has a colourful, cartoonish style, and features multi–layered collages of textures and bold hues. Quirky, cheerful and curious, Booth's work is appreciated for its daring use of colour and somewhat eccentric expression. In collaboration with FLOOR_ STORY, he will launch a new series of brightly coloured rugs at London Design Fair.
Kristian Snorre Andersen and Martin Clausen | Adorno
Adorno: Crossovers, Hall 14
With their shared exasperation for a dearth of diversity in design, Kristian Snorre Andersen and Martin Clausen established Adorno. An online platform that bridges the gap between digital gallery, marketplace and design city guide, Adorno is a hub of great design. By bringing together designers, curators, collectors and enthusiasts from cultural hotspots around the world, Andersen and Clausen have, through Adorno, created a worldwide design community.
With Adorno, Kristian Snorre Andersen and Martin Clausen want to contribute to a design culture that celebrates diversity and difference. Challenging mainstream notions of design, Adorno gives a platform to creatives from lesser known design scenes. At the London Design Fair, Adorno will present Crossovers, a new component that showcases a range of aesthetic, dynamic works by independent designers from eleven countries. Facilitating a cross-cultural dialogue, Crossovers celebrates those designers and communities throughout the world striving to preserve and revitalise local design and craft culture.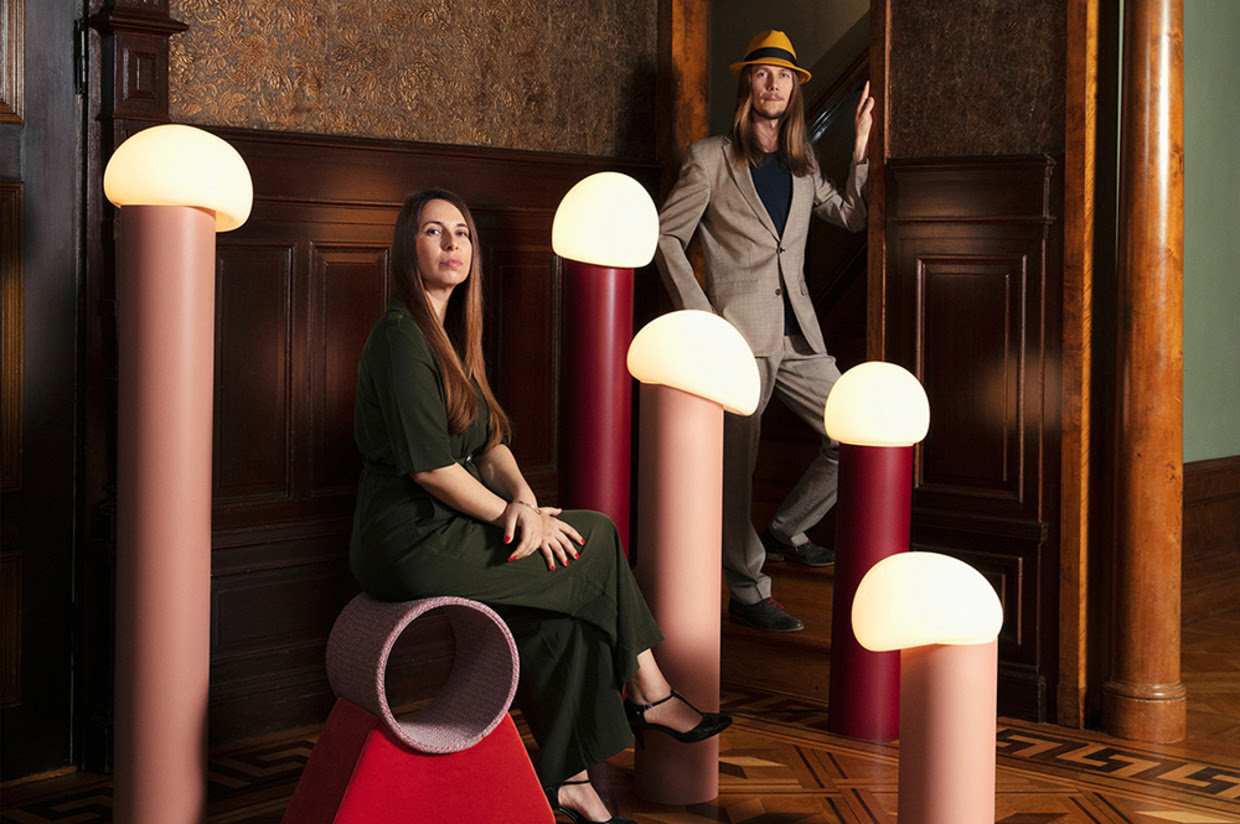 Fredrik Färg and Emma Marga Blanche | FÄRG & BLANCHE
Adorno: Crossovers, Hall 14
Swedish designer Fredrik Färg and French designer Emma Marga Blanche founded the Stockholm-based design studio FÄRG & BLANCHE in 2010. Färg has a background in cabinetmaking and has nurtured a strong interest in fashion, and Blanche, whose mother is an artist and art teacher, grew up surrounded by art. Their respective experiences have had a formative influence on the creative direction of FÄRG & BLANCHE, seen in the various collaborations undertaken by the studio—BD Barcelona Design, Gärsnäs, Petite Friture and Design House Stockholm to name a few. Moreover, FÄRG & BLANCHE produce their own collections and limited edition art pieces, with a creative process that involves much experimentation.
At London Design Fair, FÄRG & BLANCHE will present new works as part of Crossovers by Adorno.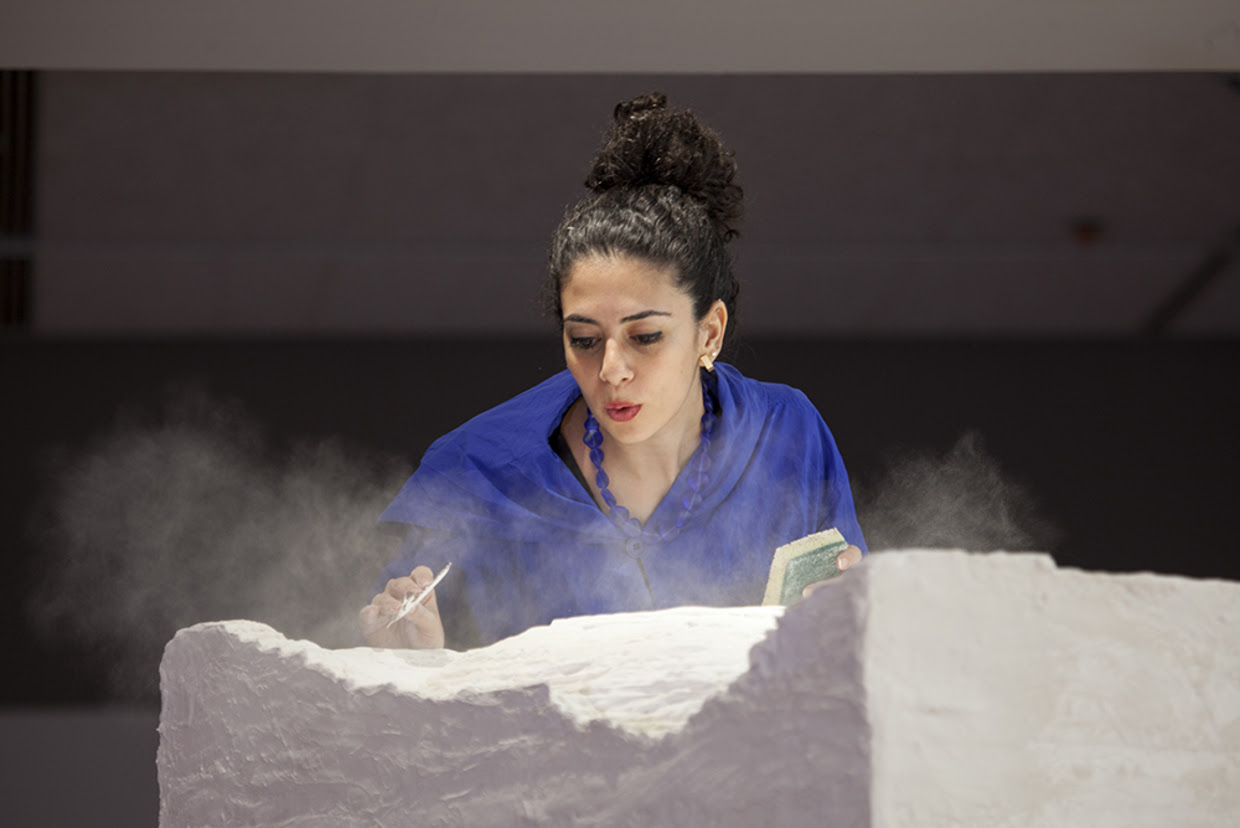 Dima Srouji
Guest Country: Irthi Contemporary Crafts Council, Hall 2
Dima Srouji is a Palestinian architect and artist, whose work explores the intersection of art and architecture and questions issues of place. She founded Hollow Forms (working with glass-blowing and contemporary sculpture) in 2017. A graduate of the Yale School of Architecture, Srouji has lived and practiced architecture in various locations across the world, and has exhibited her art in a number of cultural platforms in the Middle East.
Working with Palestinian glass-blowers, Dima Srouji has collaborated with the Irthi Contemporary Crafts Council for the 'Oud x Palestinian Glass-Blowing' design lab. They are producing non-traditional glass-blown perfume and oud bottles in cooperation with trainees from Irthi's Bidwa Centre—this initiative merges the crafts of perfume-making in the UAE with glass-making in Palestine. The expressive forms of the collection draw inspiration from the natural landscapes, textures, and forms found in both Palestine and the UAE.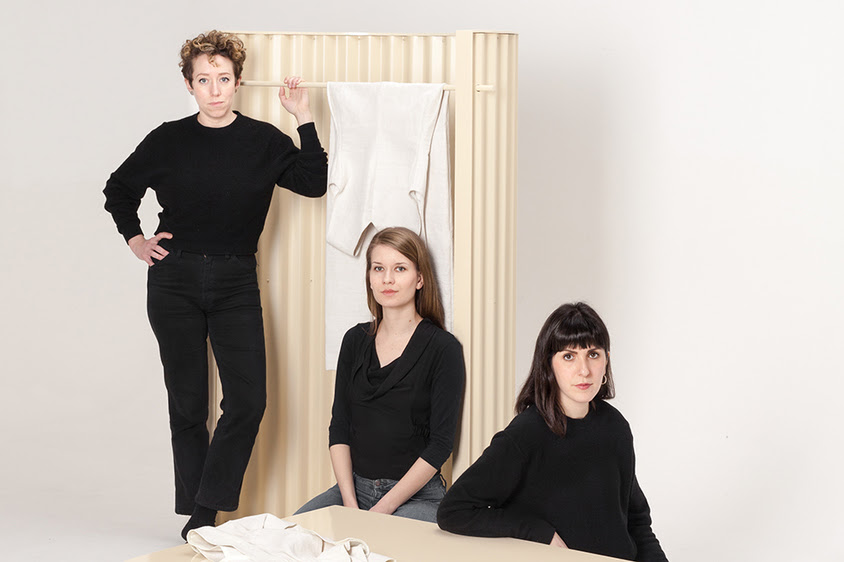 Erica Agogliati and Francesca Avian
Flatwig Studio + Kristína Šipulová, Stand 7.04, Hall 7
Erica Agogliati and Francesca Avian are the co-founders of London-based Flatwig Studio. Erica Agogliati is an Interior Design graduate (BA and MA) from the Politecnico di Milano. She has experience in graphic design and developing communication strategies. Agogliati moved to London in 2015, where she initially experimented with food through collaborations with chefs and restaurants. Francesca Avian graduated in Product and Communication Design from the University of Genova. In 2013, she completed a master's degree in Interior Design at the Politecnico di Milano, where she also worked as a teaching assistant. Avian moved to London in 2015, where she worked as a visiting lecturer at Middlesex University, teaching on Interior Design and Interior Architecture modules.
By pooling their respective strengths and experiences at Flatwig Studio, Agogliati and Avian work on projects that often come about from observing and studying customs and traditions from the past and folklore. At the London Design Fair, they will present the Ondula collection of mobile furnishings, made using corrugated metal.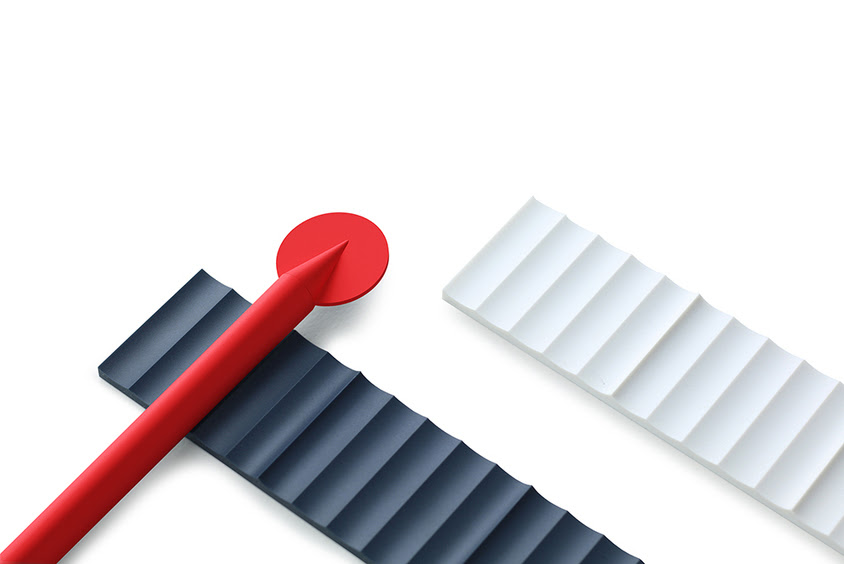 Jaime Derringer
Design Milk – Milk Stand Pop-up | Hall 12
Jaime Derringer is perhaps best known as the founder of Design Milk, an online magazine, established in 2006, that is dedicated to modern design. She is also an artist whose work explores shape and colour, using layering as a guide. When creating art, Derringer finds inspiration in many things, from Japanese calligraphy to 1980s and 1990s graphics and style, and from space exploration to electronic music.
As well as Design Milk, Derringer launched Dog Milk, a website dedicated to modern dog design, and Adorn Milk, an online jewellery shop for people who love architecture and design. She also co-hosts Clever, a podcast about design. With a myriad of interests—from writing poetry to being a 'bad but enthusiastic' dancer—Derringer is always on the move. She lives in Southern California with her husband, daughter and their dog. At the London Design Fair, Design Milk will present its Milk Stand, a unique pop-up shop that provides independent designers and makers with an opportunity to showcase and sell their latest wares.