We spoke a couple years back when all this began … 24 months later hows the event developed?
I remember!  We've developed quite a bit over the last 24 months – in fact we're no longer an 'Art Fair' – The last time we spoke we were delivering an annual Art Fair called 'ILLUSTRATED' An industry exhibition for illustrators and graffiti artists.  Having delivered this for 3 years, experimenting with various event formats we decided to pivot into the competitive world of live illustration – In doing so, we founded and launched the Illustrated World Series (IWS) in 2017.
The Illustrated World Series (IWS) is now a tournament brand with the UK Illustration Championships at its heart and is focused on bringing an exciting, competitive, professional and (for the first time) measurable approach to the competitive world of live illustration.  We still have an exhibition element involved – all the live work produced at the event is immediately hung and presented at the event for the audience to enjoy.
The UK Illustration Championships in a nutshell:  Artists battle head-to-head in 60 minute quick-fire bouts to create an A2 illustration inspired by a recent news headline.  Watch the world's top illustrators compete LIVE, witness a clash of styles as they battle to become no.1
So the Illustrated World Series is an event organiser right?  Is it just the one event or are there more?
Yup that's right – the IWS is responsible for producing, marketing and delivering the UK Illustration Championships – an annual tournament hosted in London.  In addition we have an ambitious tournament schedule we're rolling out internationally over the next 3 years.  Future tournaments include the World Illustration Championships (slated for NYC Summer 2020), and the Asian Open.  We also have a number of other ancillary offerings including a number of masterclasses and collaborations which will be announced next year.  Our primary aim is to 'sportify' the competitive world of live illustration – we hope to give it a professional edge.
Some of the artists you have are amazing.  How have you managed to attract such a strong group of competitors?
From the outset we've always aimed to bring a professional sporting edge to the world of live illustration.  We had this intention from the very start, investing in our Battle-bays (pictured), professional drawing desks unique to the IWS – instantly identifiable and directly associated with our brand.  We also set-out to secure a high-spec and well located venue which could really put us on the map: Boxpark Wembley.  In addition we partnered with some sizable and highly relevant brands including, metro.co.uk, POSCA, Redbull, Coors Light … All this, plus a decent payout for the winner helped give us the weight needed to attract the big-name illustrators.
We only have 32 competitor spaces available and we quickly filled them with top names, ncluding @doodlesndrips, @mattiasink, @tonyriff, @spzero76, @ewanagain, @boyishmind, @_the_real_dill1 – all of whom you can see live at Boxpark Wembley on 29th November.
Ultimately though the key to attracting such strong competitors is probably due to our grass-roots culture – most of our competitors know we come from humble beginnings – this represents the foundation of everything we now stand for … We aim to be the best at what we do and ultimately we aim to assist our top competitors achieve a highly engaged following similar to other pro-esport athletes.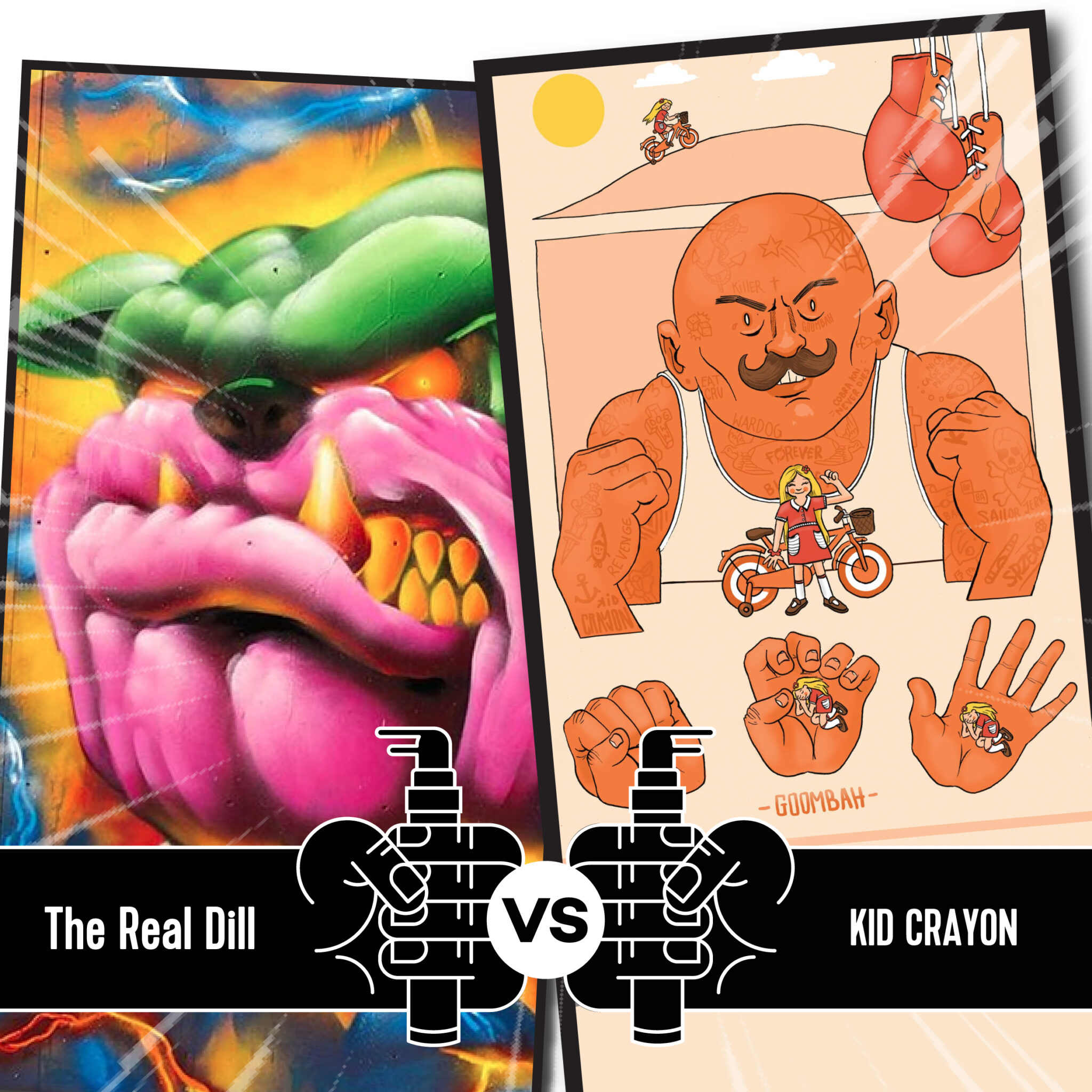 Tell us about the format – how do illustrators score points?  Are there any rules and regulations competitors must follow?
Absolutely!  Our rules and regulations provide the anchor point with which we can measure performance – this helps us decide who should progress through the tournament and ultimately win.  See below:
>  Artists battle head-to-head in 60 minute bouts to create an A2 illustration inspired by a recent news headline
>  Colour palette and drawing implements are restricted with competitors allowed (max) 8 pieces of stationary at the Battle-bays
>  Works are assessed by our judges across the following criteria: Interpretation | Technical ability | Narrative | Personality | Social score
>  The prize pool allocates the winner £4000 + Trophy, runner-up £1500, and Semi finalists each get prizes equivalent to £250
Sounds awesome, if I buy a ticket what can I expect to see at this year's UK Championship?
if you're into Illustration and art, this is the only annual opportunity to see 32 of the world's top live illustrations battle it out head-to-head to take the UK title!  Over 3 days artists compete in quick-fire 60 minute bouts – see their creations unfold in real-time as we crown the UK No.1!