The National Portrait Gallery, London has unveiled a new portrait of Olympian and Wimbledon Champion, Andy Murray by Maggi Hambling. The multi-figured portrait will join the Gallery's Collection, accompanied by four preparatory charcoal drawings from life completed in the artist's studio in September last year. The painting and two of the drawings are now on public display in the Gallery until 3 May 2020.
Andy Murray has for many years been a hero for Maggi Hambling and in early 2019 she discovered that he was interested in her work. Following Murray's first visit to the artist's studio in London, the two became friends and Hambling invited him to sit for a portrait. On the morning of September 9 2019, Murray posed for a series of drawings wearing his Wimbledon whites and the painting then evolved.
Following its display at the National Portrait Gallery in London the work will travel to Scotland, where it will go on display at the Scottish National Portrait Gallery.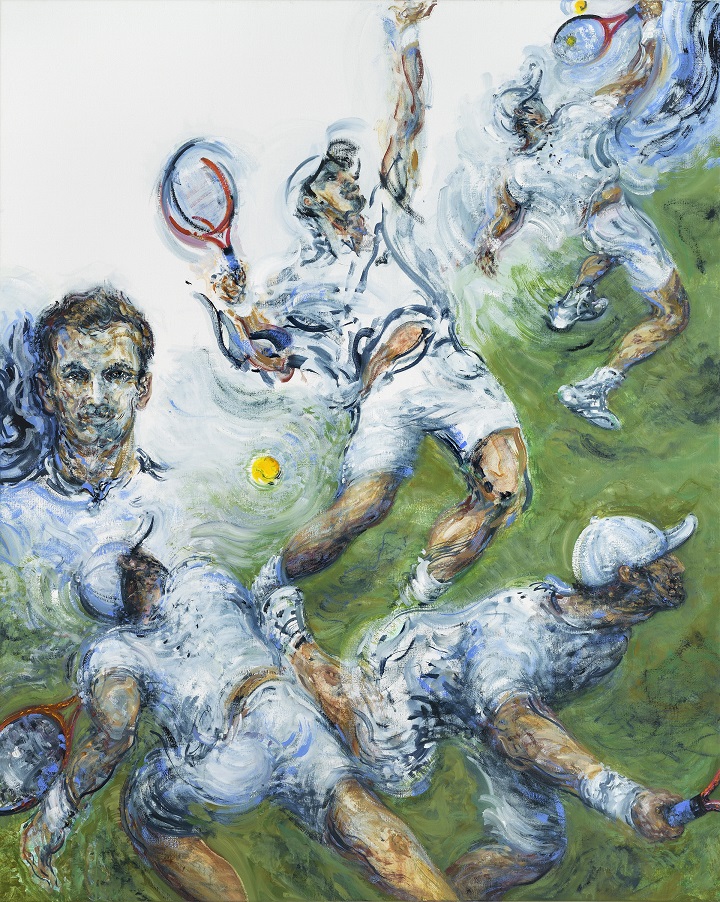 Andy Murray said: "Over the last few years I've become more interested in art and Maggi is one of my favourite artists, so I was more than happy to sit for a portrait – the first time I've done it. It was fascinating to watch her work, so much time and effort goes into a painting like this, I hope people appreciate that and how talented she is."
The portrait is an acquisition by the National Portrait Gallery gifted by a private donor. Andy Murray is also represented in the Gallery's Collection by a photographic portrait taken by Karl J. Karl in 2006. The Gallery holds eight other works by Maggi Hambling, including portraits of Stephen Fry, Dorothy Hodgkin and George Melly.