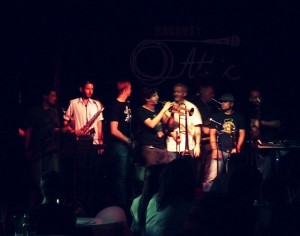 Hackney Colliery Band at Hackney Attic
I got the chance to watch Hackney Colliery Band's (HCB) first night at Hackney Attic which is a really cool music venue at the top floor of Hackney Picture House! Yes, I said 'first night' because they will come and play again in two months. A band/musician of their choice will also accompany them AGAIN. Yes, I said 'again' because they had a guest on their first show as well: Snorkel. Snorkel opened the show on June 28th with their 'experimental' (how they define their genre on myspace.com) music. It was great listening to their music as the sun was setting in London. Then HCB joined the band for a while and they played a couple of tunes together followed by a 15 mins break to refill our beer glasses. After the break HCB started the show with a cover of 'Rehab' by possibly the greatest musician that London has ever made, the late Amy Winehouse. It was a great cover as they all played instruments that went great with these types of songs: Trumpet, melodica, Tenor Sax, Trombone, Sousaphone and many more!!! They won me over with their first song but when they covered Beady Belle they won my heart for the second time! Towards the end Snorkel joined them and they played a couple of tunes together again!
Make sure to check out Hackney Colliery Band's next show at Hackney Attic or elsewhere! You'll have an amazing time: GUARENTEED!
Free Range at Old Truman Brewery, Brick Lane
On Sunday I was walking around Brick Lane and then I found myself looking at some great work done by the students of the University of Northampton! The exhibition was mainly a photographic experience but there were some great paintings as well! Make sure you catch some of the exhibition before this amazing and free event ends!!! The next exhibition starts on Thursday, July 5th, and it's by the Arts University College in Bournemouth! Long live Brick Lane.
East End Film Festival
East End Film Festival started on July 3rd with a great screening at St Anne's Church. This great noteworthy event commenced with the screening of 'Arena: Amy Winehouse-The Day She Came to Dingle'. Unfortunately I couldn't be there but I am sure that it was a spellbinding experience watching never-before seen footage of Amy Winehouse on a giant screen in a very special venue! However, the festival continues until July 8th and I will definitely catch some great movies. There are screenings everywhere in the East End but the closest venue to Shoreditch is Rich Mix and they have a varied selection! Plus, the closing night will be held at Rich Mix as well with the screening of 'The Last Elvis'. Without a doubt, an event not to be missed.