Haggerston based artist Nazir Tanbouli has won the University of the Arts London's Creative Enterprise Award for Most Enterprising Project. His project is the King's Land mural project, which he did over spring and summer 2012, covering the semi-derelict and condemned Kingsland Estate with murals – some temporary and some permanent. As well, on the same estate, he opened Studio 75, a studio-gallery and hive of artistic activity, in a ground floor flat.
Creative Enterprise Awards at University of the Arts London are part of Enterprise Week 2012, and celebrate the enterprising activity of current students and recent graduates. Tanbouli graduated from the MA program at Camberwell College of Art in summer 2010 and opened the studio the following January. Since then the studio has hosted many artists and film makers from around the world, as well as providing art and colour in an urban landscape that has been described by some local people as "an eyesore". From the studio, Tanbouli devised the King's Land mural project, as well as working with local school children to create a book art project for the upcoming Sharjah International Children's Biennial in UAE, and hosting regular Open Studio sessions bringing artists together, and attracting visitors from far and wide.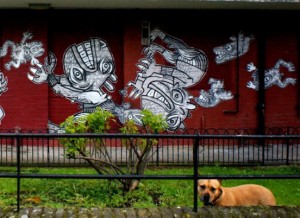 Unusually, Tanbouli did not seek funding for the studio and the mural project but instead has sold his artwork – as well as gleaned, bartered and recycled to kit out the studio – to generate enough money to keep it all going for the past two years.
Tanbouli says that "The project is enterprising because it's accomplished so much out of so little. Winning the Creative Enterprise Awards is a great honour, to be recognised by an organisation as huge and as significant in the art world as the University of the Arts, for a project that has been undertaken entirely without funding or sponsorship."