In 1978, it was once said "Being black is a reflection of a mental attitude." But, for one highflying artist, here in the 21st Century being black is more than that; being black is art.  An Artist, curator and now championing a course for young people. He is one of the most enigmatic, innovative and prolific Young artist's around. Eugene has performed in and had his work showed world wide including London, Wittenberg (Germany), Athens, Kenya and Washington. His diverse and unpredictable take on art has had his work owed by a host of celebrities such as Colin Salmon Michael Horovitz and can count others such Uri Geller and Dizzee Rascal as fans.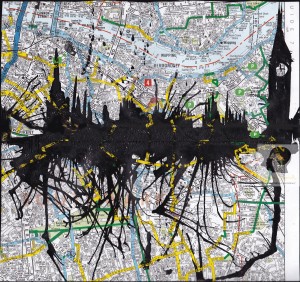 Now, Eugene Ankomah is set to go to new heights as he launches his never before seen, 'Blacked Out' series of work. Linked to a number of well-recognised individuals, Eugene is known for famous pieces such as 'Drunk', an artwork he created whilst still at school, he has re-invented his work many times over and unlike many contemporary artists, also recognized for his uber cool outfit ensemble with various top hats and face paint designs, but the success of all previous work and acclaim has not stop him there. Eugene is on a mission to help others, to speak for those who can't speak for themselves and this is seen very clearly through a number of his new pieces.
"A year after we had the riots, I spoke to young people and was inspired by how they felt. They were judged and I looked at the inner state of these young people and I knew I wanted to help them through my work." Eugene states "Within these pieces of work what I am trying to do is to raise a flag for young people, and to speak for those who are unable to speak for themselves. A lot of these portraits do not have mouth and some do not have noses, it's because I am trying to express people not being able to express themselves. They are expressionless and emotionless".
Eugene believes that there is a stigma associated with young people and regardless of how much these young ones achieve, society manage to blame the younger generation for all that is wrong with the world and so, he has used the colour black to portray the inner feeling of his characters. The black colour is able to create an idea of feeling lost on a path of life, in search of answers and acceptance. In a sense these Characters are a "shadow of Their former selves".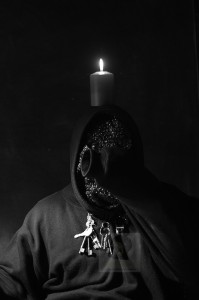 The 'Blacked Out' series of work are not just about young people feeling lost, yet about how society creates barriers that young people feel they are unable to overcome. Many of the works have titles such as 'DSC2103326', a direct reference to identity of files downloaded from a camera, but within the context of the work deems the young people as beings with no real presence or identity.
Eugene Ankomah is known for using a variety of sources within his artwork such as the human form as a canvas, i.e. himself. But these days not only has Eugene been using the human form to portray the harshness of reality, he has recently been capturing this within the use of nature's living possession: the flower, and even created some of the works on carrier cases. When asked, Eugene says they simply represent the feeling of "baggage" and the sense of being "boxed up" many young carry around with them. The idea of the blue, yellow and black rose piece can clearly be seen to be representing young people and how the judgements of society stop them from reaching their full potential. If flowers are not cared for correctly, not given light or correct feed then how can they be expected to flourish and show beauty?
Eugene new 'Blacked Out' series are due to be release and displayed over the coming months. But the artist does not stop there. Eugene has stated that his characters and the theme of this work have inspired him further and he is now considering creating video artwork to make these works available to a wider audience.
I am sure that Eugene's fan base are eagerly awaiting these additions to him portfolio of art work and they certainly will not in any way, shape or form be disappointed.