Visitors to Hokusai Exposed will be immersed in the vibrant 3D streets and pleasure districts of Edo, 18th century Tokyo, and the works of the great Japanese Master, Hokusai, in an exhibition using state-of-the-art digital recreation technology, at the Old Truman Brewery, Shoreditch, London between 26 October and 17 November. A world will be brought to life which engages all the senses and fuses two popular Japanese art forms, Ukiyo-e, classical woodblock printing and today's electronic art, both provocative expressions and popular entertainment of their times.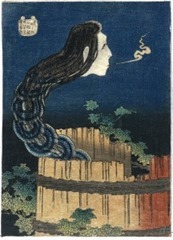 A highlight will be Hokusai's famed 36 views of Mount Fuji, held in sacred esteem by the Japanese and awarded UNESCO World Heritage status in June this year as an important international cultural site. In a restricted 18-plus area, traditional Japanese paper lanterns, ch?chins, will guide visitors through the night time pleasure districts of Edo's backstreets to illuminate 48 original prints of Hokusai's sensual and erotic work known as Shunga. A detailed narrative alongside these works will lead to the main display of the famous Dream of the Fisherman's Wife.
Best known for his iconic Great Wave off Kanagawa, Hokusai is master of the woodblock printing technique known as 'Ukiyo-e' (floating world pictures), reflecting life and popular entertainment of the time. His work numbers more than 30,000 original prints, including landscapes, nature, and central in Japanese cultural heritage the erotic art, Shunga, to form an exciting and vivid social record of the Edo period (1603 to 1868), one of the most colourful times in Japanese history. Hokusai's work is also the acknowledged inspiration for today's influential Japanese pop culture movements such as Manga and Anime.
Hokusai Exposed will recreate Edo using the latest projection mapping technology, mixing high impact graphics to create a multi-media experience. Enlarged and enhanced reproductions of the original works will also provide the opportunity to examine the fine detail of the woodblock prints.
Hokusai was selected by Life magazine as one of the most important 100 people in the past 1000 years, and he has had far reaching influence. His influence is seen in the work of a host of artists including Manet, Degas, Renoir, Monet, van Gogh, Lautrec, Gaughuin, Debussy, Stravinsky and Satie as well as Manga and Anime.
More details about Hokusai Exposed and how to reserve tickets will be announced soon on www.hokusaiexposed.com