On Saturday my friend and I were en route to the first of many "School Dinners" hosted by Book Slam. We were outside the Central school for boys in Old Street waiting for the school doors to open to continue on our School Dinners experience.
We were greeted at the door and taken into the schools auditorium where we were welcomed by a wonderful whiskey ginger spice cocktail and shown to our table. Seated in perfect view of the schools stage with a 4 piece wind band "Cyan" playing to everyone's entrance, it was a great start to the evening.
The school hall was filling up and everyone started to sit at their tables, the host for the evening was Charlie Dark a DJ,teacher, wordsmith and leader of the run dem crew, came up on stage to introduce to the first ever "School Dinners" . After the introductions the next musician commenced, a breathtaking harpist, and the food was served.
To begin there was a snack, which was Cereal milk foam on milk parfait with crunchy nut biscuit, and rustic bread with butter, the biscuit was nothing like anything I have tried before, very unique. For the starters, there were two choices; salmon and beetroot; salmon tartare, pickled beets, salmon and beetroot parfait or fennel and soft cheese salad, green beans, olives, capers, dill and mustard. Between us we had one of each, both of which were made to excellence. The salmon starter was filled with great taste; the salmon and beetroot really complimented each other with the sweetness of the beets.
Onwards to the entrees, because we are such fussy eaters, we both ended up with the vegetarian option, which was roasted squash and salt baked beets with a braise of Borlotti beans, leeks, kale and pearl barely. For someone who doesn't LOVE beans, I thoroughly enjoyed this dish. The other option for the entrée was a free range Creedy Carver chicken breast, elderberry glaze, confit leg 'twizzler', crown prince squash puree, buttered kale and wood sorrel. Although I don't eat chicken it did look extremely appetizing, but it wasn't the day I was going to start eating meat.
The first speaker of the night was presented; Mark Geist, a teacher turned performance poet, who went on to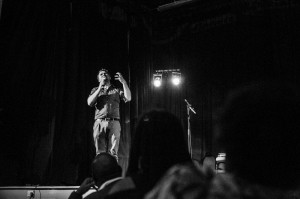 explain us about when he first became a school teacher, he some how managed to enter himself into a rap battle down to some of the students. After hearing his rap battle and other poetry the entertainment swiftly moved onwards to another speaker, Sophie Heawood, a journalist who writes for The Times, The Independent and various other news platforms. Sophie talked about her funny encounters with a variety of different celebrities, from Linol Richie to Snoop Dog.
During Sophie's talk we were given our palette cleanser, which was an apple/vodka sorbet, served in little icelolli cartons, another great way to present something different. The cleanser tasted just like biting into a green apple, perfect for in between courses.
The last but not least speaker of the night was Ben Goldacre, the author of the best selling book "Bad Science". Ben gave a great talk about medical trials and how a majority of the trials that are completed do not go to plan and they end up not being published, thus no one really knows what happens. This really made me think about certain aspects of medicine that are kept from the public, I personally think they should all be published purely for research, but then again I'm far from a doctor.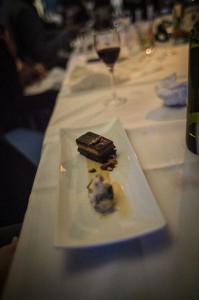 We were then given our final course of the evening (saving the best for last…) Dessert which was a quadruple chocolatebrownie with plantain ice-cream, toasted pecan nuts and a sweet and sour caramel sauce… I think the description speaks for itself, it's making me hungry writing about it.
To close the night, ESKA a British solo artist with an amazing voice came on stage to play us a few of her songs from her new and upcoming EP, Gatekeeper.
With the help of Book Slam, Jack-Arts and Cult events, School Dinners was a great success. All I can say is it is nothing like the school dinners I remember eating, and a great creative dining to experience. The food was fantastic, the entertainment was amazing, from the speakers to the musicians.
I would most definitely recommend the night from start to finish. And if you don't want to go for the dinner you can just go to see the entertainment later in the evening! It's the beginning of a great pop-up experience.
The next School dinners is on the 30th of November.
Book tickets here!