M: Tell us about your business. What is your role?
We are an investment and incubator in early stage technology startups. I am the founder and CEO.
M: What is so innovative / unique about it?
We are unique in that we spend our own capital and we are also proven entrepreneurs not just finance geeks.  The fact that we invest and incubate is also a newer phenomenon. We love the energy of creating ourselves and helping others create with the aid of our capital, and if appropriate, our experience.
M: Why do you choose Shoreditch to run your business?
We love the buzz and dynamism, which are both very conducive to – you guessed it – creativity. It is the best base to find new ideas, new talent. We firmly believe in the value of knowledge sharing and openness that clusters tend to instil within communities. We feel that this is a cluster that we add to and benefit from.
M: What would you say has been your most memorable experience while working there?
Oooh, that is tricky. We have been to some pretty good parties so 'memorable' might not be the most apt word! In all seriousness some of the work lunches that end up becoming bigger gatherings because it is so easy to bump into friends are great fun — The spontaneous gatherings tend to be the best ones.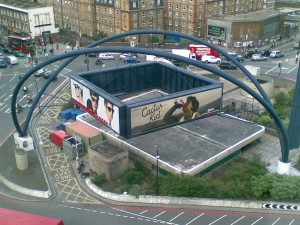 M: What are the main challenges maintaining your business and how are you overcoming them?
The greatest challenge for our business is inherent in its' duality. Being at the same time investors and entrepreneurs, we are constantly challenging ourselves with new projects. At the moment we are mapping London's co-working spaces along with start-ups that are based out of them. We believe that co-working is not only a shared facility but primarily a community of inspiring people you can collaborate with. Our newest addition – GoCoWo – does exactly that, shows you a glimpse of the atmosphere in a Cowo.
M: What are your favourite places in Shoreditch? 
Cocktails: Night Jar, Lounge Bohemia.
Bars: Book Club, The Reliance, Electric Showroom.
Food: Whitecross street market, Keu, Cay Tre, Meat Mission.
M: What does the future have in store for your business?
World domination! Shoreditch domination? No, no domination. We would love to continue to see our investment portfolio flourish and build viable businesses that contribute something over and above profits (although that is the priority).
We would also want to see GoCoWo helping start-ups in London find the best place to work from. We've already observed positive benefits of co-working on the London's start-up community, and we will continue to be at the heart of it.
GoCoWo recently won a bid to be used as the map for the GLAs research (Greater London Authority) on the impact of co-working, incubation and acceleration programs on London's SMEs. GoCoWo was also recently featured in the Evening Standard and look forward to a documentary that we feature in on co-working on BBC Radio 4 shortly.