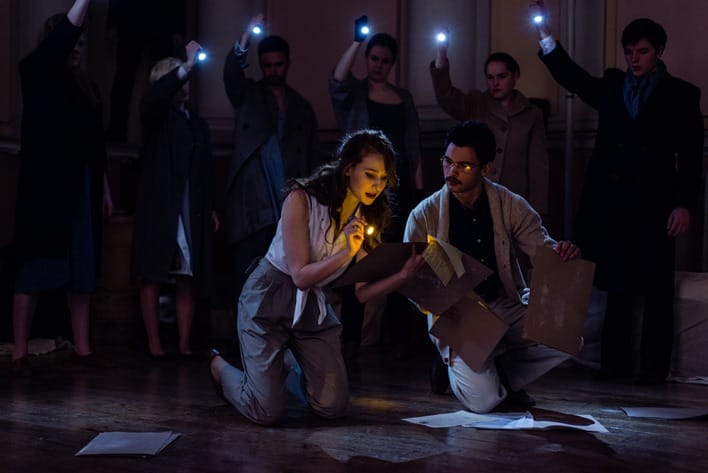 Shoreditch Town Hall Director Nick Giles today announces a new season of performance, music and public workshops taking place across the whole building in a first for the venue.  Highlights include Analogue's production of Re-Enactments, which launches the season following its sell-out run in The Ditch last year; Ridiculusmus's London previews of The Eradication of Schizophrenia in Western Lapland by Jon Haynes and David Woods; Gandini Juggling with the UK première of CLØWNS & QUEENS in the magnificent Assembly Hall; for the first time, a fantastical selection of Davy and Kristin McGuire's work under one roof, including The Hunter, The Icebook and two recent commissions for the RSC; and a season of three plays in a ground-breaking collaboration with Mountview Academy of Theatre Arts: Sleepless, an original creation by Analogue in collaboration with the Mountview company; Dreaming America, an unpublished play by Terry Johnson; and The Art of War, an original play by Stephen Jeffreys.
The season also includes Volcano by Clerke and Joy, which returns to The Ditch following a successful run in 2013; Party Skills For the End of the World by Nigel Barrett and Louise Mari, the first stage of a work-in-progress commissioned by Shoreditch Town Hall; and TOOT's Be Here Now.
Shoreditch Town Hall's commitment to developing work is continued with two work-in-progress presentations of MOON by Dumbshow and A Fine Balance (working title) by Neil Callaghan and Simone Kenyon. An extensive programme of participatory events and workshops across the building is also part of the season. Following the success of music nights in 2013 are four free music nights in the Ditch with Brooke Sharkey & Mojo Hand, Ma Polaine's Great Decline & Ramshackle Union Band, La Mort Subite and Whiskey Moon Face & Dan Korn.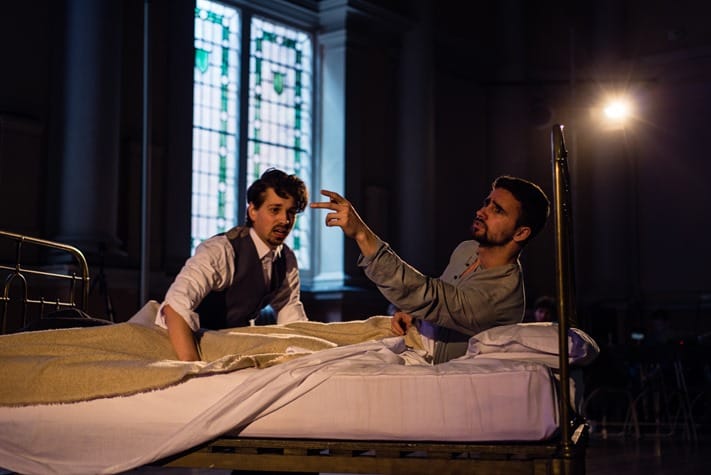 Nick Giles said today, "Just over a year ago we launched our first ever programme of theatre and performance with Paines Plough's Roundabout, which has been followed by the evolution of our basement spaces into The Ditch; a multi room 'speakeasy', which has come into its own with regular cabaret, music and comedy nights. We are thrilled to build on this success with this even more ambitious programme of theatre, dance, cabaret, circus, live music and public workshops taking place across the whole of the Town Hall over the first half of the year.
"Being led by the quality and availability of artistic projects means we will never follow set seasons or patterns; we'll only ever programme work as and when projects are right for us or come to fruition as part of a development process, which we hope offers our audiences thrilling and spontaneous work here at the Town Hall."
THEATRE
SLEEPLESS by Mountview Academy of Theatre Arts
An original creation by Analogue in collaboration with the company
31 March – 5 April
Imagine you had insomnia. Imagine that it was so severe that within a few months you would be dead. Imagine that it was genetic and you would pass it on to your child.  Analogue has worked with Mountview to create this new piece of theatre at Shoreditch Town Hall, following the true story of one family through their sleeplessness from 16th century Venice to the present day. Sleepless is part of a wider Analogue project, which has been commissioned by Shoreditch Town Hall and will be co-produced with Mainz Staatsthater in 2015.
DREAMING AMERICA by Mountview Academy of Theatre Arts
An unpublished play by Terry Johnson
8 – 17 April
What takes a man to the skies, and what brings him back down again? Movie mogul, aviator, recluse and richest-man-in-the-world Howard Hughes reflects on his life in a new play, a work-in-progress by award-winning playwright Terry Johnson (Hitchcock Blonde, Dead Funny, Hysteria), directed by Stephen Jameson & Anthony Lau.
THE ART OF WAR by Mountview Academy of Theatre Arts
An original play by Stephen Jeffreys
9 – 17 April
America is about to invade Iraq. An Australian business is about to make a hostile takeover in China. Both the Americans and the Australians should have studied 'The Art of War', an ancient treatise on tactics by Sun Tzu. The Art of War is an original play by critically acclaimed playwright Stephen Jeffreys (The Libertine, Backbeat), directed by Tariq Iskander.
BE HERE NOW by TOOT
Devised and performed by Terry O'Donovan, Stuart Barter and Clare Dunn Produced by Faith Dodkins
UK Première
17 – 28 June
Press night: 19 June at 7.30pm
Three characters live in the world of the 1990's analogue: rewinding, fast-forwarding and pausing moments of love and the music that defines them. Hit repeat and relive together the scenes you play over and over in your head; the moments that shape you and will stay with you forever.  Be Here Now celebrates the thrill of anticipation and 'music you can hold', revelling in listening, waiting, buying, owning and consuming songs. The performance invites audiences to consider how we chart our lives through music, creating an identity and a soundtrack that defines us. An Ovalhouse seed commission.
More info at: www.shoreditchtownhall.com
Photography by:  John Hunter