Tell us about your business: What do you do? What did inspire you to start?
Knots and Folds is a unisex fashion accessories label specialising in digital prints and social stories. Our range of printed products includes neckties, bow ties, hybrids, pocket squares and neckerchiefs. The label's mantra is "Every Print has a Story." The primary aim of Knots and Folds is to provide unique products that have a deeper meaning. Our printed products are not only sophisticated and quirky, they also tell a story that encourage people to express themselves or trigger a thought about difficult, taboo or simply ignored subjects. We believe that art and design have the power to make society a better one by encouraging healthy social interactions. Knots and Folds' collections mark the start of a new take on fashion, one that is socially sustainable!
What are the stories behind the Tattoo Collection featured on Made in Shoreditch?
The Tattoo Collection is inspired by tattoos and the social meaning they have had throughout history. Following our motto: 'Every Print has a Story', the prints 'talk' about the origins of tattoos and their link with identification almost always within a group. They also tell the stories of tattoos today, raising questions such as: Have tattoos in today's society become purely decorative and self-indulgent? Has the art of tattooing lost its depth and meaning?
What is  unique about what you do?
The prints are the innovative factor in our neckwear products. The fact that each collection is absolutely different from the previous one makes Knots and Folds a distinctive label. The socially sustainable values behind the label play also a role in setting us apart. And we produce limited amount of our stock for private sales, so the products are truly special. We are also proudly made in England!
Why did you decide to sell on MIS Boutique?
Made in Shoreditch has built a trusted and fresh presence and I love the magazine. I also loved the platform instantly as the products are effectively and well curated.
https://madeinshoreditch.co.uk/shop/brands/accessories/knots-and-folds.html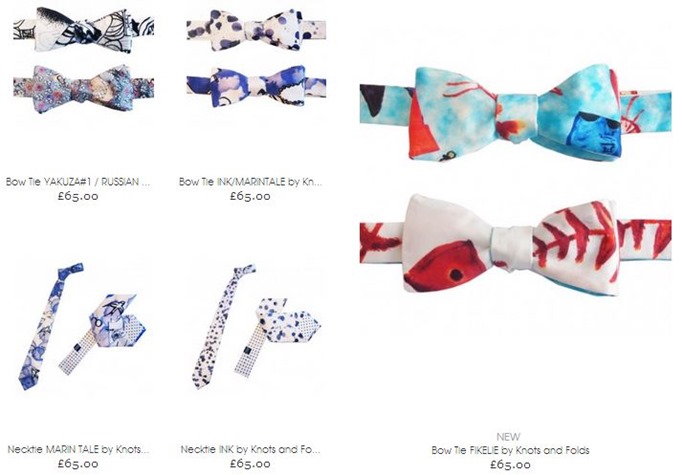 Where do you get inspiration for the new collections? 
Different energies make me feel inspired. Sometimes it is the urge to learn about an society issue that I feel we ought to know more about (The Tattoo Collection) sometimes it is the will to create awareness about a subject that I find is too often ignored (Mental Health and Schizophrenia Geometric Designs) and other times it is the lost values of society that make me feel nostalgic (The Childhood Memories Collection). For my new collection it is the will to denounce some injustice that is starting to creep in so it will be a bit political… we are launching the new collection in January 2015!
An important aspect of design for me is the multi-functional (reversible bow ties, dual print pocket squares, etc…) characteristics in my products. I want them to be worn and talked about. High-end products with a functional twist.
What does the future has in store for your business?
I am confident about the future; I think that whoever is starting a business now, especially a creative business, is going to be alright! We are fighting through difficult economic times and we are the positive force that will help stabilise things. For Knots and Folds, we are taking our HQ to Geneva, Switzerland starting a Master in Design – Fashion and Accessories in September! We will still stay very active in the UK as we love the creative energy here. Exciting times ahead!
Social links:
Website: http://knotsandfolds.com/
Facebook: https://www.facebook.com/KnotsAndFolds2
Twitter: https://twitter.com/knotsandfolds