Tell us about your art: What do you do? What did inspire you to start?
I enjoy playing with the possibilities of Adobe Photoshop and Illustrator, creating pieces of digital art. However in most of cases, this art is based on my traditional media art pieces, like oil on canvas paintings or quick sketches in my sketchbook with oil pastels pretty similar to those I used to draw with when I was a kid. I believe it is the unique mix of all these as well as the incessant experimentation that gives my art this individual 'touch'.
I have been always drawing and experimenting with design and art, and I personally 'blame' in this my severe deafness, which from start caused me to focus on the visual side of the world. Art has also eventually had a therapeutic effect which assisted me to cope during many difficult moments and periods in my life.
My inspiration comes absolutely from anywhere. This can be my personal life story and expressing my multiple cultural identities: deaf, gay, Israeli, a Jew born in Moscow, et cetera. In addition, these can be the people of London and their endless variety of fashions, colours and shapes.
What were your most successful projects/exhibitions so far or what projects did you enjoy the most so far?
One of my most enjoyable projects was visiting the gay saunas in London, memorising the various sexual positions I have experienced or noticed, faces and bodies in darkness and light, and then making a series of oil paintings and digital artworks under this impression. Bit of Toulouse Lautrec if he were gay, isn't it?

Why did you decide to sell your cool art on MIS Boutique?
When I browsed the MIS boutique the first thing I noticed was that I wanted to buy nearly all things showcased on it. So it made sense to show my works there, to be able to buy it by myself. And by other people as well.

You can find my artworks on MIS Boutique here:
https://madeinshoreditch.co.uk/shop/brands/art/alex-orlov.html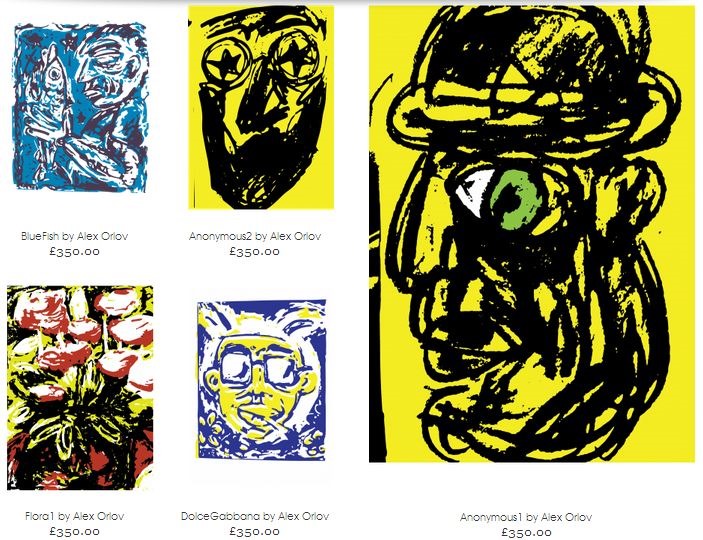 Tell us a bit more about your current projects?
I am now starting a series of small sculptures made from Das and various objects found in rubbish. This series is being created under my impression from Verka Serduchka, the renown Russian drug performer, however I do believe this series might lead me to evoke further associations and develop accordingly.
What are your future plans?
My future plans are to make a series of exhibitions in Shoreditch, I am already having several ones this summer, one of these is a group show in The Brick Lane gallery, 'Art in Mind'. Possibly I am also going to move to live in Shoreditch as well, as I consider it to be the coolest and most matching my personality area of London.
Social links:
Website: thefireman.tumblr.com
(graphic design: alexorlov.com)
Facebook: https://www.facebook.com/alex.orlov