A giant cube has been built in the centre of Covent Garden to recreate the personal soundscape commuters experience when travelling. Research by audio specialist Sennheiser has shown the importance Brits place on their personal soundscape, with over a third listening to music every day on their commute and of those, 1 in 7 using it to reduce stress.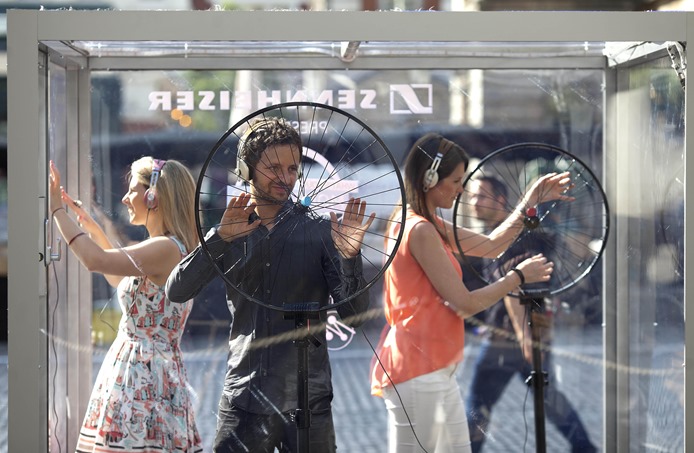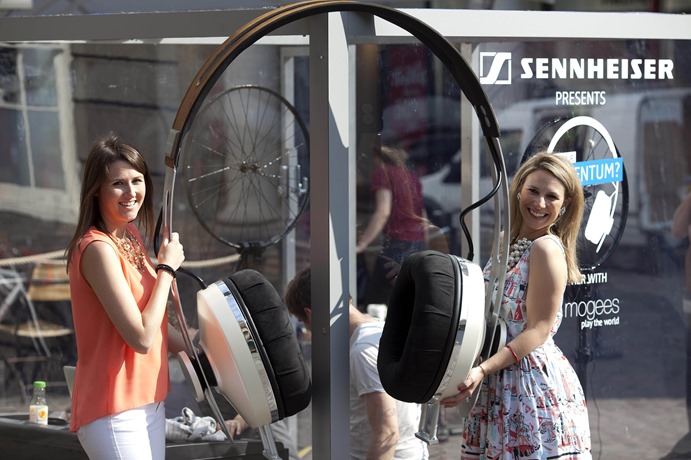 Celebrating people with momentum, Sennheiser's 'What's your MOMENTUM?' campaign will invite passers-by in to the central London installation from 19th – 21st June to play commuters' everyday objects with Mogees and discover the sound of their own personal MOMENTUM.
The campaign has been inspired by Sennheiser's UK ambassador Bruno Zamborlin and his invention, Mogees – a brand new device which turns everyday objects into musical instruments. Passers-by at the Covent Garden installation can create sounds from a collection of commuter-themed objects within the sound bubble and upload videos inspired by the event as part of Sennheiser's social video project, 'What's your MOMENTUM' which aims to champion inspirational and innovative people in sound creation, from the everyday to the famous.
A series of seven second clips recorded across the three days will be available to view and share at www.sennheiser-momentum.com as part of the event's video chain. Contributors will get the chance to win pairs of Sennheiser MOMENTUM headphones alongside six-month subscriptions to Spotify Premium and their very own Mogees to 'play the world', as soon as the device will be available for the market.
Dr Michael Bull, Professor  of  Sound  studies at University  of  Sussex comments: "Today's  users  of  mobile technologies increasingly desire an enveloping  personalised acoustic to  everyday life in which  space  becomes  their very  own sonic envelope. In  tune with  their  own  body,  their world  becomes  one with their  'soundtracked' movements; moving to the rhythm of their  music rather than  to  the rhythm of the street. The  installation will  enable  people  to  creatively  reconnect  with   their  urban  environment while playfully engaging with sound, becoming a home  to  multiple experiments, playful and  pleasurable,  together yet separate."
Steve Dalton, Director of Marketing at Sennheiser explains: "Sennheiser's 'What's your MOMENTUM' campaign celebrates sound innovation and our love of the music that keeps us moving. We wanted to bring to life one of our many global ambassadors in the campaign, in this instance Bruno Zamborlin and his device, Mogees. By replicating the personal sound phenomenon through the Sennheiser MOMENTUM sound bubble and getting people to interact with sound, we want them to think about what gives them MOMENTUM every day. Whether consciously or not, we are very accustomed to being surrounded by our own personal sound bubble, using it as a tool to relax or stay awake, make us feel good or fuel our happiness. With our research finding a whopping 43% of 16-24 year olds keep their headphones in to avoid being disturbed – we understand maintaining your own personal sound bubble is very important."