As of right now, artist OKOK (Thomas Karl-Johan Gunnarsson) wakes up in his hotel room in The Nordic Light Hotel in Stockholm, Sweden. This will be his home for the next month. For 28 days straight OKOK will live, breathe and create his art in the hotel's lobby and restaurant The Crooked Leg.
A: Tell me how a hotel lobby became your art studio for a month?
OKOK: I've been moving around for years now, crashing at friends spots and renting sublet flats. Since I decided to fully focus on my art November 2013, I've been dreaming about my own art studio. It's a lot easier to paint what I want when I don't need to care about getting spots on someone's kitchen table. So, coming from a world of building brands around music artists, putting together PDF-presentations, I went to Nordic Light with the idea of me moving in for a month to use their lobby / restaurant The Crooked Leg as my first ever art studio. It took me a while to convince them, but when they finally decided to go with the idea and it has been nothing but super. The people here are great, from the ones in the kitchen and the bar, to the people working in the reception, the cleaners, Isabella at marketing and of course Niclas and Daniel who were the ones who believed in my idea.
A: What's your inspiration? What will you create during this time?
OKOK: I get inspiration from anywhere and everywhere. Anything from music, movies and books to dirt, garbage and fashion. And of course, from people around me. I've got a lot of fantastic friends and seeing them succeed in whatever they do inspires me a lot.
A: Have you had people interact with you in the hotel and has it changed the way you paint/sketch?
OKOK: Having people around me when I paint is fun. It's a lot nicer to look up from my work to see people in a lobby, having drinks at the bar or eating in the restaurant. It can be kind of lonely sitting at home working. I've had the feeling that I have a lot of material in me – material that I needed to get out before I start to look into collaborations with other artists. I will collaborate with some of my friends on this exhibition though. Right now, as I'm answering to these questions, I have my friend Sotarn, who's a photographer, taking pictures of Swedish DJ-duo HKOCHD (Håll Käften Och Dansa), for a 4 piece collaboration. I'm more interested in collaborations with people outside art – fashion, music and design than other artists. At least for the moment.
A: What's different by creating live in front of people and on your own?
OKOK: When I'm alone I listening to a lot of radio and music. When working here in the lobby, I feel like I'm a part of a family, a part of something bigger. Even though the others working at the hotel are doing completely different things from what I'm doing – it still feels like we're working together. The chefs let me try different new courses they are cooking up in the kitchen, the bartenders serve me spectacular virgin drinks and the guests at the hotel are coming up to me to ask questions about my work. Whenever I feel like I need some privacy, I just get on the elevator to go to my room to continue my work there.
A: How do you feel that this is developing you as an artist?
OKOK: The biggest difference is the sizes of my work. With a bigger table, I'm able to work on bigger papers. That changes things a lot. I'm also focused on the 10th of October and getting my best exhibition ever together. I work 8-10 hours down in the lobby and then a few more hours on the room. This leads to a lot of new ideas and experiments with forms. I'm a huge fan of quantity. I want to create a lot of work. I work fast, so I'm digging deeper into my own visual Universe in a high tempo. Usually one sketch leads to the next one. I come up with an idea while working on one piece that leads to the next piece. That's why I have such a hard time going to bed. I sketch till I fall asleep.
A: Will you get tired of the restaurant's menu?
OKOK: Absolutely not! Their breakfast buffet is magical. Being able to eat five different kinds of fruit, ecological coffee with milk or three different kinds of fruit juices inspires me more than a lot of other things. I love food and especially breakfast. I eat breakfast for two hours now, while sketching. One spoon of yoghurt and some pineapple and then 10 minutes of sketching. The lunch buffet is just as magical and there's tons of different stuff to pick from and new dishes every day. I've only had the chance to eat dinner at The Crooked Leg one night. It's not included in the deal, but Oscar – one of the chefs – promised me that as long as he's in the kitchen, he will slide me some dinner too, when the boss is not around.
A: How do you vision the installation for the 10th of October?
OKOK: My visions/dreams are always big. I can see the whole evening in front of me. I can see people having fun and laughing. I can see my pieces hanging all over the hotel and I can see those pieces being my best work ever. I don't know how many people we will be able to fit, but in my dreams there's 400-500 visiting the opening. I want all my friends here and I want all the people that I've been working with the past years here. I want to shock the art world of Stockholm by bringing people together from all cultural backgrounds and parts of Stockholm for a celebration of art and integration – not your regular exhibition opening. I want us to party together until early morning and I want to sell enough art to be able to escape Sweden during winter. I'm looking at October 10th as my absolutely most important day so far as OKOK.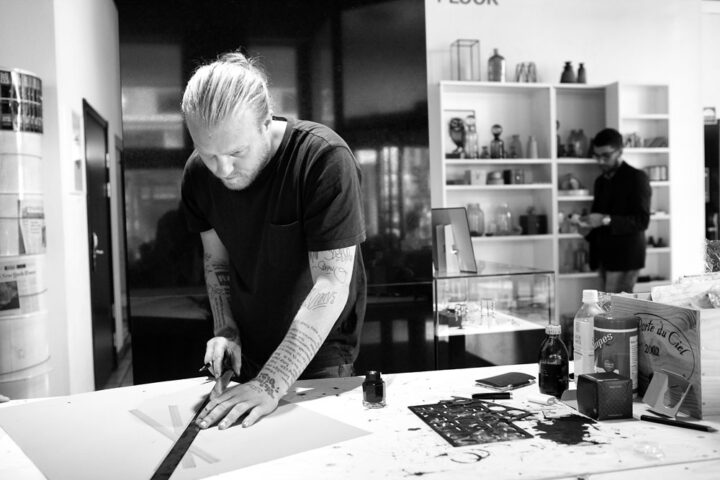 On 10th of October the exhibition will take place and some paintings will be donated to charity organizations. During the stay OKOK will blog at radarmagazine.se/artbyokok and you can also find @ArtbyOKOK on Instagram and Facebook or his own website artbyokok.com
All photos are taken by Manga Minja.