JF: East London has a few good vintage shops and my favourite is Beyond Retro on Cheshire Street. Today I'm looking for some kind of jacket either a black sheep skin flight jacket or a black suede jacket with tassels. But usually when I'm looking for something in particular, I always end up finding something else.
A: Do you prefer vintage shopping rather than the high street or main chain stores?
JF: I mainly shop vintage but it's all depending on what you are after. You can find certain things in vintage shops that you can't find on the high street. When I go into a vintage shop, I usually need to have a specific item in mind but I also go in just to have a browse and see if I come across something amazing. What you do need is time.
A: What kind of item would you look for in a vintage shop?
JF: If I want something unique and I have the time to search a bit longer, I'd go vintage shopping. Since I am in East London all the time and it's surrounded by vintage shops, I just go in randomly. But as I said, it's easier if you have an item in mind.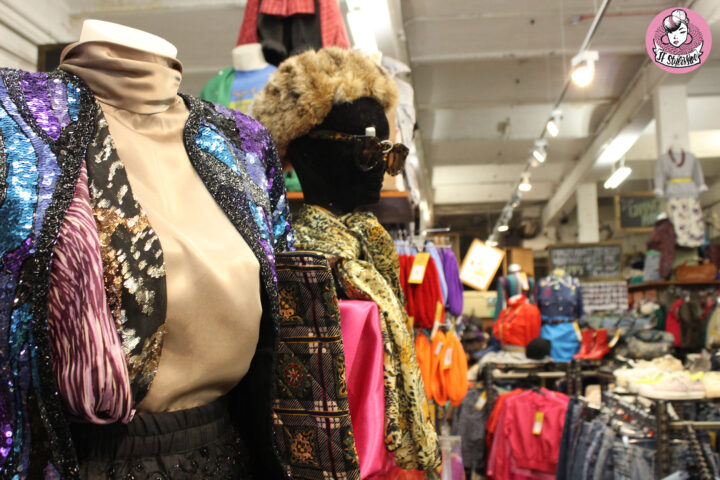 A: Can you give an untrained customer some vintage advice?    
JF: If you are not used to vintage shopping, it is better to know what you want. If you don't have an eye for it, it can be a bit hard. I do think that you always can find cool jackets or blazers. You can find quirky jackets that you might not necessarily find on the high street. Different design, colours and cut. Start off in a vintage shop, have a look, pick out what you like and if you find an outfit, think about that you can always mix it up with new stuff. But take your time!
A: What is vintage for you?
JF: Basically vintage for me is unique & old school pieces with history. I love 90's but I mix it up with my own stuff too. Just be comfortable and confident with it. Mix high street fashion with vintage. You can be lucky when you are shopping vintage and it's also a bit of excitement in finding something you like and is your size.
A: So what's special with Beyond Retro?
JF: What I do like about this certain Beyond Retro is that they have a lot. Sometimes it can be really really good, sometimes not as much depending on their deliveries. I can go in there and find five or six things I want and other times nothing at all. It's different, but this particular one on Cheshire Street is good most of the times. The one in Dalston is also a favourite. It's big and they have a lot. Blitz is ok as well but a bit overprized.
A: How do you sort out trash from treasures?
JF: Personally I don't go for a lot of designers, I buy a few bits and I don't always go for quality. If I find a unique piece and if I knew how to pull it off I will buy it. If you are looking for handpicked exclusive stuff, you'd have to go to a more boutique vintage shops. You can also go to more posh areas where you can visit Oxfam or other charity shops to find a designer bargain. But what you'll always find is cool old school stuff. Even though fashion goes in circles, everything always comes back. In general you can find pieces like cool hats and accessories. Crazy 80's and 90's dresses is something you'd always find. You have to close the offer right away though, the risk that it's gone tomorrow is big.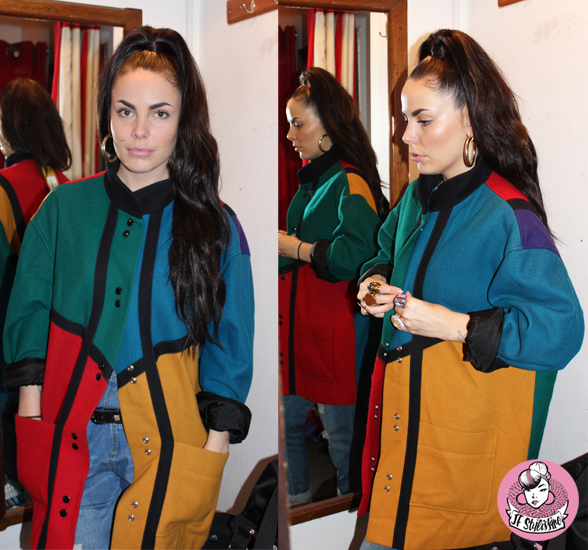 JF: I found this block colour jacket and it's something I haven't seen before, I don't think I could find this nowhere else. I like the colours too, sometimes I wear a bit too much black. I have to have it! And £50 is not too much.