Many of us dream of being able to earn money out of a hobby…and Funzing has actually made this possible. Funzing is a new platform launching in Shoreditch, that started from the idea that sometimes you just get fed up of doing the same old things over and over again: the platform is a chance for people to get together and try new experiences through unique events. If you've got a hidden talent, then Funzing allows you to take it a step further and share it with others by hosting an event. It only takes three simple steps to create an event, so whether you host a Underground Jam Session or give a guided tour on your neighbourhood's hidden quirks, Funzing allows you to make money from something you love doing.
What's more, the platform aims to be more than just a website: it's a community. Since hosts are individuals like the rest of us and you're mingling with guests who share a common interest, it is also a great way to meet new people. Funzing is a two-way thing.
Alternatively, if you want to spend an evening learning from someone who is truly passionate about a topic, you can sign up to attend one of the events listed on Funzing. Who hasn't dreamed of turning into a wine expert or becoming a dab hand at photography?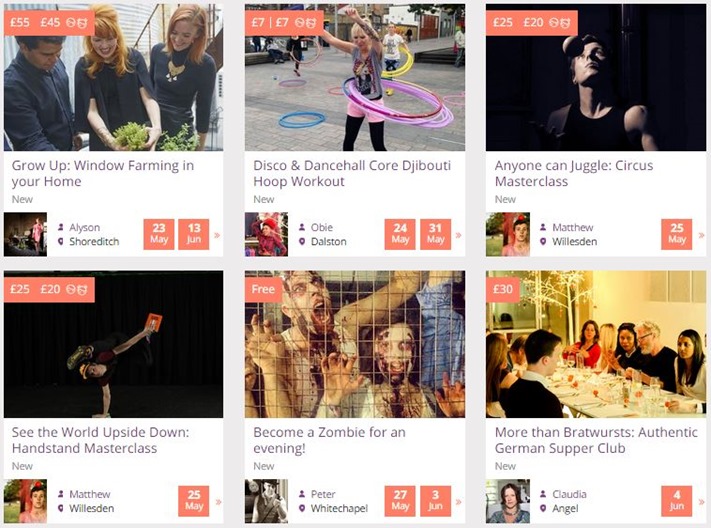 So how does it work? There are no registration costs and you can set up your event in a few simple steps, deciding what rate you want to charge. Or, if you're simply interested in attending an event listed on the website, you can sign up without having to pay for any of those annoying extra booking fees. Funzing have made it hassle-free for anyone to get involved.
The long and short of it is that Funzing is all about fostering and making the most of local talent and creativity. It may have only just launched in London, but the platform already promises to be the perfect way to participate in events that are just that bit different to anything else going on. That's certainly reason enough to jump on the Funzing bandwagon, before everyone else does too.
Sound like your cup of tea? You can get involved with Funzing online, on Facebook, or via Twitter.