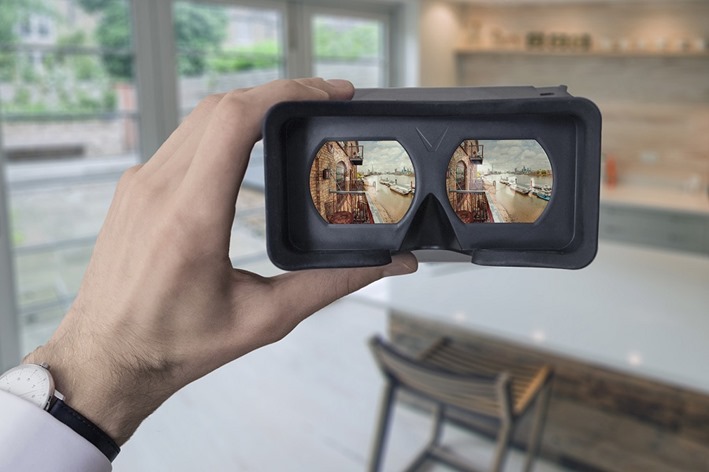 VirtuEye a London-based start-up is the first company to offer a 360 degree experience in complete stereoscopic 3D to the entire real estate market. Instead of booking endless appointments and taking the time to view houses with a long list of agents, potential buyers are now able to "visit" each property from the comfort of their own home or agents office through VirtuEye technology.
Of course buyers are still free to visit properties in the real world, but VirtuEye helps to save time and narrow down the choices. Even going from 20 viewings to 5 means big savings for the real estate agent as well as a huge list of benefits for the client and the environment combined (e.g. less time wasted in traffic, less money spent on petrol, reduced carbon footprint). Factor these benefits in with the ability to visit properties overseas or while on holiday, and VirtuEye has everything covered.
VR companies such as Oculus Rift began the renaissance of this fascinating but forgotten technology. Now, as the concept side of VR has caught up with modern expectations and companies like Microsoft, Facebook, Samsung and Apple all producing the hardware, it looks like Virtual Reality is evolving faster than ever.
We had a quick chat with Ronaldas Buozis the co-founder of VirtuEye:
What did inspire you to start this?
The first thing that inspired to get this started was the unquestionable future potential of Virtual Reality (VR). From the first try of the very first development version of Oculus Rift it was clear that this will grow to be something very big. Although at that stage the quality was very poor and had quite a few technical issues – the potential really stood out. It was very focused on enhancing gaming experience, but we thought it must have more uses outside gaming. Since it was obvious that soon VR inevitably will become a great shift in the way we interact with content – we had two choices: to stay away and see it grow or be a part of it. We've chosen the latter one.
What were the biggest obstacles launching the start-up and how did you overcome them?
Well, the very first obstacle we've faced was in the technology. We tried looking if anyone had made cameras that would do stereoscopic 360 degree high quality panoramas and to our surprise we didn't find any. We made a decision to make our own and in the process we figured it out why no one is doing – it's physically impossible. It gets quite technical, but there is a pivotal point in space which lens needs to go around to capture perfect 360 panorama, but once you have two lenses, you can't be turning around one point. In other words it's very straightforward with a standard 360 degree panorama, but once you want to achieve stereoscopic 3D and let the user feel depth in space you run into trouble. Luckily, after months and months of testing and programming, we did it. Coming from film-making background really helped solving technological obstacles with lens based technology.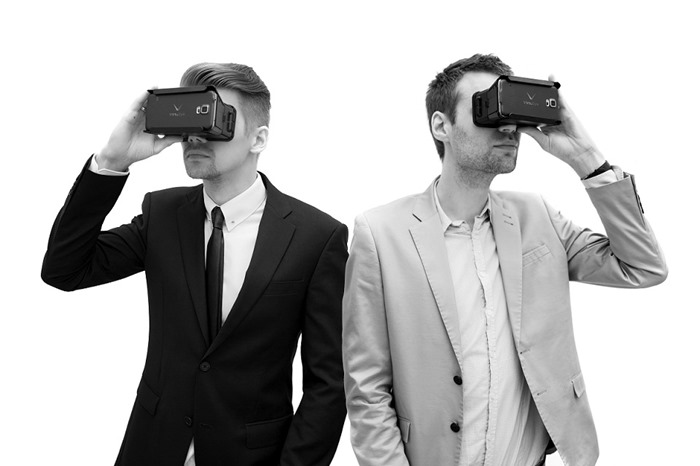 As with everything completely new, people react to new technology in various ways. As you probably know the saying: everything that was in the world when you we're born is normal, anything that became invented between you're fifteen and thirty-five is exciting and revolutionary and anything created later is against natural order. People who try VirtuEye for the first time are always overwhelmed and just love the immersiveness and clarity. Another hurdle we've faced was that it's impossible to explain in writing or even video how it actually feels. You need to try it for yourself in order to grasp what it is and in our experience people find it more impressive than they thought it would be.
What does the future has in store for your company?
We want to make VR easily accessible to everyone and we're developing even a better version of the whole process. The key factor is easy of use for the end user. People should take in how to use it without any prior experience and just by enjoying it intuitively.
VirtuEye is also expanding its fields to creative industries. Our next project is an Art Exhibition "Virtual Borders. Arizona" in Brooklyn, New York. By creating art sculptures and placing them in 'the middle of nowhere' of Arizona's desert Virtual Borders seeks to redefine the idea of space and the sense of belonging. With a help of technology, Virtual Borders transports the spectator from highly populated New York City to the vast open-air gallery in Arizona's desert. Virtual Borders is launching on the 14th of July 2015.
More info: www.virtueye.com