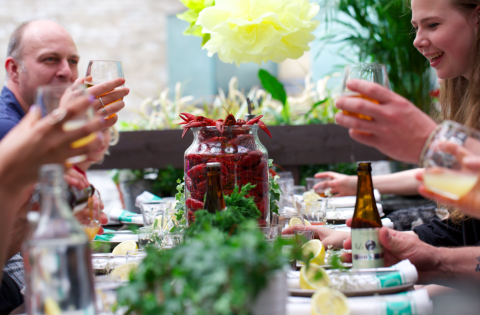 Fika Bar & Kitchen is your new crayfish fairy godmother. From July 30 to August 16, Fika brings "The Crayfish Festival," a night of all you can eat crayfish from 12:00 noon until midnight. The casual environment will take you to make new friends as all tables are sharing tables and there is no seating chart. The night will welcome you with Prosecco and snaps and on to the festivities. Fika will even give you an introduction to how to eat a crayfish, the snaps tradition and the use of the song sheet. According to the Scandinavian crayfish tradition, the salty crayfish must be washed down with shots of snaps, usually aquavit, each accompanied by a song.
Fika is a cozy venue located on the always-buzzing Brick lane; offering food and drinks with a Swedish twist. They love to be inspired and aim to inspire others, that's why they are always on the look out for the freshest Scandinavian trends and artists for their walls. They have also recently opened a second location, Fika Swedish Cafe at 414 Roman Road with delicious Koppen coffee as well as healthy breakfast.
Fika was founded and is owned and run by Sadaf Malik, a Swede who first moved to the UK to study at Edinburgh University. They regularly organise workshops, pop ups and all kinds of events.
For any enquiries and bookings about THE CRAYFISH FESTIVAL please contact popup@fikalondon.com.