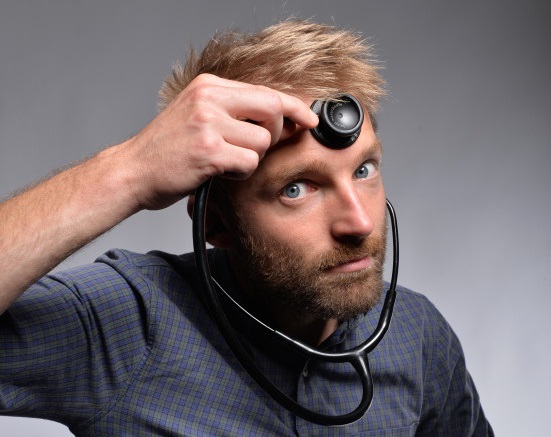 Stand-up Comedian and sometimes psychiatrist Benji Waterstones has beaten over 160 other comedians to get himself to the final of the Comedy Knights Fresh Comedian of 2015, and here's a little introduction to the man himself:
What area of London do you currently live in or most associate yourself with?
I live in Bethnal Green and have grown a beard to fit in but I don't really belong. Sometimes when walking past hipsters I think 'if only they knew I was listening to "Now 91" on my ipod'.
How would you describe your act in five words?
Lonely shrink struggling with life.
How long have you been doing comedy?
2 ½ years.
What is your day job?
Doctor
What has been your worst job?
Doctor
Who are your heroes?
Robin Hood, William Brown and David Beckham.
What made you bite the bullet and start performing?
Moving to London as a fresh-faced psychiatrist.
What was your first gig like?
Misleadingly good. My friends were there so I got three applause breaks and for the following week I remember mentally rehearsing my answers to questions on 'Friday Night with Jonathan Ross'. Then on my second gig I died on my arse.
What has been your biggest achievement so far?
Not being struck off by the medical profession.
What has been your favourite gig?
The Comedy Store.
And describe your worst?
That second gig was at a rowdy rugby club and when I ordered a J20 the proprietor called me a 'soft drink wanker'. When I was on stage the crowd were just as friendly.
Weirdest heckle?
I'm lucky it doesn't happen much because my material is one big self-heckle.
What is the biggest lesson you've learnt?
Even if you feel like a sell-out artistically, audiences generally love a dick-joke.
Where do you hope to be in ten years with your comedy?
A full-time comedian with 9 ½ years under his belt.
Any other aspirations?
Eudaimonia would be nice.
What's you favourite joke by another act or from your childhood?
Probably Alasdair Beckett-King's visual 'John the Baptist' joke. It's one of those that makes you excitedly grab peoples knees beforehand and whisper 'listen to this!'.
The Comedy Knights Fresh Comedian final will be taking place at The Hackney Attic on September 24th, and tickets are available here.