Over the past couple of months we've been featuring artists set to exhibit at this year's #ILLUS16 (10th – 12th June). We managed to find time last week to grab the founder Marc Farrington, here's what he had to say.
How did Illustrated 2016 start?
I moved to East London in 2009 and had my heart set on becoming a successful artist.  Struggling to find decent galleries to represent me I decided to start my own pop-up platform called 'Showcase London' designed to welcome local artists of all disciplines – we appeared at the very the start of the pop-up craze which has since taken East London by storm.  To secure our first venue I visited a number of bars and cafes along Brick Lane on quiet nights and asked if they could give me space for a fortnightly pop-up exhibition – in return I would guarantee a minimum bar spend and decent crowd.
After a few rejections we eventually struck lucky with Cafe 1001 on Brick Lane and they agreed to give us their function room once a fortnight as long as we hit a minimum bar spend of £500.00, crucially they also offered to store our exhibition panels (super heavy 8ft x 4ft Formica pegboards but totally essential infrastructure) in the basement.  I remember buying these with a small amount of money I'd saved (apx £1K) from a previous job as a assistant floor manager for UKTV and thinking I must be mad!  Once a fortnight we'd carry 48 panels each weighing 50Kgs up from the basement and setup the show & de-rig everything the same evening.  This happened for about 11 months until we decided to upgrade our venue moving into Richmix (Bethnal Green Road, London, E1).  We changed our name to 'Showcase Cities' repackaging the show to include live performance and music, we made it a monthly event giving us greater scope to improve the quality of our exhibitors making it slightly more of an occasion.
How did Illustrated evolve into what it is today?
While operating out of Richmix we began to notice illustrators attract more attention from the crowd and sell work more than other exhibitors, we also noticed our crowd becoming more trendy as we began to attract those working in nearby advertising agencies, it was around this time we began to think about changing Showcase Cities into a more defined event resource targeted at London's creative sector.
After a couple of year's at Richmix operating as Showcase Cities we took some time out to reassess and refine our offering.  We wanted to improve on the quality of our events, develop a unique format and be taken more seriously as an industry platform bringing something worthwhile and refreshing to both the artistic community and London's creative sector.  We took the decision to refine our offering and focus on illustration (due to its prevalence throughout the creative industries) and street art because of our East London roots and love for graffiti.  We launched our new offering last year: ILLUSTRATED – The Industry showcase for Illustrators + Street Artists, breaking the event down into a B2B industry focused launch party, networking evening + PV then opening our doors to the public thereafter giving them an opportunity to see some of the best in the business.
What makes Illustrated different from other events?
We're not a art fair.  We're a high-brow industry event attracting creative professionals inviting them to meet some of the worlds top illustrators and street artists, this is their opportunity to see work in the flesh and meet the artists.  Artists (in particular illustrators and typographers) have such a key role to play in creating successful, engaging and meaningful campaign messaging, and having worked with many artists over the years many of whom have worked professionally for big brands, we understand the importance of creative agencies seeing work in the flesh and interacting with the artists in person before commissioning.  Online portfolios and biogs just don't cut it when artists are expected to interact with important clients and in-house agency design teams – getting a feel for the artist's interpersonal skills and authenticity is becoming increasingly important.
Despite our strong focus on linking artists with professional opportunities we strive to  keep things relaxed and casual on event day, we encourage a light hearted informal atmosphere at our events – we want to avoid our attendees many of which come straight from work feeling like they're stepping into another working environment – we want to keep things fresh and enjoyable, the complimentary bar also goes a long way to ensuring this!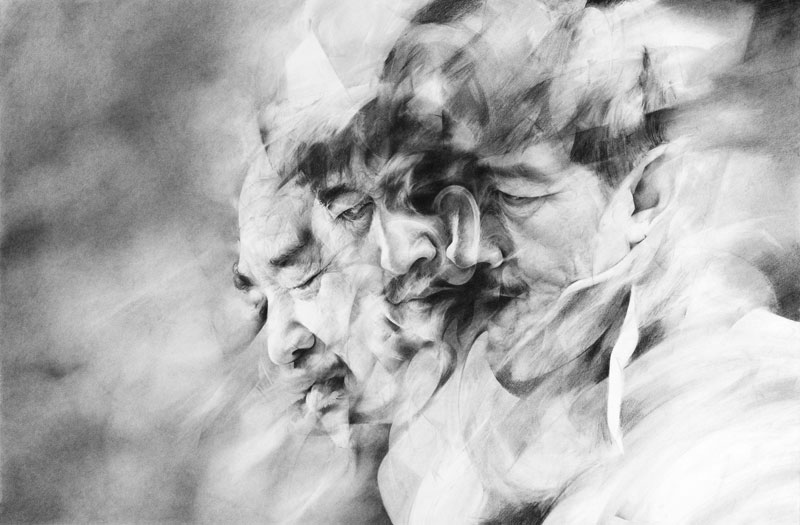 How important are live events like Illustrated in the art world?
As you're probably aware in recent years there has been an influx of art fairs operating in London, some of which are good but most are predictable, samey and the work on display is often fairly average as the event's primary focus is on making profits by selling stand space – ultimately event goers leave with a fairly mediocre experience.  We own all our infrastructure and AV gear so we spend less on our event deliveries and therefore don't need to sell exhibition space for the sake of it.  Last year we turned down nearly 100 artists as standards weren't high enough, this year we've turned down nearly 200.  Other exhibitions would have welcomed these artists to improve their sales figures but we've decided to keep things tight in favour of exhibiting strong content only helping us build a credible platform for the future.
Highly selective events with pioneering formats which ensure all stakeholders receive a quality and an ultimately beneficial experience in our view are essential.  Building these event platforms takes time and are difficult to get right and we're not there yet.  That said we do believe Illustrated is at the front of the pack and over the next few years we'll continue to innovate and strive for excellence.
What lessons have you learned from your previous events?
1.  Listen to your event's stakeholders – Everyone one from your exhibitors, VIPs, regular guests and security staffing, ask them what they would like done differently and how you can improve.
Innovate– Don't be afraid to try new things, even if they don't work you'll be surprised how much respect you garner for pushing the envelope.  People like to be part of a journey especially if you're treading on new territory, they like to see development through trail and error.
Communication is key – Customers are super smart and won't be fobbed off, if something isn't going to plan or you've had a last minute cancellation, communicate this right away and explain what you'll be doing to rectify the situation – even if the solution isn't ideal you'll be respected for keeping people informed and trying to work out a way around it.
What tips would you give anyone looking to start their own event?
Build your event around something you love and be prepared to work hard.  Enthusiasm is totally infectious, if you're passionate about it you'll infuse those around you with self belief and your energy will drive and shape the process of building a respected event platform.  Its also hugely important to maintain an upward trajectory when measuring your successes, this ensures you have momentum and helps propel you into the next event.  To ensure your next event is better than the last its down to you to have a genuine desire to improve on the last delivery if if its only a tiny technical improvement – never stop learning.
What's been the biggest highlight from all your events so far?
Launching Illustrated 2015 this time last year was a big achievement and a real milestone for us.  The years of hard-work developing our event format, continually upgrading our venues, improving our offering and building our following taking our concept from 'Showcase London' @ Cafe 1001 to 'Showcase Cities' @ Richmix and finally into 'Illustrated' @ G4 in The Old Truman Brewery has given us the solid platform we have today.
Seeing the quality of exhibitor improve year on year has also been a huge highlight.  Last year we had some of the biggest names in the business on show including Samuel Gomez and Alvaro Hidaglo and this year's no different with work on display from Antonio Lorente, Catrin Welz-Stien and Thomas Fowler.  Seeing our crowds increase, attracting sponsorship and receiving positive press make it all worthwhile.
Images credit: Illustrated 2016 exhibitor: Thomas Fowler