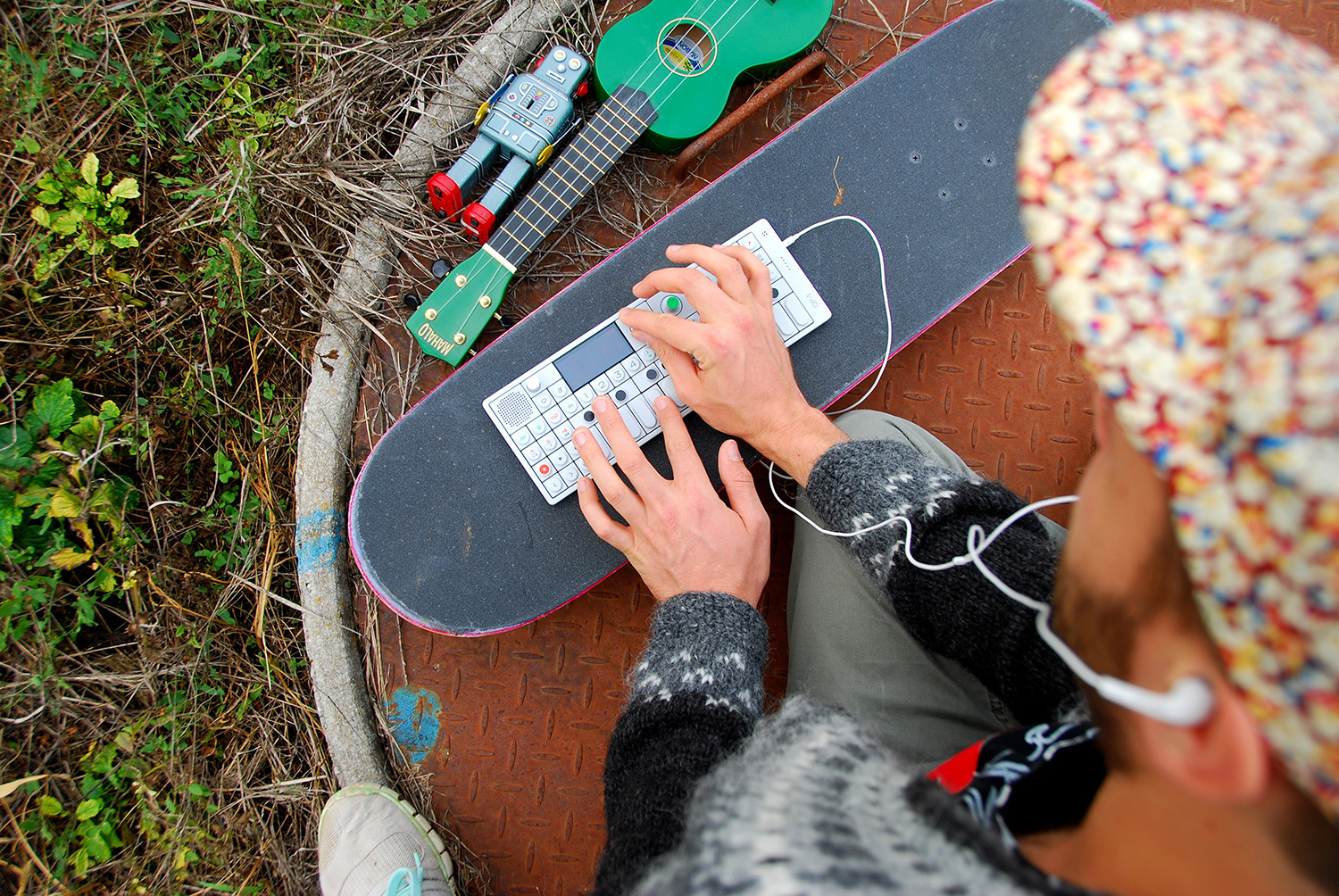 Andrew Applepie loves producing music, creating songs with everything he gets his hands on. He uses all kinds of instruments, ranging from familiar choices like guitar and drum machines to exotic contraptions he picked up while travelling, to all the stuff you would find in a kitchen. His very unique style transpires his charm, wit and happy nature, bringing an organic sound and laid back timing to electronic music.
We caught up with Andrew Applepie about how he is drawn to music and what he is listening at the moment, read below.
Tell us about you, how long have you been producing music? What did inspire you to start? 
I've started playing the guitar and making songs in magix music maker when I was 13 :D
From then on I played in bands and as a songwriter a lot. I don't know why but I just really felt drawn to playing instruments and making music it just felt right to me. About 4 years ago my brother got an mpc and that's when I really got hooked with producing beats and songs. And since then I've made up tunes in tons of different software and hardware.
The music industry is super competitive these days, was there a moment in your life that you wanted to give up on music?  How did you manage to stay focused and achieve what you want?
Some things about the music industry can be a little frustrating and weird, like for example people trying to make songs just for the purpose of creating something lucrative. In my opinion, if It was only about money, there are so many easier options than music and also music is all about the feels ;) And to be honest I didn't expect to ever be able to sustain myself with music, that's why I studied psychology and actually worked a year as a research assistant until last summer. But what kept and still keeps me going is just that I enjoy making music :)
How would you describe your creative processes? Who writes the lyrics to the songs? Are the music and lyrics written in conjunction, or separately?  
For my songs with Sandra (Bjurman) the lyrics and most of the vocal melodies are all hers and I built a song around it. For my other songs where I mainly sing myself I just sing along stream of consciousness style until I like it.
Where the inspiration comes from?
I don't think I know :D I'm guessing it's a mix of absorbing what's around me and certain sounds and feelings and instruments that make me come up with something. But I'm always careful with such explanations because the brain seems to have an urge to rationalize and explain stuff, which might have some truth to it but it also might be nonsense. All I can really say is that I enjoy the process J
What's your favourite track from the upcoming album and what other bands/artists are you listening to right now?  
My favorite tracks from our upcoming EP are Drowning World and Dove, a very dreamy tune. At the moment I really enjoy "Cash Machine" by D.R.A.M and Mura Masa's live performance of Lovesick on BBC. Caribou is one of my all time favorites and Mac Demarco is a sweetheart.
What's next for you?
Making tunes :D I wanna keep making a lot of tracks but there are a couple of things I wanna do next like getting on the road, collaborating more, especially with singers and working on a big album with cool features, a more sophisticated release and some cool tunes J