In 1st Century AD Romans ate the first version of today's pancakes- called Alita Dolcia back then which means 'Another Sweet'. In 1863 Dutch pancakes made its first appearance in cookery book De Verstandige Kock (The Sensible Cook). The original recipes included ingredients such as sugar, cloves, cinnamon, mace, and nutmeg and provided for the 'most common' and 'the best kind' of pancakes. Since then, all the cultures around the world fell in love with pancakes, recreating them in their own way and according to their culture's taste and most common ingredients. No wonder that this extremely popular dish is celebrated until the present day.
This year the big day falls on Tuesday, February 13th, exactly one day before Valentine's day, making the whole week totally acceptable for snacking on all the sweet temptations you wouldn't normally eat. If time doesn't allow you to prepare them on your own and in the comfort of your own kitchen why not try the hassle-free alternative? My Old Dutch– a traditional Dutch pancake house in the heart of London is set to capture your heart and please all of your taste buds this pancake week.
The restaurant is set to look like a traditional pancake house in the Netherlands, hence the name My Old Dutch. Established in 1958, its first-ever branch is situated conveniently between the West End, Covent Garden, and the City- in busy Holborn. Tulips on the walls, colourful lanterns and Dutch furniture all suck you in and make you feel like you're in the dreamy Amsterdam, rather than rainy London. The smell of maple syrup and bacon floats through the room and is so strong it becomes almost visible. But wait until you see the food.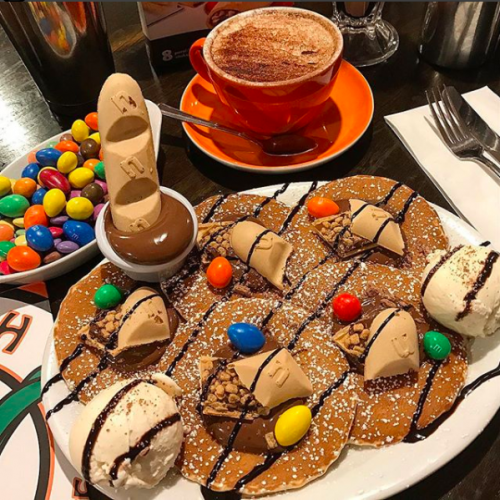 My Old Dutch offers savoury and sweet pancakes, as well as a selection of salads, traditional Dutch starters and desserts in form of Belgian waffles and Poffertjes- traditional Dutch mini pancakes dusted with icing sugar and served with butter and stroop- traditional Dutch syrup similar to maple syrup. It has the widest selection of pancakes in the whole of London and offers wonderful milkshakes and smoothies to accompany them. Think Berry Delight smoothie-full of red berries mixed with apple and mango, or traditional Belgian chocolate and Kinder Bueno milkshakes. The atmosphere is warm friendly and relaxed which makes it a great place to come for every type of pancake-lover. And for those who don't fancy this magical treat (if those people even exist), there is English breakfast, Ratatouille and other savoury dishes that don't involve a sticky dough in its making process.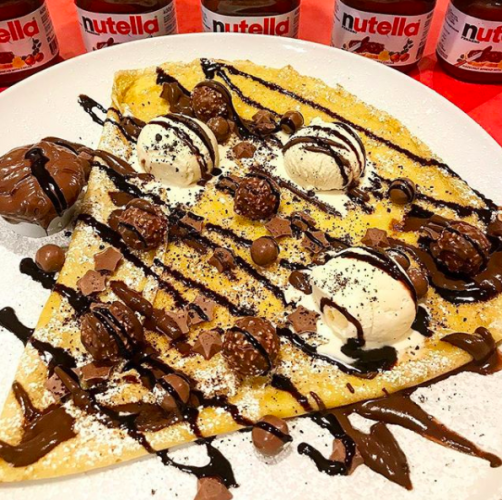 This Valentine's Day, My Old Dutch has boosted their menu and blessed it with extra love in form of a couple sharing pancakes. From 14th till 16th of February you and your loved one can choose from either Make Love– butterscotch hearts served with strawberry ice-cream, strawberries, blackberries, coconut shavings and Nutella or Poffertjes Love Cake– 32 mini pancakes served with cream, strawberries, raspberries and topped with vanilla ice-cream, chocolate sauce and Nutella. If you add original Dutch fruity beer, you're in for a perfect date.
Savoury or sweet. Small or big. Butterscotch, crepes or cute mini Poffertjes. No matter what size and type of pancake you want to eat this Tuesday, My Old Dutch has it all.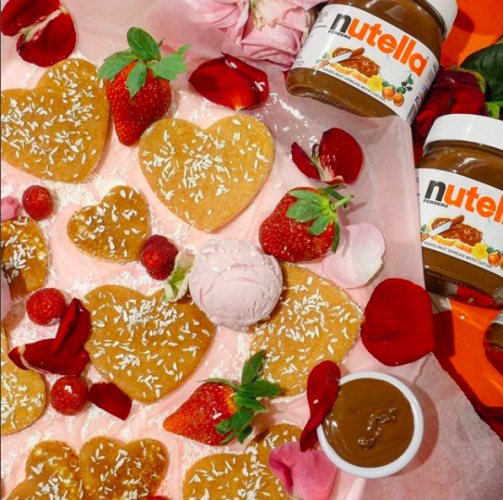 Locations:
131-132 High Holborn
Holborn
London, WC1V 6PS
Tel: 020 7242 5200
221 Kings Road
Chelsea
London, SW3 5EJ
Tel: 020 7376 5650
16 Kensington Church Street
Kensington
London, W8 4EP
Tel: 020 7376 6090