This July, renowned Chef Adam Handling will be moving his first award-winning restaurant The Frog E1 to a new, larger site at 45-47 Hoxton Square. The building, which sits on the corner joining Hoxton Square, Rufus Street, and Old Street, will be home to the newly named The Frog Hoxton as well as a new Bean & Wheat, Adam's sustainable coffee shop and deli, and a brand-new bar concept, Iron Stag.
Adam Handling said: "This is my biggest venture yet and it's a very personal project for me. I've learned so much from past ventures and whilst I'm proud of them all, I've delegated too much of the design concepts to outside companies. This time, I've taken on the design of everything myself.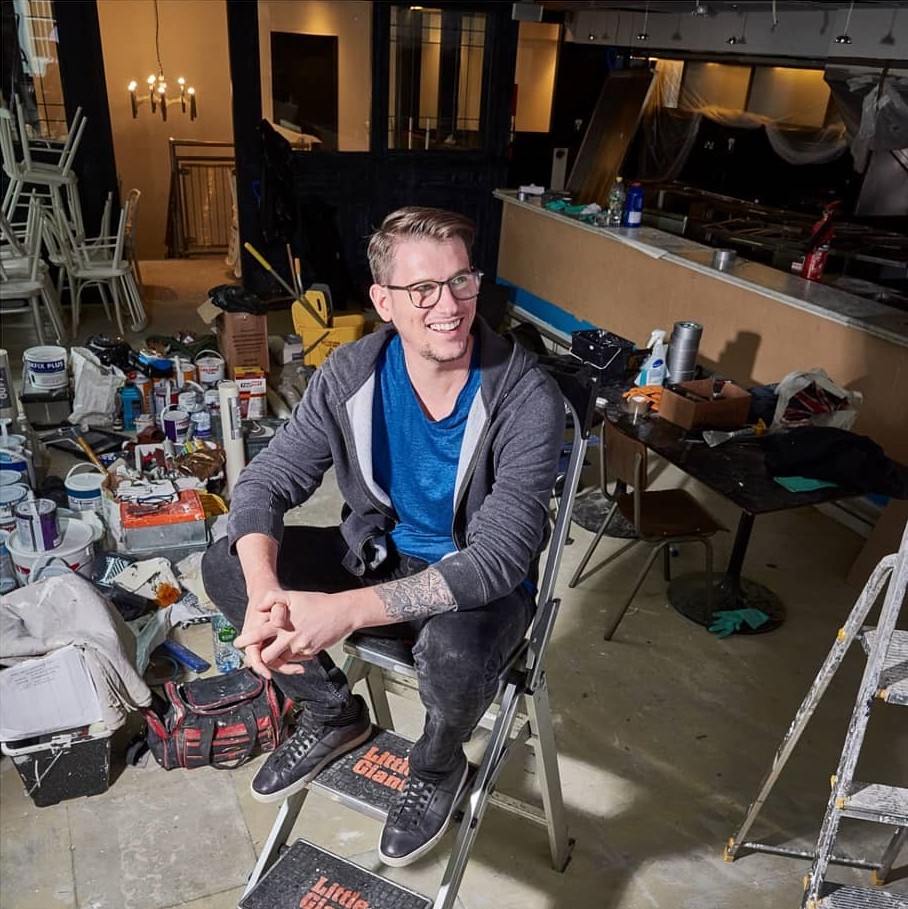 "The Frog E1 was originally supposed to be a test project on a temporary basis, but it became so successful we kept extending the lease. Now, we want to give it a permanent home to give it the revamp it needs. When we first opened Frog E1, it was just me a couple of my chefs painting the walls ourselves and putting on the doorknobs (backwards!) – we were so proud of it when we were finished, and I want to be just as proud of this new site knowing that we've done as much as we can ourselves.
"E1 was my first independent restaurant, and its been a great testing ground for what we do best. I want to take everything that people love about it and are familiar with, but slightly elevate the offering, and make it even better."
Opening at the end of July, the three individual venues will have their own separate entrances on three different streets to ensure that each experience is distinct. Adam will be overseeing all operations at the site, alongside newly-appointed Executive Chef Daniel Watkins who will have responsibility for the food offering across the three venues. Working with Adam on the beverage offering for the group will be renowned bartenders Rich Woods and Matt Whiley. The Frog E1's current Head Chef Jamie Park, will maintain his role as Head Chef at The Frog Hoxton, and the rest of the restaurant team will be moving to the new site too.
The Frog Hoxton restaurant will have 60 covers and retain everything guests love about the casual fine-dining concept, delivered in a more refined, elevated style. Frog E1 fans will recognise the styling, with furniture and artworks recreating the original restaurant's personality and feel, including the signature wall panel signed by celebrity chefs and the wider Adam Handling team. The Frog Hoxton will serve the a la carte and tasting menus that have won the group so many awards, alongside a bigger focus on large sharing plates.
Iron Stag's design and menus will be designed by Adam in collaboration with Rich Woods (award-winning bartender aka The Cocktail Guy) and Matt Whiley (aka The Talented Mr Fox, behind Scout).  Seating 100 – 120, the bar will be open six days a week from Tuesday – Sunday and serve a selection of carefully curated bar snacks designed to complement the drinks. There will be an emphasis on aged whiskies, including 35yr and 40yr bottles as well as the bar's very own casked whisky.
The Iron Stag's interiors will be warm and enveloping, with dark woods and leather, and will include bespoke touches such as oversized entrance doors, based on Spanish church designs, with solid silver stag antler handles on the doors. The bar will have an area for a live jazz band.
Adam's zero-waste coffee shop and deli Bean & Wheat will also be opening in Hoxton, open all day and evening, and includes a new and extensive craft beer offering with a fully licenced bottle shop. The beer library will be made up of offerings from smaller producers that Adam has hand-selected to promote and support, and all bottles will be available to take away.
The sustainable concept and emphasis on reducing waste will remain the same in that menu items including sandwiches, salads, parfaits and preserves will be made from offcuts and by-products not used in Adam's main restaurants. Adam will be implementing a recycling initiative in keeping with the theme of Bean & Wheat, encouraging customers to bring their empty beer bottles back in exchange for free coffees.
Adam's love of art will see him continue to support celebrated young artists as he has done at his previous sites. He will be working directly with Wishbone Publishing and several renowned artists for the Hoxton site, such as Monica Vincent, Zombiedan, Mr Cenz, JJ Adams, Katy J Dobson, and Jason Heppenstall. Each of the artists has designed stunning bespoke pieces exclusively for Adam, based on their previous portfolios alongside Adam's inspiration from his favourite restaurants around the world.