One weekend in August, I decided to stay at Oddfellows On The Park. Set within Bruntwood Park, within a glorious Victorian gothic mansion, Bruntwood Hall.
The interior design of Oddfellows is inspired by the building's Victorian gothic heritage and history, this is one of the UKs quirkiest hotels to spend the night or weekend in. The grounds are expansive and well preserved making it a pleasant city escape, located only 20 minutes from Manchester town centre.
Set Bruntwood Park, 100 acres of trees, lakes and manicured gardens. Making it a stunning retreat. The Peak District National Park is a short half hour drive away.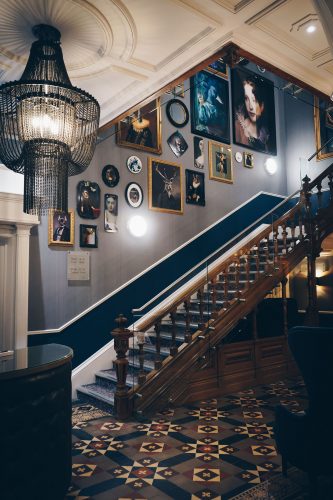 When I visited there was a wedding taking place, I imagine with its reception areas and stylized areas it must be a popular retreat for weddings. The Bridle Suite (pun intended) is an impressive three storeys, intended for newlyweds and newly loved-up couples alike. The suite has burlesque themed wallpaper which depicts people swinging from chandeliers. Although I would not advise participating in this against the hotel deposit unless you wish to be left swinging with a hefty bill.
The hotel's design came from Space Invader design studio, who hung swans from the restaurant ceiling and stylised mounted deer heads with wigs. They also commissioned portraits of dressed animals to be hung in the spa and bar areas.
Oddfellows property is itself set within the community of Cheadle. The hotel prides itself on being located nearby a truly local British high street with independent boutiques taking precedent over high street brands. The hotel also has wonderful community outreach, with the bar and living area very much being a space local resident can come from walking their dogs to have a coffee with friends.
Upon entering the hotel, we were greeted warmly by the receptionist who kindly arranged our room keys. The rooms themselves are stunning as one would expect from a luxury hotel of Oddfellows' stature. With retro Roberts radios and quirky artwork on the walls.
Oddfellows has many interesting rooms and areas to explore including The Pigsty Spa, with playful portraits of dressed up pigs and a Rhassoul Mud room for guests to wallow in with organic lla products and Tibetan Style massages. There is also a playpen where guests can enjoy flutes of prossecco.
One of the key centrepieces of the hotel is of course the restaurant. The hotel's ballroom provides an elegant understated setting for the Galloping Major Restaurant. Serving a traditional selection of British dishes such as lamb loin, pork belly with fresh Scottish Langoustines and broad beans. Bread is of course made on site and I was informed by a helpful member of staff that nettle and garlic are foraged on the day in the surrounding parkland.
Moving on to the bar, the hotel's wine list has more than 180 picks and 33 varieties of champagne. The hotel also has a superb cocktail menu, with a variety of martinis and signature drinks including tequila with fig liqueur and Buffalo Trace bourbon with rhubarb, pear and ginger.
Overall Oddfellow's on the Park is an incredibly well-presented luxury hotel, perfect for a romantic weekend away in the countryside or as a pleasant place to stay before exploring Manchester's wonderful selection of bars and restaurants. Also, a splendid place to stay if exploring Manchester's rich cultural heritage from the famous Trafford Centre to the famous John Ryland library.