The struggles of traveling with perfume are coming to an end. Travel Perfumes want to remedy these struggles with their refillable perfume atomisers and launched a Kickstarter campaign to do that. Weighing just 17g when filled with dimensions of 90 mm x 20mm, these compact perfume bottles are ideal for abroad travel and daily commuting alike.
After working in the travel retail industry for seven years, founder Laimonas Zutkis gained an understanding for what the average travelers need in their bags. He also noticed something missing in retail: travel-sized perfume bottles. Instead of carrying around a clunky bottle, Travel Perfumes' products fit compactly into luggage, hand bags, laptop cases — whatever sort of bag the traveler has on hand.
The process for choosing the appropriate product is simple. Customers choose their type of perfume, the colour of the bottle and then the scent.
Travel Perfumes ships out their bottles filled with fragrances; however, once the consumers finish using their scents, they can easily refill it with another perfume and use the bottle indefinitely. This also allows the user to test out different fragrances without committing to a full bottle. The perfumes act as a sample so the customer can get a proper understanding of what the new scent is without paying a steep price.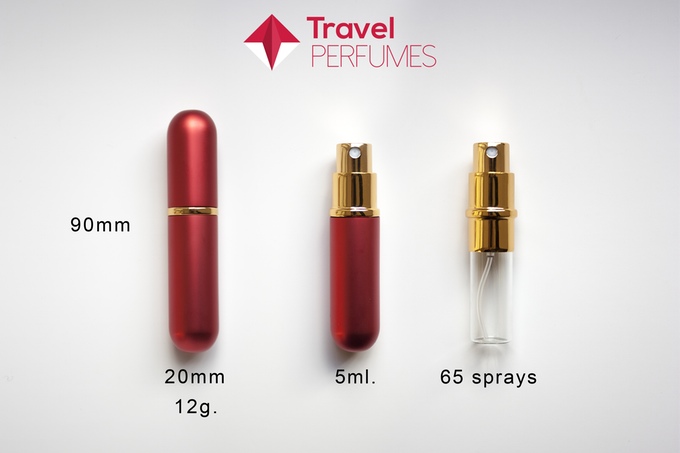 The bottles come in a modern, sleek design. No matter the age or gender, every person can find a design that fits their aesthetic. They are specifically designed using only glass, plastic and aluminum to diminish the weight of the atomisers. This allows them to be toted to the gym, work, the airplane — anywhere the busy person is off to.
Each bottle equates to about 65 sprays, the perfect amount to last several trips without emptying too quickly. In addition, the atomisers were developed to prevent leakage. They seal tightly and securely, assuring they do not spill inside of bags.
Travel Perfumes plan to be available by January 2016. Support their Kickstarter here.