The Skinny Kitchen took Ibiza by storm when it opened back in 2014, by husband and wife team, Joel and Lois Belchem, inspired by their love of fitness, clean healthy food and of course Ibiza!
Joel Belchem, a former personal trainer and gym owner was frustrated with the limited dining options available to suit his dietary needs and boost his client's health regime. Seeing a gap in the market the husband-wife duo decided to sell the gym and move to their beloved island to open Ibiza's first all-day dining healthy hangout.
The Skinny Kitchen was an instant success among health-conscious and body-conscious holiday goers looking to eat clean and stay fit, but also providing a healthy alternative to those wanting to detox and feel healthy again – maybe after a few too many nights of partying hard at any of Ibiza's world-renowned night spots.  Even celebs and famous musicians were attracted to the unique healthy concept with fans including the likes of Nicole Scherzinger, Neyo, Ella Eyre, Example and Rudimental.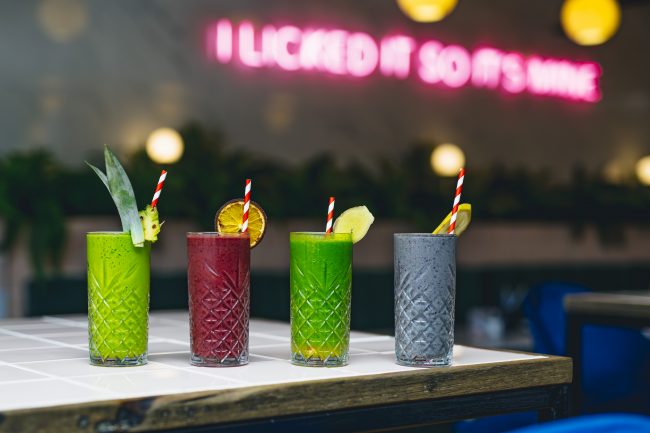 Now the Ibiza-originated restaurant group is bringing its brand of hip clean eating and Ibiza mantra of "Eat Clean, Rave Dirty" to London with its first recently opened location in Islington with another London location opening up early this year in Ealing Broadway.
With an all-day dining menu of fresh juices and organic coffee in the morning to superfood cocktails in the evening, the restaurant's extensive food menu caters to everyone no matter their dietary needs – from gluten-free, vegans, vegetarians, bodybuilders or just people that love eating healthy.
The new Islington hotspot channels its Ibiza origins with Instagram-worthy, island inspired interiors.  A large heated outdoor terrace brings the indoor-outdoor island vibes, while the interior boosts sleek feminine pink tiles, vibrant teal velvet booth seating with vibrant plants and green foliage dangling from the ceiling.  Diners can sneak a peek at all the fresh produce and healthy dishes being served through an expansive open kitchen.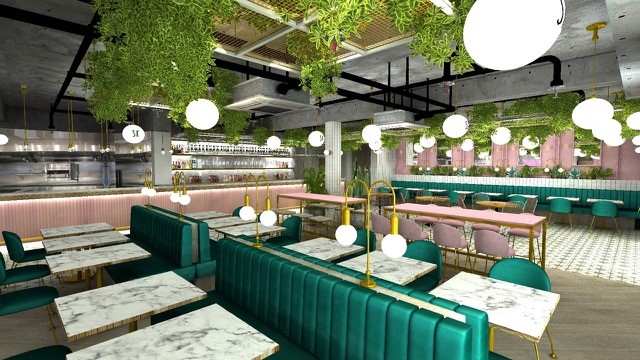 The menu is massive and eclectic with tons of superfood, protein-packed, meat-free alternatives sure to boost your energy levels, detox your system and help you stay on track to that New Year's resolution of six-pack abs and a tight derrière. Using only high-quality ingredients from trusted suppliers the food is clean, natural and contains no nasty additives, and includes macronutrients for those  counting  calories and tracking their protein, carb and fat intake.
The restaurant offers an all-day dining experience with a sizeable breakfast and brunch menu served until 5pm, including acai bowls and high in fiber vegan spelt pancakes with peanut butter and jam, banana and coconut options all available. For those looking for a quick breakfast to-go or post workout boost there is an extensive menu of fresh smoothies and juices including The Skinny Bunny – with pineapple, banana, mango, spinach, lemongrass and coconut milk or The Superfood City – with mixed berries, banana, mango, activated charcoal, flax seeds, chia seeds and almond milk.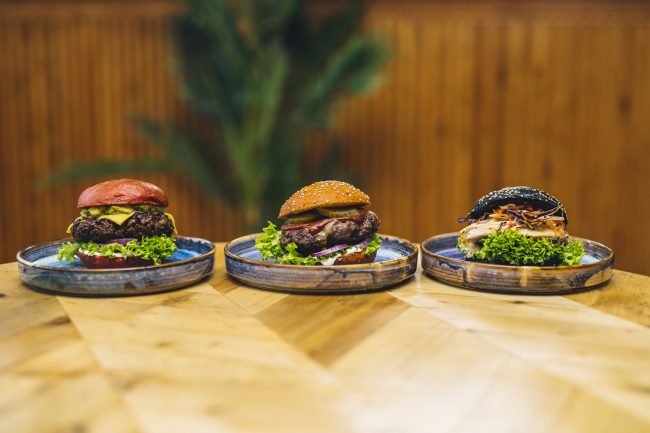 For a midday protein boost, diners can choose from a selection of burgers including vegan soy protein burgers in a beetroot bun, flavourful chicken satay burgers, or juicy beef patty burgers in a charcoal bun.  Asian and Thai inspired dishes include Coconut Curry with the option of falafel or cod, Buckwheat Noodles with tofu or chicken are a great gluten-free and vegetarian option.  The Protein Bowl selections are packed with flavour, spices and greens including The Raw Buddha Bowl full of colourful, superfood veggies.  The Chilli Bowl with Chipotle chilli beans and spicy rice has got just the right amount of a spicy kick, while The Peanut Chicken Bowl with satay chicken, Asian slaw and spicy rice is authentic balancing savoury and sweet flavours.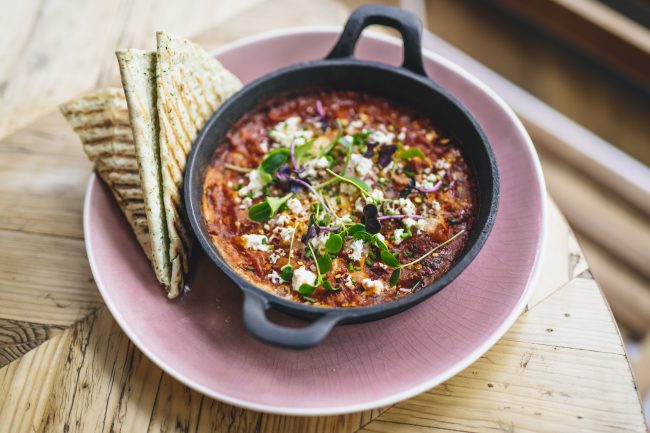 A guilt-free dessert menu that is sugar-free and vegan friendly includes mouth-watering sweets such as Salted Caramel Crumble with granola, banana and coconut cream, Chocolate Pot with chocolate mousse and a caramel centre, and Carrot Cake made with cashew cream.
You can even enjoy a guilt-free after work cocktail as the impressive alcohol menu offers healthier options such as organic beers, superfood cocktails and low sugar spirits and mixers. Popular superfood cocktails include The Black Mojito – with Barcelo, platinum rum, mint, activated charcoal, lime soda, brown sugar, and The Matcha Made In Heaven – with Rives London Dry Gin, Matcha, lemon, egg white, ginger, agave and lemon.
Everyday food with a clean, healthy twist, The Skinny Kitchen is intent on helping Londoners commit to eating clean and healthy, whilst bringing the Ibiza island-vibes to the city with DJs spinning on the weekends.  If your lifestyle is all about healthy food and sticking to your diet goals, you've come to the right place!
The Skinny Kitchen, Business Design Centre, 52 Upper St, Islington, London, N1 OQH