A little birdie has just told me about the exclusive arty haven located on the upper level of IT London, the slick new restaurant which recently opened in Mayfair. The invitation only upstairs lounge provides a vibrant setting with daily DJ sets and contemporary art adorning the walls. Are you in the know?
The artwork is symbolic of the refreshing photography ban and policy that guests abide by – 'IT's Offline'. The pictures of blurred Instagram posts are representative of the lack of digital connection found in this space. As a policy this encourages connections to be made offline as the lounge is a sociable hub which successfully brings creatives, city workers and trendsetters together. A genius idea which provides guests with complete privacy and protects the selectiveness of the lounge.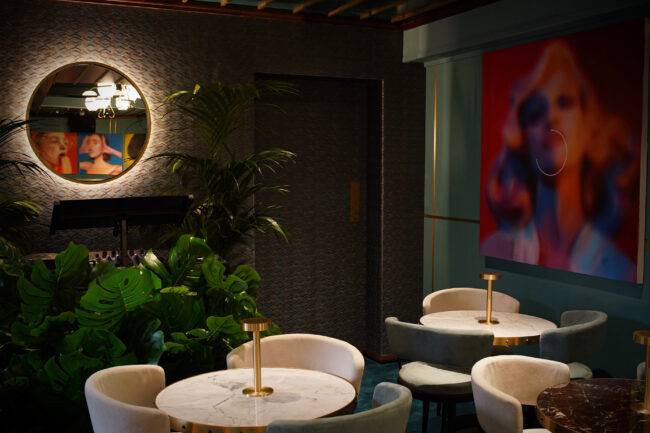 Have any of our half a million+ followers made it upstairs to the exclusive lounge? Our invite must have got lost in the post… we are just dying to be a part of IT.
Through the grapevine we heard that IT are launching their weekly Sunday brunches, known by locals as the most opulent brunch in Mayfair! Luckily for us the brunch isn't invite only so anyone can attend – this includes guests both young and old alike. As the upstairs private lounge is transformed into an oasis for little guests of IT and there are magicians, karaoke, games and even more to keep the children entertained!
The delectable Sunday brunch menu has an array of over 30 hot and cold dishes served over the course of four hours, with a bespoke menu every Sunday. Some of the signature dishes which are typically served include the Polpettine (beef meatballs, tomato sauce, ricotta cheese), Salmone Affumicato (Scottish Smoked Salmon, Crème Fraiche), Parmigiana, Patate novella, funghi, tartufo nero e spuma al Parmigiano (potato, wild mushroom, black truffle, Parmesan foam) and the famous "IT Milano" (Citrus risotto with saffron and wild fennel).
So, if you can't make it upstairs to the secret arty hotspot, then visit IT for a brunch like no other every Sunday 12pm – 4pm. Alternatively stop by for lunch, dinner, a coffee or cocktail any day of the week. I promise, you won't regret IT.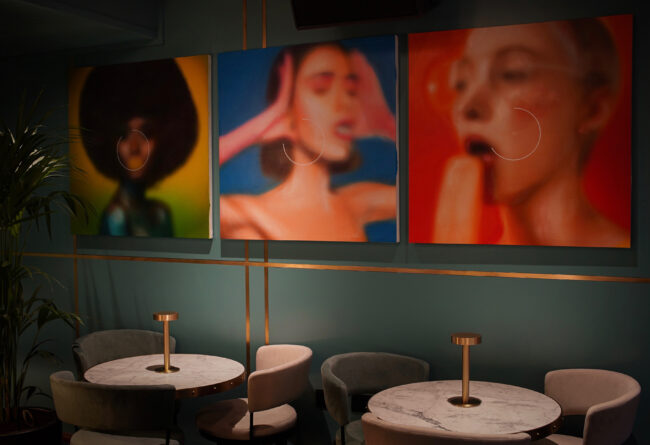 Daily diners can enjoy a mix of gourmet Mediterranean cuisine which showcases many of the IT signature dishes. Of which includes the chef's signature Spaghetti al Pomodoro, made with IT's homemade Vesuvio tomato sauce, his acclaimed Scabbardfish "80's style" in Nocellara olive soup with fennel purée and almond. As well as a selection of IT's speciality pizzas with their famously thin crusts. Vegetarian options include a Fennel gratin accompanied by almond and avocado, as well as a delightful Courgette Tartare.
The music lies at the heart of the London IT experience with a carefully curated soundtrack which brings the energy of Ibiza to Mayfair with smooth daytime beats and hypnotic evening grooves. Just to add to the coolness of the venue IT host regular events with world-class DJs – wouldn't you like to be on the guest list?
An upcoming launch of 'Aperitivo' in March may provide you with the perfect opportunity, as IT are helping solve the midweek blues by bringing one of their favourite Italian traditions to Mayfair. Help take the edge off of the working day by relaxing with a large glass of wine or a light cocktail, Monday – Friday from 5-8pm, see you at the bar.
Who knows maybe with the addition of this trendy new hotspot located in a former Dover Street art gallery, Mayfair might become the new Shoreditch?
But SHHHHH don't tell anyone… IT's a secret.
xxx
IT, 28-29 Dover Street, London W1S 4LX
@itlondon