Just a little way from the hustle and bustle of central Shoreditch, and surrounded by buoyant hotspots such as Box Park, Burro e Salvia is something of a hidden gem. Open for both lunch and dinner, Burro is a refuge from the louder neighbouring Shoreditch eateries, and provides its customers with an authentic and homely Italian interlude for pasta-focussed dishes.
The venue is small and personal, with high ceilings and a skylight, and a seating area to the rear. Whitewashed walls and shabby chic furniture add to the homely atmosphere making it a perfect choice for a casual lunch break, while the intimate candlelit evenings are in high demand for those looking for a date night.
Gaia Enria, the owner of Burro, can usually be spotted rolling out a range of different types of fresh pasta in the front deli. She talks vividly of her passion for pasta, the business, and the ethics on which Burro has been built. Opened in 2013, both the food and the restaurant reflect her upbringing in Northern Italy, and her aim to bring a version of a 'pastaficio', a form of artisan pasta factory, to London. Gaia emphasises traditional flavours and tastes in the selective menu. The dishes are of a perfect size to encourage customers to sample as much as possible of what is on offer, which is to be encouraged as the options can be fleeting due to high demand and seasonal – if not daily – change. Three courses are highly recommended to give diners a sense of the most delicious antipastis, the pastas, and the desserts which include ia wonderfully decadent tiramisu. While the food menu is focused, the alcohol options extend to a broad selection of Italian wines, craft beers, and a delightfully bitter Aperol spritz.
For those who are not full despite the rich and flavoursome courses, or those simply in too much of a rush for a sit-down meal, fresh pasta is sold in the deli. These dishes are competitively priced for a take-away city lunch, although perhaps a little pricey for a large and regular family take away.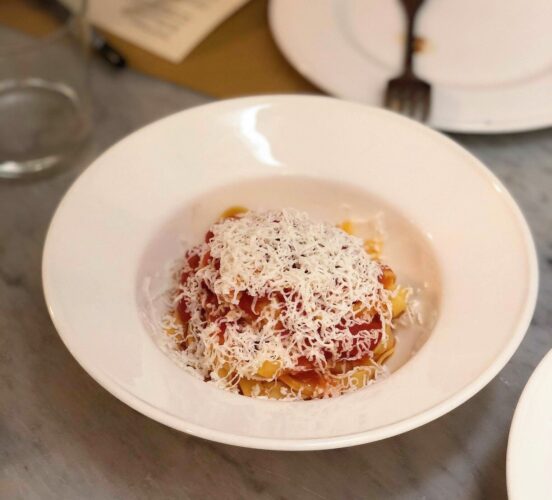 Burro's defining quality is the filled pasta. The 'Plin de Pollo arrosto con Tartufo Nero' is a roast chicken filled pasta with black truffle which may cause one to think of an elegant roast dinner (although that maybe a terribly English comparison); the 'Agnolotti Cavour al Burro e Salvia' is filled with pork, beef and spinach, dripping in sage butter and is rich and moreish. Vegetarian dishes include the 'Orecchiette' (pockets of sumptuous al dente pasta), each holding a perfect amount of basil pesto, and the distinguished Tagliatelle with a ripe tomato sauce, and smoky ricotta. Of course, given Burro's adhesion to seasonal produce, the changeability of the menu means that different dishes might be on offer when you visit – but they can be guaranteed to be equally as delicious.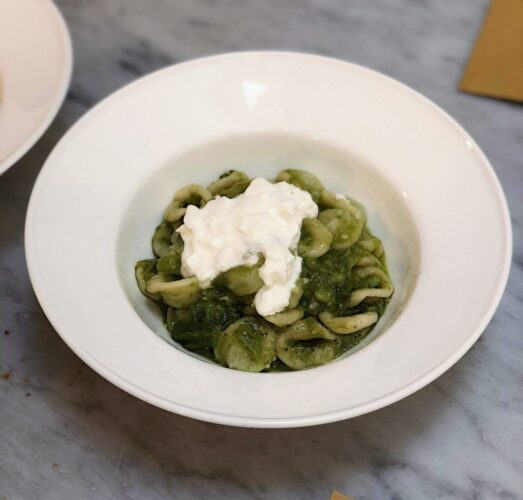 For those of you who find inspiration in Gaia's passion and philosophy behind her pastaficio, you can find out more at the regular workshops where you can learn all about how to make superb al dente pasta. These classes start from £50 and can be combined with a sit-in dinner for the perfect pasta party experience.
Good for – city work lunches, take-home pasta to impress others with your faux cooking skills.
Not so good for – larger groups due to the tight space.
Price – ££
52 Redchurch Street
E2 7DP
Monday-Saturday 12:00-3:00pm
Sunday 12:00-3:30pm
Thursday-Saturday 6:00-10:00pm