Popolo offers not only some of the best pasta dishes in Shoreditch, but also executes these dishes in the most effective and practical manner. Exceptional flavour and the usage of ingredients with minimal wastage go hand in hand, to produce dishes that feature authentic Italian ingredients, individualised through Middle Eastern and Moorish influences.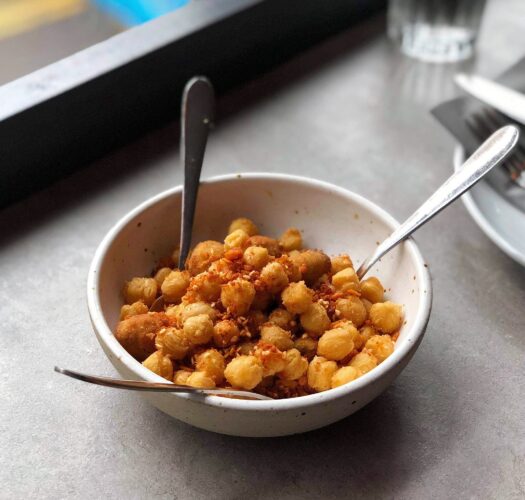 The venue, housed over two floors, gives an impression of feeling quite small. However, Chef Jon Lawson explains how its size has in fact worked to the advantage of the restaurant – which is, after all, flourishing. There is definitely an exclusive feel to having a seat in the intimate candlelit atmosphere. Those seated downstairs get to watch the ingredients being deftly transformed into ingenious and mouth-watering dishes. Making good use of everything available is imperative, whether it is in the way in which the kitchen has been carefully designed to fit the allocated space, or the menu which is tailored to use only the best seasonal products.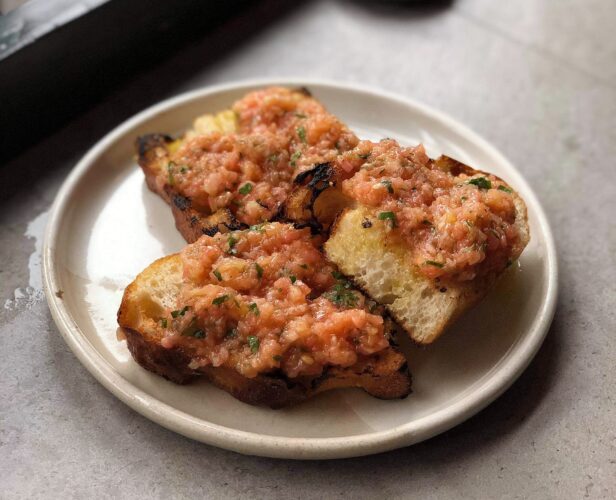 The ingredients are handpicked, as Chef Jon explains whilst showing us a whole and wonderfully smelling fresh tomato, imported from Italy. The ciabatta has been allowed to smoke for a day to enhance the underlying flavour and will be combined with the tomato to create bruschetta. Interestingly, the tomato would not be found for sale in many outlets due to a slight discolouration. However, that in no way detracts from its taste and importantly at Popolo, food wastage is out of the question. The attention to detail, the care for the environment, and thought behind the authenticity of the journey of the food, from producer to plate, is clear.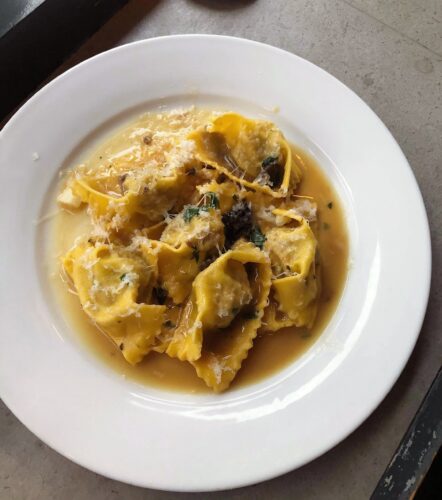 Popolo set up an Instagram live cook-along stream over lockdown which has boosted their eager and loyal fan base. These diners were first in the queue when lockdown was lifted to sample pasta cooked by the master himself. The Eat out to Help Out scheme has increased enthusiasm, and Popolo goes from strength to strength.
Each pasta dish is exceptional, the flavours thought through and executed perfectly. The Chef let us into an Italian secret – ideally you should eat your pasta within four minutes.  Dither, and the quintessential al dente texture will be lost. So you can take advantage of this very special know-how and eat your pasta within four minutes, the portions are kept on the smaller size.  But of course this gives you an excellent reasons for ordering as many different dishes as possible. The 'Gnudi' features soft and slightly salted smoked ricotta coated in airy semolina, and herby marjoram butter.
Chef Jon notes that Italians generally consider combining cheese and fish a crime before we sample the 'Taglierini' of handpicked Dorset crab and bottarga. And then there is the 'Agnolotti'. A seasonal menu switch meant that the pork cheek and porcini filled pasta pockets were swapped for other dishes. However after a hue and cry from regulars and long term fans who could not imagine going without this very special dish for any length of time, it has been brought back on the menu.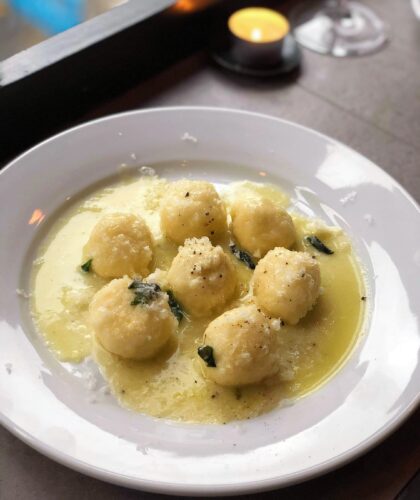 Although we are focussing here on pasta, Popolo has a range of other options. These include pan roast Dover sole with tomato salad or grilled Octopus with seaweed baba & za'atar – both carb light options. Dessert is not to be missed as the focaccia featured as antipasti makes an appearance in the form of a moist and flavoursome Rosemary olive oil cake – which is very special.
Good for – Filled pasta and impressing your date with your knowledge of one of the best eateries in London.
Not so good for – it is difficult to fault Popolo, however perhaps lunch as the restaurant only opens in the evening!
Price – ££
Popolo
26 Rivington Street
Hackney
EC2A 3DU