Local fishers also back Greenpeace's call for proper ocean protection, as two more sculptures set sail to stop destructive bottom trawling in the North Sea
Artist Fiona Banner aka The Vanity Press has this morning delivered a 1.25 ton Full Stop sculpture to the doorstep of DEFRA. Local fishers have also come out in support of Greenpeace's action at sea to protect the Dogger Bank.
Together with Greenpeace activists, Banner placed her sculpture in front of the DEFRA building in Westminster, London. The artist wanted to send a clear message to George Eustice, the Environment Secretary, calling out the Government's failure to protect Britain's most sensitive marine areas.
This sculpture, Klang, is one of a series of three. The remaining two Full Stop sculptures will be loaded onto the Greenpeace ship Esperanza this afternoon and deployed as an installation at sea in the Dogger Bank protected area. The art action completes a new area of almost 50 square miles developed by Greenpeace to be off-limits to destructive bottom trawling.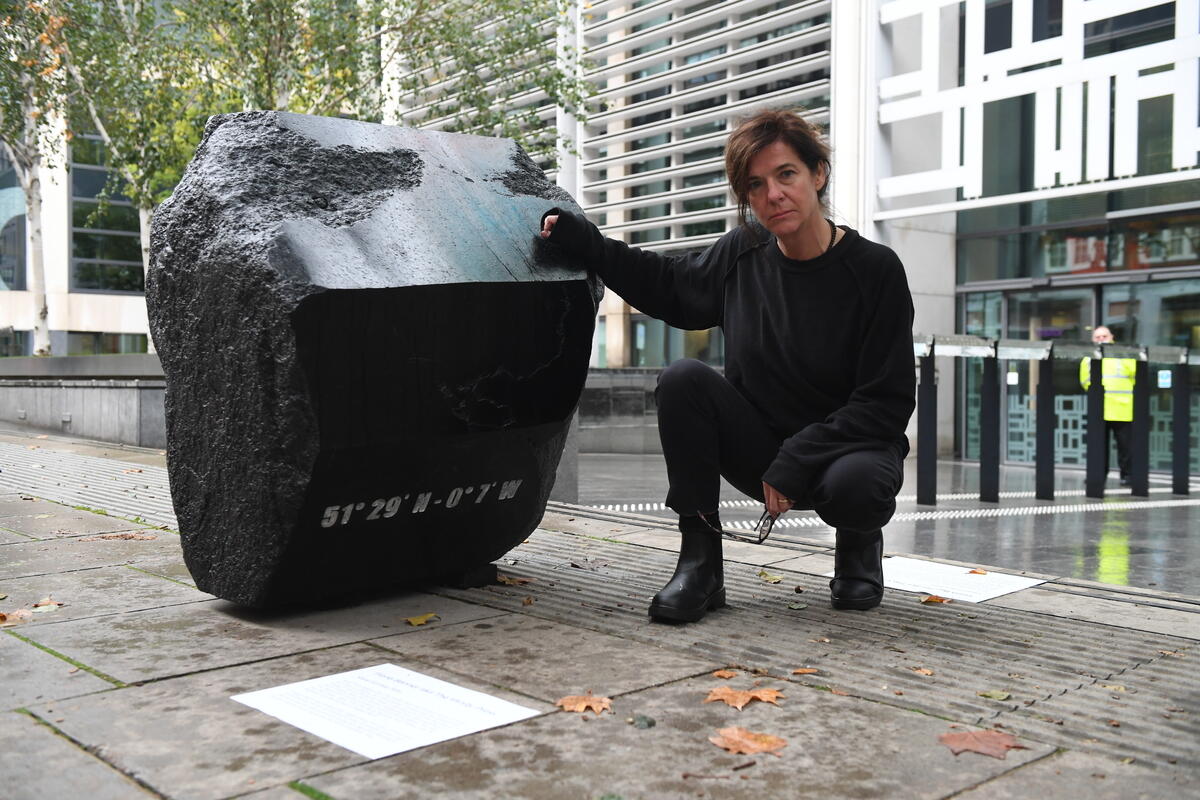 Campaigners and the artist have pledged to remove the artworks if the UK Government makes a credible commitment to immediately ban industrial fishing from the Dogger Bank and all of the UK's offshore MPAs. Greenpeace investigators documented extensive illegal bottom trawling activity in the area during a fact finding mission in summer 2020.
Fiona Banner aka The Vanity Press, said: "The pandemic has made us all more alert to the precariousness of nature and our ecology.  At a time when words like 'climate crisis' and 'emergency' have been repeated to the point of diluting their urgency, I hope these new works and physical gestures carry a clear message and act as a calling card for the government to take action – a call to stop, reconsider and act.
"Language is the medium of treaties, argument, debate and agreement. The Full Stop sculptures are anti-texts. They are symbols of language on the precipice that are blown-up, made physical and confrontational. The Full Stops symbolise an impasse and crisis in language. They highlight the slipperiness of communication in a time of polarised rhetoric during which the term post-truth has become common vernacular. In this instance, the disjunction between what an marine protected area stands for and the reality of what is happening in those areas. It represents a rupture and demands a new approach."
Greenpeace is calling for 30% of the world's oceans to be fully or highly protected by 2030. The UK Government backs this call, but is still failing to properly protect our waters closer to home. Just 5 out of the UK's 73 offshore marine protected areas "may be "progressing towards their conservation targets .
Greenpeace will remove the boulders and sculptures – both in the Dogger Bank and at DEFRA – if the UK Government commits to immediately ban industrial fishing from the Dogger Bank and all of the UK's offshore MPAs.