It's no exaggeration to call Pedro Capo a bonafide superstar. From amassing billions upon billions of streams (his latest album "MUNAY" has 5.4 billion to be exact), winning several Latin Grammy Awards and collaborating with the likes of Shakira and Ricky Martin, we'd say the Puerto Rican has 'made it'.
What makes this all the more impressive is that it wasn't until Pedro was 38 that he had his breakthrough moment. His single "Calma" had taken a lifetime to write and was one that propelled him to the heady heights of performing live alongside Alicia Keys at the 2019 Latin Grammys.
Now he has returned with "Tu Fanatico – Remix", a rework of his single off the aforementioned album "MUNAY". For it, he joined up with the vibrant talents of De La Ghetto and Nicki Nicole.
Made In Shoreditch caught up with Pedro Capo to find out more about the single, his rise to the top and how he's been coping with the pandemic.
Hi Pedro! Thanks for taking the time to speak with us. Where are you speaking to us from?
I'm in Miami, thanks for taking the time to speak with me today.
For those here in the UK who may not be too familiar with you and your music – can you please explain a little about your background, musical style and inspirations?
Sure! Well I'm just a musician from Puerto Rico, I lived in New York for about 10 years and life has given me the opportunity to compile sounds you know, throughout life, starting with the Caribbean routes and continuing with soul, R&B, Hip Hop and Rock and Roll once I got to New York. I was there for about 10 years and we played in a bunch of venues. I've had the opportunity to connect with some songs that have defined me like "Calma", and I'm excited about new possibilities and new music that's coming out, such as the "Tu Fanatico – Remix" that is doing so well alongside Nicki Nicole and De La Ghetto.
What have you been up to since the release of "Tu Fanatico' – Remix"?
Working Working Working! You know I feel like the pandemic and the lockdown has given me the opportunity to be introspective and reinvent myself a little bit and hone in on the things that matter the most. In my case it's been the studio, it's my way of processing things, it's my way to heal and to get by. Being creative and having an outlet to express myself, that's what I've been doing, just working on a sound. You know, it's been spearheaded by Tu Fanatico and kind of exploring that sound, having a lot of fun with it, missing the stage a lot but in the meanwhile we'll keep on cooking you know.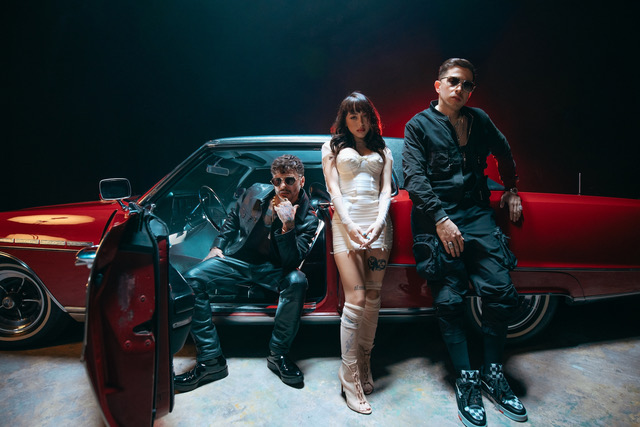 How was it working with both De La Ghetto and Nicki Nicole? Did you manage to get together in the studio, or did you work separately?
First of all it was an honour, such a privilege to work with two artists that I love and admire personally. De La Ghetto I've known for a few years so we have a friendship, a relationship. Nicki Nicole I had never met…very impressed with her identity and her integrity as such a young artist with such a defined sound, it really attracted me. And you know since they both kind of roam the soul R&B areas I saw them as a perfect fit for the song and it was no mistake. They not only accomplished what was expected but they over exceeded every expectation. We did the studio remotely because of the circumstances at the time but we got to meet when we were doing the video together and that was a lot of fun. We got to see each other and hang out and that gets into the video vibe wise too.
The song is obviously a remix of your own track from album "MUNAY" – what was it about this one that made you select it to be reworked?
Fanatico was written amidst the road of producing "MUNAY" and it was the song that I consider to be the most avant-garde or progressive compared to the rest of the songs. Actually it kind of jumps out from the concept a bit, and I decided to put it at the tail end of the album like back in the day, the end of your album was kind of an introduction to the beginning of your next album or the new sound and that was my intention with it. Now once we closed the cycle of promotion with that album and the single release cycle I wanted to do it with that song but I wanted to refresh it and give the fans a new version and twist of it and that's when I thought of De La Ghetto and Nicki Nicole. So Fanatico symbolises the beginning of this new sound that I've been exploring as of late.
You've worked with some massive names in the music industry, including Shakira and Ricky Martin. Who else would you like to collaborate with in the future, both in the Latin Pop world and further afield?
Oh so many, so many you know. I'm a fan like anyone else, I've been privileged to work with amazing artists that I admire and that are my teachers. There's a bunch man, from the UK, Robbie Williams to me is a God so I would love that, he's something else.
Coronavirus has been something that's impacted the entire world. From a musician's perspective, how has it been not getting to regularly tour and perform to your fans? Have you got any shows planned here in the UK for when you can tour again?
Well I mean we're going to every territory as soon as it's safe, as soon as we're allowed to, I cannot wait. I'm sure every musician out there is dying to play live. It's looking like the US is starting to open, some countries in Europe too. But yeah that's the finality of it all, it starts in the studio as a seed and then it goes to the radio and the platforms and then the finale is the live performance, to be on stage and interacting with the crowd. It's not only important to us as an artist but as an industry, light technicians, sounds technicians, producers, there's people in general that need this injection of optimism. So hopefully live music does start opening up again soon, in the meantime I'm grateful that I've had all this time to be introspective and create from this space that has been generated from all of the emotions we've been going through. That's our task as artists, to bring forth in a visual or a sonic way what we're all experiencing.
Many artists we've spoken to said that one benefit to the enforced lockdown has been the chance to really focus on their music and get creative, having rare time to do so without touring and other commitments. Has this been the same for you?
This has been so important to me. Like I say, I'm very grateful that I have this time. Working remotely tests our capabilities. I built a little studio in my house and had to start approaching it like having a cup of coffee. I wake up and go straight there in my robe and start shooting. Having these kind of spaces in my case, in my house, pushes you to a certain kind of honestly that you can only have access to in those ways, you see your couch you see your dog, you see your kitchen, it's hard to lie to yourself in those spaces and I feel like at the end of the day your music is about honesty.
Thanks for your time today Pedro. What else you having coming up in 2021 that our readers should keep a look out for?
 A whole lot of music! I have one if not already two albums finalised, and I'm keeping at it. So I'm very excited about my proposal artistically and my fellow peers as well. It's going to be a good nutritious time music-wise.
Check out "Tu Fanatico – Remix" below.