If you're single, you've probably downloaded your love life.
We're talking about the pressure to have at least one dating app on your phone at all times. It's almost like social proof that you really are single. 
But online dating isn't as simple as doing your shopping online, or keeping in touch with old friends just by liking their most recent uploaded photo. 
No, the dating game is tough and anyone who's single will vouch that you can whittle away hours swiping through a sea of average looking profiles. Does anything come of it? Rarely.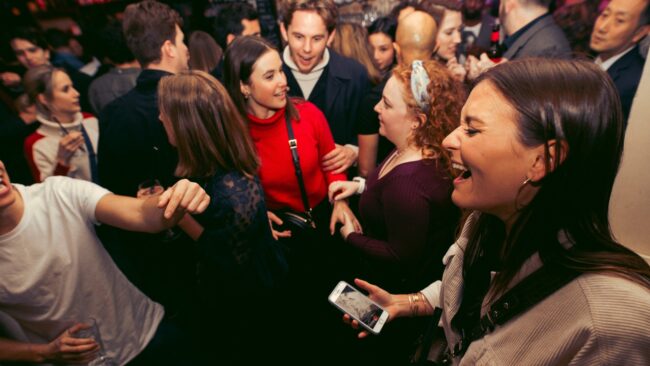 The dating world needs a shake-up.
Throw the rule book out the window and totally re-write it, because quite frankly it's not working. 
Enter Inner Circle. It's the dating app taking London by storm by hosting singles events pretty much every weekend. They're bringing together single people faster than the pandemic pulled us all apart.
Clear your calendar and prepare to meet some singles. 
From a takeover of the famous Taste of London festival, to a series of daring pub quizzes, Inner Circle sure knows how to break the ice. The first event saw people dancing, eating, flirting and getting to know each other in the summer sunshine. But if bawdy rounds and plenty of drinks sound more your thing, then the Outrageous Pub Quiz would have been right up your street. 
But don't worry. You're not too late to the party. 
The next event will be at the Little Orange Door. A flat party promising fresh cocktails, a live DJ, dancing on the tables and plenty of mixing and mingling. These guys know how to show you a good time, so grab some friends and prepare to meet so many single people you'll forget the pandemic ever happened. 
Tickets to these events sell out quicker than loo roll in 2020, so don't hang about. Sign up to Inner Circle here and head to the event page.