"Life is beautiful but fragile and fast – flowers remind me of this. So we should try to live each moment to the fullest – like being in full bloom." LUAP
Paul Robinson, known professionally as LUAP, presents his largest solo show to date in an expansive three floor un-used retail space kindly provided by Great Portland Estates, developing their partnership which began with the successful window displays. The exhibition, curated by MC Llamas, will include a large variety of works which deepen LUAP's investigation into mental health, well-being and connection embodied by his now iconic Pink Bear character. The artworks will span photography, painting, installation, sound, and film, offering a complex and multifaceted exploration of experiences of mental illness, recovery, and joyful discovery.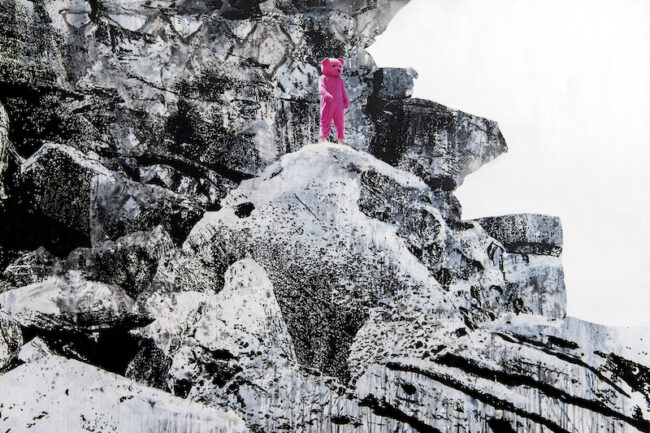 Each floor of the exhibition will investigate a different facet of LUAP's work. The first floor presents an overwhelming sensory experience in the form of a large-scale pink-fur installation, complete with flower displays and little pink teddy bears. This initial section sets the emotionally immersive tone for the rest of the exhibition. LUAP plans to donate the pink fur, used to make the installation, to an appropriate charitable organisation to prevent waste. The basement offers a selection of new and unseen paintings, photography and screen prints exploring the relationship between nature and mental wellbeing.
The images use reflections and stunning natural locations to present a journey through life's adventures and misfortunes. The upper level uses audio-visual technology including slide shows, sound and video to add a sense of liveness into the exploration of the figure of the bear. Resident DJ of the Groucho Club in Soho and founder member of Sound Women (an organisation to support and promote the careers of women working in radio) Sarah HB will provide a deep, melancholy, minimal soundtrack throughout to further the full-body sensory experience of the show.
The Unconscious Therapy: An Exhibition by LUAP runs 13-17 October 2021. Free admission.
95 New Bond Street, London W1S 1DB
www.luapstudios.co.uk | @LUAP