Launched in 2000, Tonik Associates is a leading partner in the creative design industry, taking a collaborative and holistic approach in helping businesses to think, design, and deliver from concept through to completion and beyond. 
Founded by Gary Marshall, whose background experience spans from Harrods to Hilton, the company has expertise in hospitality, retail, workplace, and residential. Prior to owning Tonik, Gary was a Design Director at Harrods and played an integral role within the board of directors.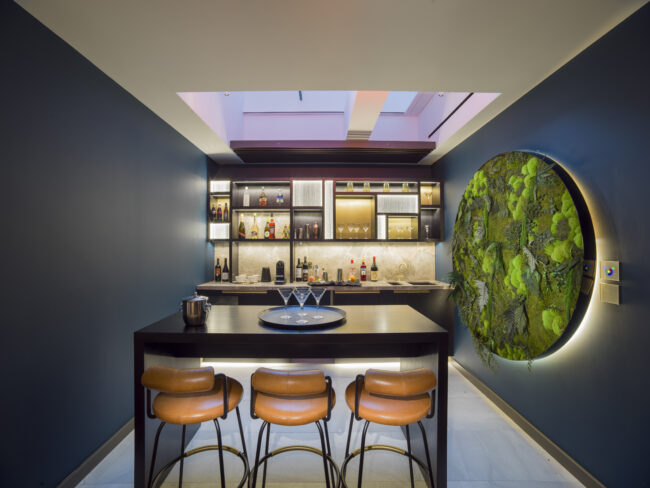 Co-founder Chris Harding later joined Tonik in 2002. Chris has a background in design, having worked across an array of International and intimate design agencies, as well as in the design and build market. 
Recent Tonik projects include a full refurbishment of the Middle Eight Hotel in Covent Garden and the creation of The Guardsman Hotel in Westminster. Others include a design and build brief resulting in Old Street's M by Montcalm, various special concept and strategic River Island projects, an impressive technology-led project with Unilever, and various re-purposing projects within the workplace sector. 
Here is a small interview with Gary Marshall, head of the hotels projects.
What are your favorite design features of both The Guardsman and Middle Eight Hotels?
My favourite design feature of Middle Eight is most definitely the suites, our task was to utilize the first floor space, which was previously used as meeting rooms. The meeting rooms were dark and lifeless with no natural daylight. Through careful planning and perseverance, we convinced the owners to invest in installing skylight windows in order to flood the rooms with natural light and turn the meeting rooms into luxury five-star suites. We couldn't have taken these spaces any further away from their original state if we tried.
Not only did we completely transform the spaces from a light and space perspective but we also incorporated living walls into each of the suites in order to bring the outside in. The result was better than we expected – where else in a city center hotel can you feel like you're sitting in a park in the sunshine when really you're in a windowless central London hotel suite.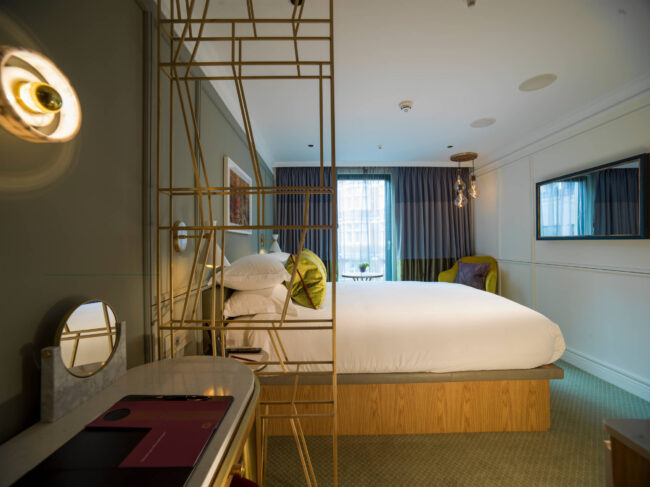 The Guardsman was a completely different project and was designed on a much smaller and more intimate scale. The public spaces at The Guardsman are a particular favorite feature of mine; they incorporate all things Britishness into a small and intimate space to give an amazing sense of exclusivity. Similar to the feeling you would get from a members club. The fact that the restaurant and bar are only open to in-house guests meant that we wanted to create something truly special and unique to make sure that guests wanted to stay. The artwork on the walls was all hand-selected by my team and creates an amazing talking point when you look around the venue.
Were there any significant challenges you faced when designing the interior of both these hotels –  if so what were they?
Middle Eight was an existing building and we had to re-purpose a number of the areas, which included knocking some spaces down and starting again.  We needed to increase the ground floor footprint, which meant turning outdoor space into indoor space.  In order to increase the food and beverage venues, we designed a mezzanine floor above the restaurant however then needed to give the spaces the perception that the ceilings were higher than they really are. Finally, the first floor meeting space was to be transitioned into luxury suites however the rooms themselves had no windows. To overcome this obstacle we built skylights in the suites in order to flood the space with natural daylight.
The Guardsman is a new build and has been developed in a very compact space. Through clever design, detailing, and luxury finishing we were able to achieve a luxurious finish. Every square meter of space within this hotel was carefully considered.
How did the target audience of both The Guardsman and Middle Eight hotel influence the design process?
The target audience for these two hotels is completely different which is interesting because both are positioned within the luxury lifestyle hotel category. However whilst The Guardsman is aimed at targeting guests who want to explore London but feel like they have a comfortable and calm environment to relax in afterward, Middle Eight targets a more energetic crowd who perhaps want to unwind with a cocktail and live DJ's or jazz singers in the background.
The two defined target audiences influenced a lot of the design features in both hotels.
Technology and soundproofing were a big consideration at Middle Eight, we had to ensure that we created spaces where people could party but also meant that guests wanting a quiet evening were not disrupted, the basement bar helped this process as it provides a separate speakeasy-style setting away from the rest of the hotel. QT is a real surprise to guests and attracts not only those staying in the hotel but also the local London crowd.
The Guardsman on the other hand needed to feel more like a home, with small snug areas, private dining spaces, and an intimate bar setting, guests are made to feel like they are part of The Guardsman family when they stay there.
The key influence for The Guardsman was for all areas to appear bespoke, like a private members club. We created three design queues that inspired the interiors all heavily linked to the hotel's location and royal connections; secret service, imperial, palace gardens. Within these three queues, three colour pallets were created and three styles of bedroom designed to match the themes. The result of this and the fact that the hotel has a large variety of room sizes meant that each guest room within The Guardsman is unique in either design size or layout.
Further details on all projects: www.tonikassociates.co.uk