The third annual Art on a Postcard's International Woman's Day Auction opens this week featuring work by leading established and emerging female identifying talent.
Over 200 artists have created mini postcard sized masterpieces to be auctioned, with bidding starting at just £50, to raise proceeds to continue The Hepatitis C Trust's vital work in women's prisons. Furthermore, this auction will support The Trust's 2022 plans to expand their women's hepatitis C work beyond the prison walls into probation services and women's centres.
"Our prison work gives us the unique opportunity to engage hard to reach women.' says Julia Sheehan, National Female Prisons Coordinator. "When these women take control of their health, often when they've not been in control of anything, there is a considerable knock-on effect. Accessing treatment changes their lives and can be the catalyst to getting clean and sober and into more manageable ways of life. Art on a Postcard shows these women that they are valued and cared about."
Bid on a Mini-Masterpiece
This year's line-up features the work of highly collectable names ranging from emerging new graduates to world-renowned artists. The 2022 participants include Charmaine Watkiss, whose work is concerned with what she calls 'memory stories'. She creates stories primarily through research connected to the African Caribbean diaspora, and then maps the stories onto life sized figures. New York based artist Philemona Williamson joins the line-up, her work explores the tenuous bridge between adolescence and adulthood, along with Brooklyn based Louise Lawler aiming to raise questions about the production, circulation, and presentation of art through her creations.
They will be shown alongside pieces from Allison Katz, Lara Schnitger, Penny Goring, Florence Peakeand Emma Cousin for this edition.
Emerging voices will also feature offering the opportunity to spot fresh talents, such as New Contemporary 2021 Shannon Bono who is invested in producing layered, figurative, compositions that centralise black womanhood as a source of knowledge and Amanda Ba who has achieved quick success with her erotic red female figures, and depictions of animals exploring interspecies relations, queerness and cultural identity. Original creations will also be available by Bunmi Agusto, Mandy Franca and Victoria Cantons among others.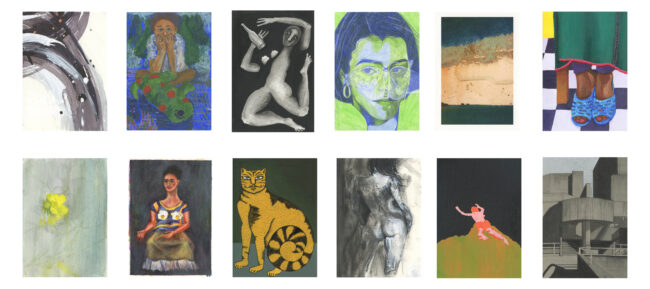 As well these exciting new additions, Art on a Postcard is delighted to welcome back expressionistic American artist Katherine Bernhardt and Royal Academicians Vanessa Jackson, Mali Morris and Anne Desmet.
Curator Gemma Peppe comments on this year's submissions, "The IWD auction is a real highlight for me, each year it brings the quirkiest and most adventurous artworks from amazing women-artists. The female artists we work with seem to really connect with the cause, and this auction always engages on a deeper level with the work of The Hepatitis C Trust than any other we run."
Bidding opens 24 February – 15 March via Dreweatts auction house.
For more information follow @artonapostcard or visit www.artonapostcard.com