The Facade of The Chelsea Theatre is to come alive with a joyful community-led installation made of recycled fabrics, as an innovative celebration of human expressions of happiness.
'What does happiness mean to you?'
Taking the form of happiness stories quilted onto flags, it hangs from the theatre's exterior and surround the piazza through summer from 23 June 2022. Led by artist Maya Sanbar, and produced collaboratively in cross-generational sewing and storytelling workshops, all participants Vibrant were asked to create designs based on the theme "What Does Happiness Mean to You?".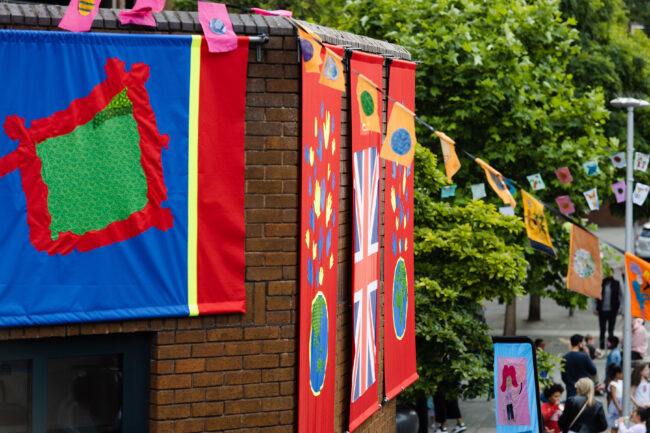 From a bar of chocolate to holding hands, stories of joy are incorporated into individual quilt blocks that are used to create flags and make up the installation. Created using only recycled fabrics either sourced from sustainable material outlets or donated by local residents, these emotion flags remind us of the things that bring us joy, specific to individual identities and lived experiences. Made for the community and by the community, this public art installation ties in individual stories of happiness, paying homage to the creativity, shared wisdom, unique identities, and resonant experiences of the participants involved.
The workshops, which took place throughout the month of May, were held in various community hubs, such as elderly resident homes and primary and secondary schools, to ensure that as many people were represented in the installation. With the hope to bring the diverse World's End community together and inspire creativity, this installation shares an array of voices through the power of artistic expression.
Quilt Patch is part of this year's Kensington + Chelsea Art Week launching 23 June with incredible public art, installations, workshops and events throughout the borough.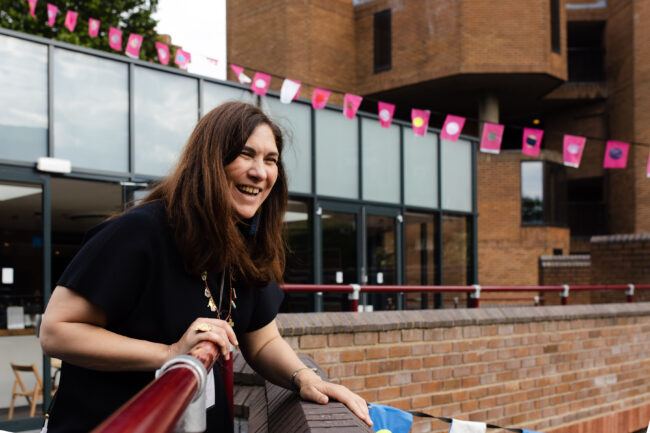 Visit Maya Sanbar's Quilt Patch in partnership with the World's End Estate and The Chelsea Theatre, London SW10.
From 23 June 2022 www.kcaw.co.uk