Funzing is the 'Airbnb for experiences' offering a platform for anyone to take his hobby, skill or passion one step further and host other people for incredible experiences. In Funzing you can find hundreds of Foodie experiences, DIY workshops, Quirky walking tours, inspiring lectures and much more. After 7 months of launching successfully in London, Funzing is now expanding to Manchester, Singapore and Dublin.
-= Purpose =-
What problem did you set out to fix in this world? How did you want to disrupt or disrupted your industry? What inspired you do this?
Funzing was established to solve the boredom of going again and again to the same places. We solved that by providing a risk-free marketplace where anyone can set up events, workshops, tours or lectures based on his hobby, passion or skill and by creating an extra income enriching other peoples' leisure time with unique experiences. We have accountants by day teaching pickle making in their kitchen, Graffiti artists leading walking tours, Pub owners doing secret whiskey lessons and Celebrity chefs hosting supper clubs. What inspired us to do so are other 'Sharing-Economy' websites such as Uber, Airbnb or Taskrabbit.
How did you make it happen? Did you write a business plan, had a clear strategy and a business model or did you just started doing it and then figured it out in the process. Has your initial vision changed since the launch?
We started by approaching local individuals and small businesses to understand the ability of creating the perfect platform for them. After understanding their frustrations we formed a strategy and created our website designated for anyone to list an event for free and be exposed to thousands of people looking for cool stuff to do.
What's the biggest risk that you've ever taken and how did it turn out?
Choosing to start up in London and not SF or New York. We decided to start in London due to the developed leisure time market, diversity of experiences and multi-cultural vibe of the city and it turned out right.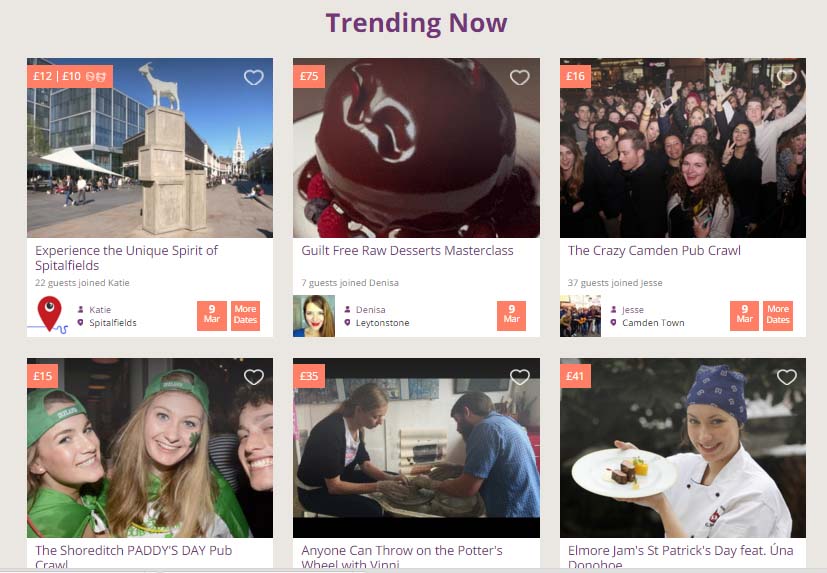 -= Advice: From launch to funding=- 

What would be your tip to someone looking for an investment? How did you find your investors? 
Just jump into the water and not wait for the perfect product. We received a seed round of $1.5M from an American/Israeli V.C. called Inimiti. Do your best to prove your concept by getting the product live, even in a basic level.
What 3 pieces of advice would you give to startup founders? What do founders need to focus on in order to be successful?
Be patient – building a product and fans for it from scratch takes time and a lot of mistakes. Nothing happens magically.
Surround yourself with good tech people. Business, sales and marketing is not enough.
Be assertive, break walls and try everything, even if it looks crazy or unachievable.
What are your favourite apps that make your live easier and media sites that you read every day to stay up to date?
Virgin Red, Londonist and Made in Shoreditch.
Have you had any mentors or role models that have influenced you? Who do you learn from how to grow your business?
We learnt a lot from different pioneers and leaders in the Sharing economy scene. Seniors in Airbnb or Uber are always interesting to hear.
-= Future=-
Where do you see your company in a few years' time and what are your thoughts on the future of your industry how is it changing?
Replicating the concept of Funzing in more markets, growing and break even.
What kinds of companies or particular technologies are you most excited about right now and what trends do you think are overhyped?
Augmented Reality is super exciting!