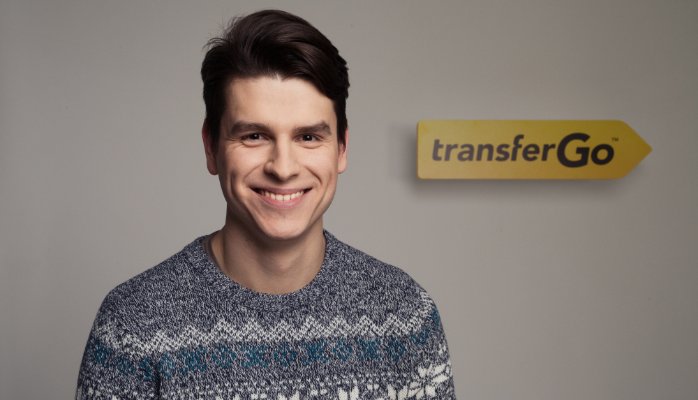 TransferGo is a high-growth pure-digital international money transfer service. The company uses a digital account-to-account business model. Funds are paid in locally and then paid out locally, from any account to any account. The sender make a local payment to TransferGo, which then makes a local payment to the recipient. This innovative system means that TransferGo doesn't have to send money across borders. Due to the scale and efficiency of the business model, TransferGo is able to offer superior pricing: they are up to 95% cheaper than traditional players.
-= Purpose =-
What problem did you set out to fix in this world? How did you want to disrupt or disrupted your industry? What inspired you do this?
TransferGo was born out of frustration while dealing with banks and trying to make international money transfers via them. In 2011 my co-founder and I established a more traditional import/export business, which meant we had to make regular international payments to our suppliers. Back then, banks were our only option and, oh boy, it was a nightmare. Needless to say, we were charged up to 15 times more than now for seven-day settlements. We faced an unfair and stagnated money transfer sector – the unreliable destination amount, huge charges and transaction time stretching up to seven working days. There was, however, a general sense that customer satisfaction wasn't really something major UK banks paid a great deal of attention to. Once we saw the problem, we immediately realised that a solution such as TransferGo could help many people like us.
How did you make it happen? Did you write a business plan, had a clear strategy and a business model or did you just started doing it and then figured it out in the process. Has your initial vision changed since the launch?
The main challenges that we faced at the beginning were regulations, licensing and opening initial bank accounts… Obtaining permission from the regulator at that point already seemed like a trivial exercise, considering that we also had to obtain permission from a bank to enter its competitive market.
What's the biggest risk that you've ever taken and how did it turn out?
The biggest risk was in going after a highly monopolised and traditional remittance industry dominated by a couple of global cash players. That's how TransferGo was born. Our founding story wasn't easy, especially because in our industry you can be too small to innovate. However, it was worth it. In just three years we've already saved migrants more than £2.5 million, offered a fundamentally more consumer-centric user experience, and proved that new-age financial companies can be trusted.
-= Advice: From launch to funding=- 
What would be your tip to someone looking for an investment? How did you find your investors? 
We received our first investment at an extremely early stage. Despite it being fairly small, it was a well-needed encouragement and proof that the problem we're solving is important to many people. To receive the record-breaking seed-round investment ($2.5 millions) that we landed last December took us quite a bit of time and effort, mainly because you have to choose your investors wisely. It's not only the money that you're after, but also the advice, expertise and mentorship that is sometimes a crucial aspect of the decision-making process. You have to evaluate how the investment and people involved will be helping your company grow, and to actually care about that.
What 3 pieces of advice would you give to startup founders? What do founders need to focus on in order to be successful?
Most importantly, while creating a business you should make it clear to yourself what kind of problem your business is solving for consumers. Then you should offer the most frictionless solution to solve that problem. It's very important to have a good team around you and trust them to do their job. By inspiring them to exercise their abilities and experience to the fullest, you empower them to see every obstacle as an opportunity to improve, which becomes the main catalyst of the success.
What are your favourite apps that make your live easier and media sites that you read every day to stay up to date?
Increasingly, I love using the Quartz app – news delivered via messaging. I also read Forbes, Business Insider & CBInsights.
Have you had any mentors or role models that have influenced you? Who do you learn from how to grow your business?
I was lucky to meet great mentors at the beginning of my career. Here are a few that I'd like to mention: Jon Bradford, ex MD at TechStars London; Eric van der Kleij, ex MD at Level39; and Perry Blacher and Mark Ransford, both current board members. These are a few of the great people who have helped us to grow immensely, among many more that I've been fortunate enough to meet during my career. Looking back, I've always admired Steve Jobs' capacity to disrupt industries not only through hardware innovation but also through the innovation of a business model. One example is introduction of iTunes, which absolutely transformed how we consume music today.
-= Future=-
Where do you see your company in a few years' time and what are your thoughts on the future of your industry how is it changing?
This year is all about growth in more markets. We're now growing quite fast across the major markets within Europe. We want to grab market share in the biggest corridors there and prepare everything for going global. We want to offer our service for all major currencies in the world and help migrants across the globe, not just in Europe. Our plans are also to scale horizontally into other cross-border markets. One example of that is our latest pricing on transactions of £1000 or more, which enables you to send money with currency exchange rates as low as 0.4% across all the main currencies, such pounds to euros, zloty or US dollars. By the end of the year, we'll be looking into raising another round of investment, which will open even more opportunities and allow us to scale up even more.
What kinds of companies or particular technologies are you most excited about right now and what trends do you think are over-hyped?
I'm excited about the promise of AI and VR. I think we're now s eeing new mega industries being born, and it will happen extremely fast.
Personally I'm quite disappointed about a lot of the hype in fintech which has little to do with actual disruption. It's these nice ideas, which in theory could be brilliant, but we don't seem to live in that kind of world yet. Blockchain is one of them. I hope that I'll be proved wrong.