Taco takeover at Dirty Bones Denman Street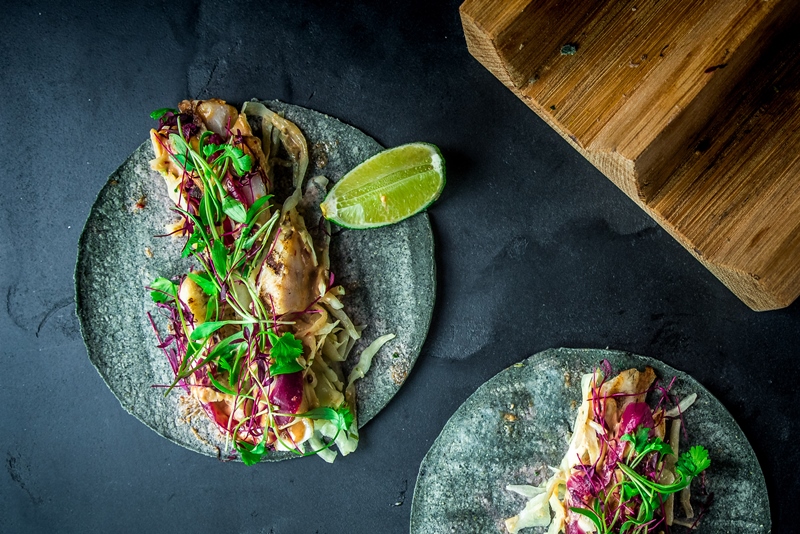 One of the latest additions to the new menu at recently opened Dirty Bones Denman Street, these Grilled stone bass tacos have Instagram written all over them. Served with white cabbage slaw, pickled pink onions, coriander and chipotle aioli on two blue corn tortillas, they're fresh, vibrant and bang on the taco trend.
Marvellous mackerel on Orrery's summer terrace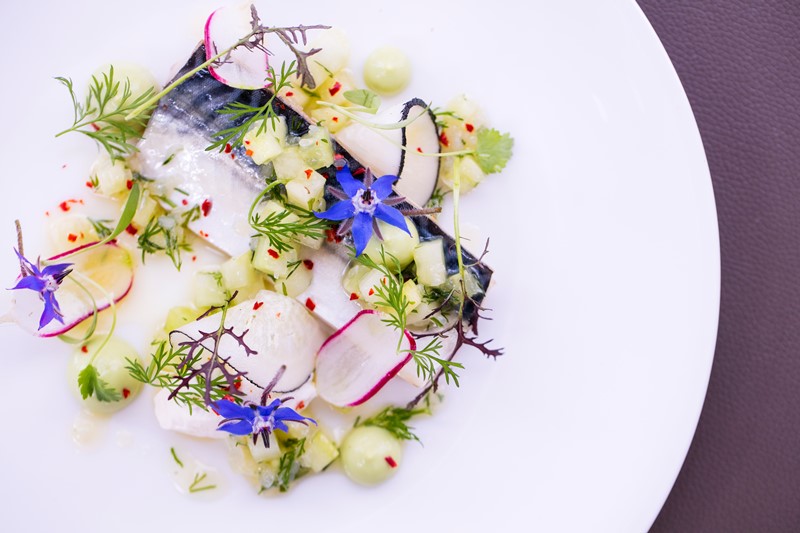 Almost too pretty to eat, Orrery's Grilled mackerel fillet with radish, cucumber and dill dressing is a picture on a plate. Combined with the ideal natural light on Orrery's summer terrace, this one is made for Instagram.
The Mango Pavlova at Angler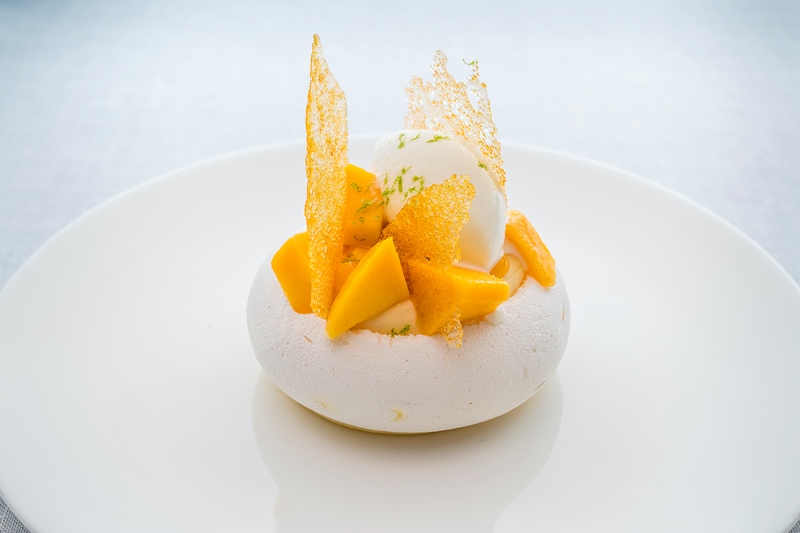 On the Chef's View set menu at the City's Michelin-starred fish and seafood hotspot, this beauty combines mango, lime and yogurt in a snug meringue nest. – www.anglerrestaurant.com
The "Solero" at Launceston Place

Head chef Ben Murphy knows a good Insta opportunity when he sees one: This handmade, coconut and clementine ice cream lolly is summery social media gold. – www.launcestonplace-restaurant.co.uk
Nikkei Ceviche at Señor Ceviche Charlotte Street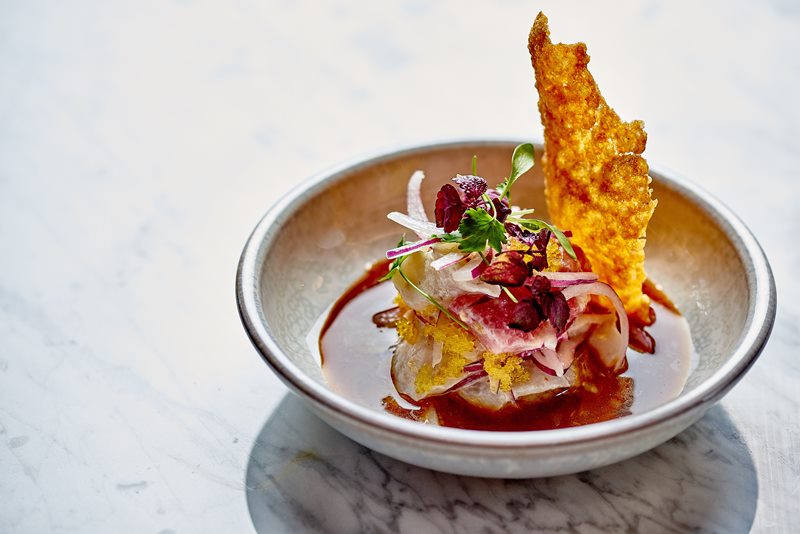 Señor Ceviche, the lively Peruvian restaurant currently located in Carnaby, is soon to launch a second site on Charlotte Street. The menu will introduce several new dishes exploring the Japanese and Chinese influences on Peruvian cuisine, including the vibrant and eye-catching Nikkei Ceviche with yellowfin tuna, sea bass, ponzu tiger's milk, yuzu tobiko and langoustine cracker. – www.senor-ceviche.com
Arctic Bird's Nest at Aquavit London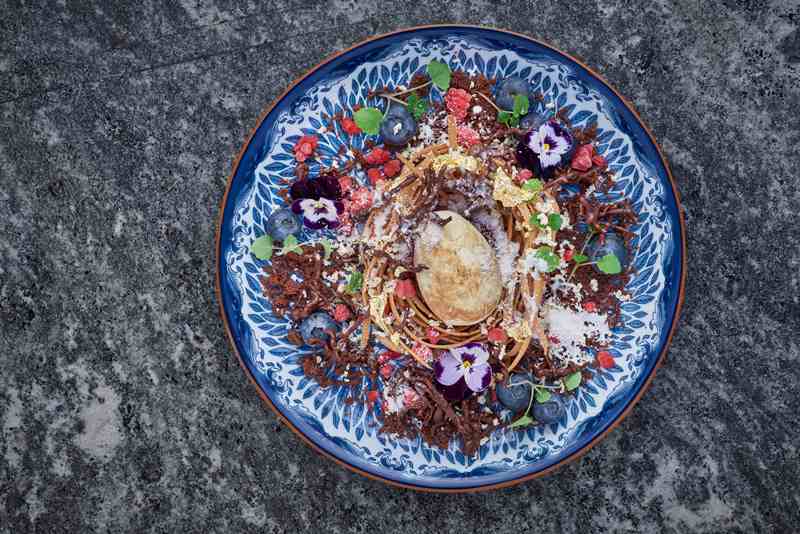 The Arctic Bird's Nest is the stunning signature dessert from Emma Bengtsson, Executive Chef of Aquavit New York, and it is also available on the menus at Aquavit London where the stylish interiors provide the perfect backdrop for the beautiful dishes. – www.aquavitrestaurants.com/london
One Part Plant vegan menu at Coq d'Argent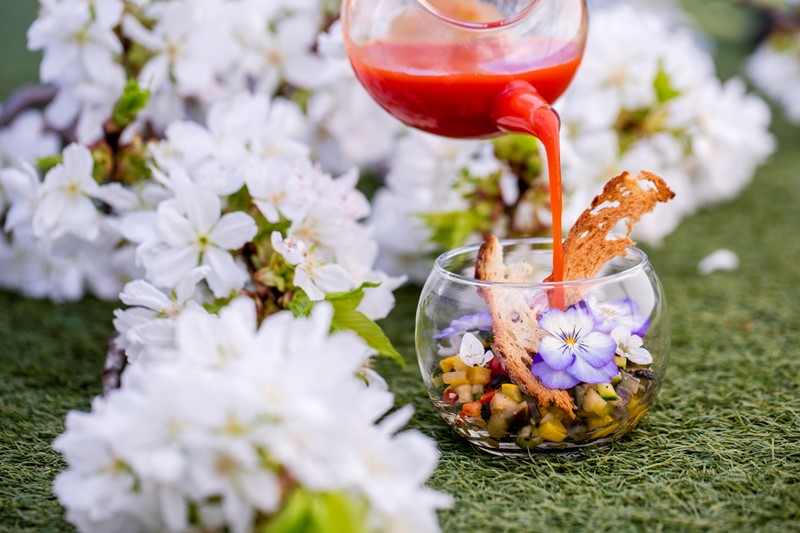 One Part Plant, founded by nutritional adviser Jessica Murnane, aims to encourage guests to enjoy at least one purely plant-based, gluten and soy free, meal a day. One Part Plant inspired dishes will be available at Coq d'Argent during D&D London's #BlossomCity17 campaign, including the gorgeous Provençal vegetable, tomato and pepper gazpacho, with Melba toast and wild garlic flowers. – www.coqdargent.co.uk
Almond Cake at Radici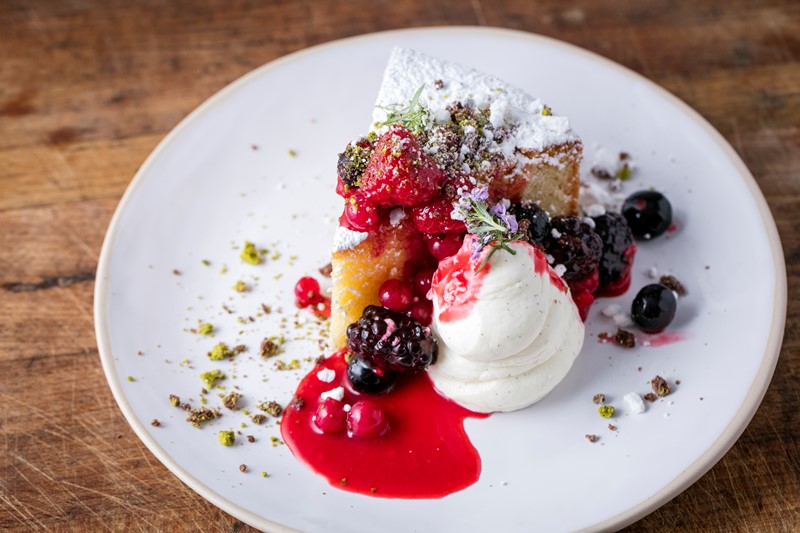 Simply described as Almond cake with mixed berries on the menu of the new Islington trattoria from Francesco Mazzei, this picture-perfect dessert is best enjoyed on the restaurant gorgeous summer terrace. – www.radici.uk
Stuffed Courgette Flowers at Sartoria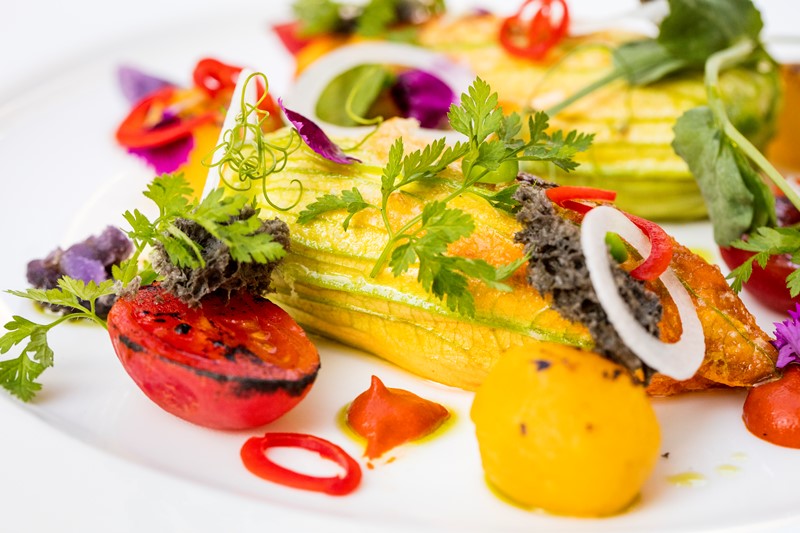 Sartoria on Savile Row is celebrating the best ingredients the season has to offer with a new spring menu for D&D London's #BlossomCity17 campaign, which includes the vibrant Stuffed courgette flowers with baccalà and romano pepper sauce. – www.sartoria-restaurant.co.uk
RHS Chelsea Flower Show at Tom's Kitchen Chelsea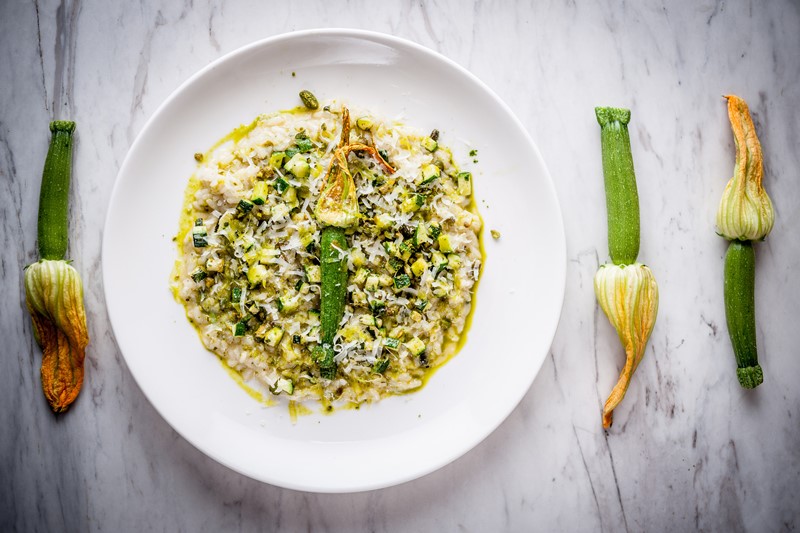 From 22-28 May, Tom's Kitchen Chelsea will be celebrating RHS Chelsea Flower Show with a range of innovative dishes designed by Tom Aikens, all incorporating beautiful British flowers. Dishes will include the verdant Courgette and pistachio risotto with courgette flowers, and the delicate Elderflower and lavender panna cotta with poached cherries. – www.tomskitchen.co.uk
Colourful dishes at LIMA London restaurants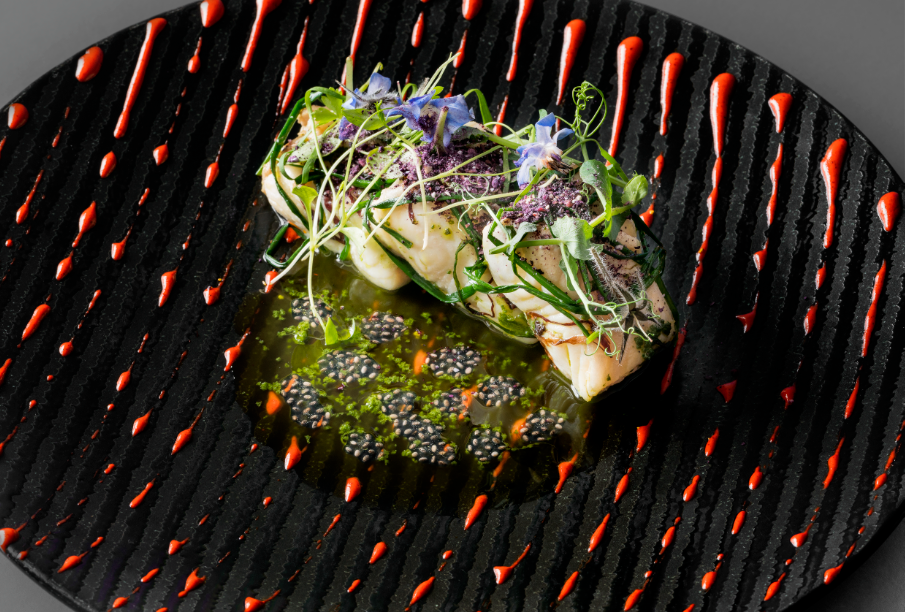 The stunning dishes at Michelin-starred, Peruvian restaurant LIMA Fitzrovia and sister restaurant, LIMA Floral, are any instagrammer's dream. Carefully prepared elements of each dish are plated with perfection to create vibrant and intricate visuals that are as pleasing to the eye as they are to taste.
Eden dessert at Nordic-French restaurant Aster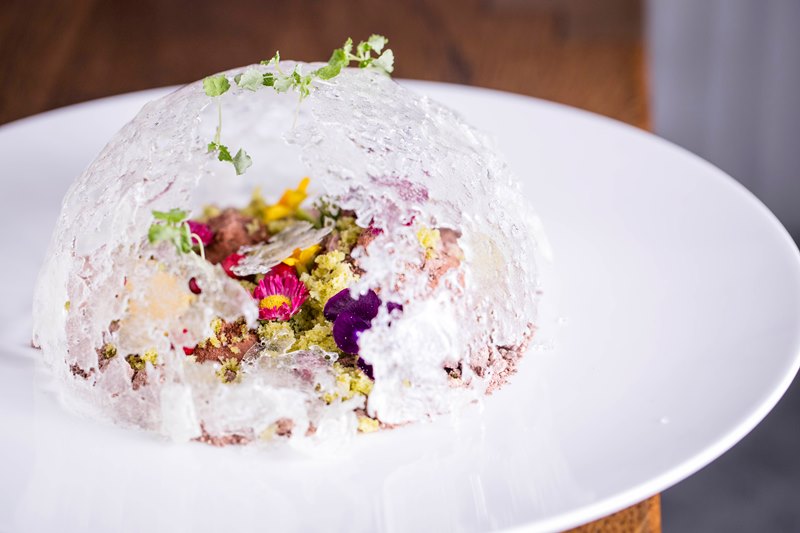 Inspired by the famous botanical gardens at the Eden Project, the Eden dessert available at Aster comprises a base of soil made from chocolate with pistachio sponge, chocolate mousse and sea buckthorn sorbet and is garnished with fresh edible flowers and housed beneath a sugar dome to represent the iconic biomes.
Matcha mille crepe at Jason Atherton's Sosharu

At Jason Atherton's Japanese restaurant, Sosharu, the signature Matcha Mille Crepe boasts layer upon layer of crepes sandwiched together with a rich matcha cream to create a cake-like slice of pancakes. The picture-perfect dessert is served with a refreshing scoop of matcha sorbet and Chantilly cream on the side.
Skylon's vivacious pink cherry dessert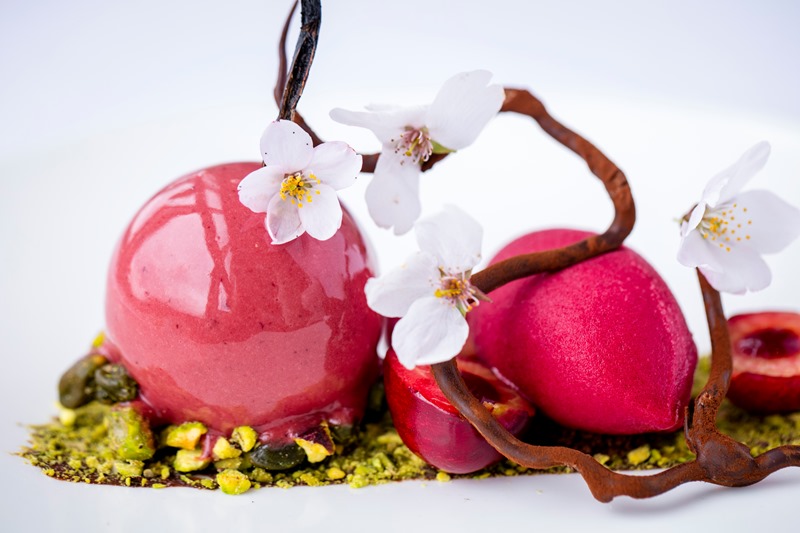 Skylon's vibrant cherry dessert is sure to brighten any feed. A perfectly spherical dome of pink cherry parfait and a cherry sorbet quenelle are presented on top of a contrasting green pistachio crumb and adorned with delicate cherry blossoms, perfect for posting with the blossom emoji.
The white millefeuille at La Dame de Pic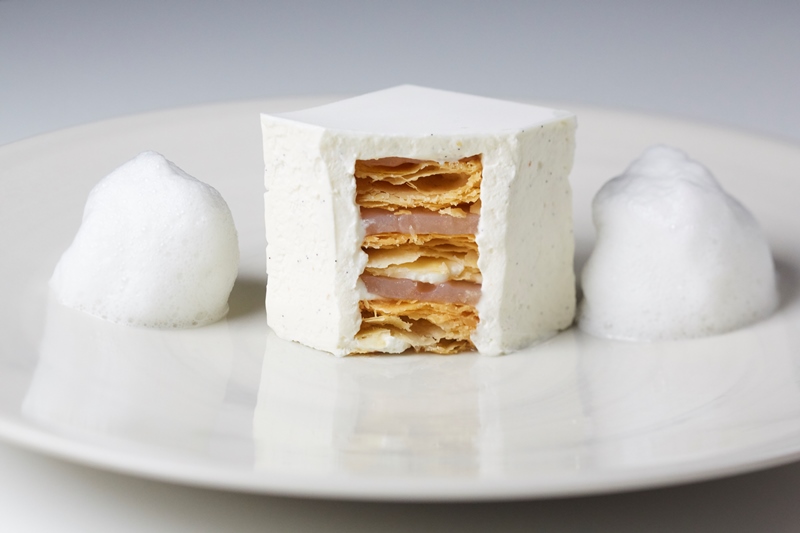 Set to become London's most instagrammed dessert, the white millefeuille at La Dame de Pic is a minimalist's dream. A white cube of alternating layers of puff pastry and jasmine jelly encased in a layer of Tahitian vanilla-infused cream is surrounded by delicate, cloud-like mounds of voatsiperifery pepper foam.
International
Oops! I dropped the lemon tart at Osteria Francescana Modena

This dessert is one of the most popular dishes featuring on Massimo Bottura's three Michelin-starred Osteria Francescana in Modena. As Massimo explains "I love the dynamics of a lemon tart but hate all the fuss –cream decorations and stubborn crusts. To get around all that nonsense, we now purposefully crush our tart. Of course, it isn't just a one liner but a full flavoured experience from the most fragile crust to the peaks of tart, sour, sweet, cured and candied lemon on the plate." There is beauty in -imperfection.
Coconut semifreddo with lime whip and young corn sauce
One of the many beautiful dishes featuring on identical twin brothers Ivan and Sergey Berezutskiy's menu at TWINS in Moscow. This dessert from last year's summer menu was a favourite amongst guests and has now become a staple.
      
One of the many beautiful dishes featuring on identical twin brothers Ivan and Sergey Berezutskiy's menu at TWINS in Moscow. This dessert from last year's summer menu was a favourite amongst guests and has now become a staple. http://twinsmoscow.ru/en/
Fragrances, colours and tastes of a spring garden, delicate linden flowers transparency and tarragon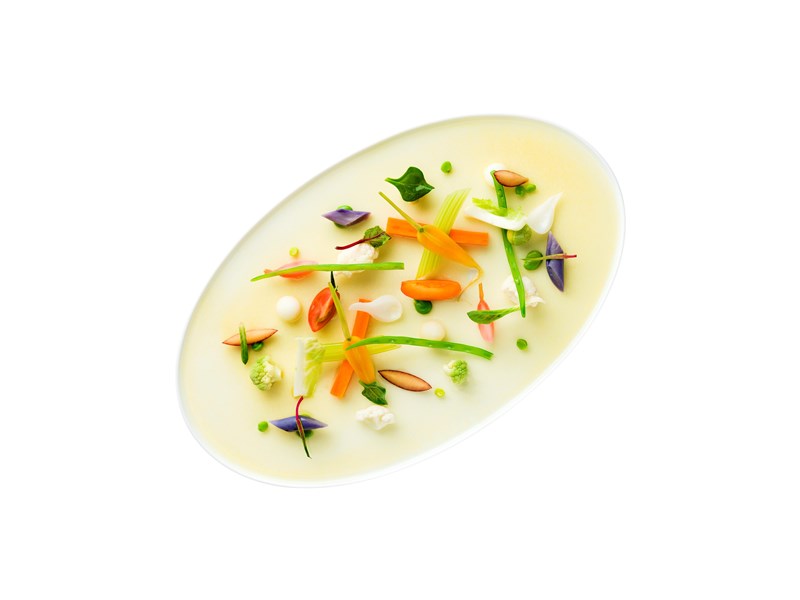 This stunning starter created by Luigi Taglienti, executive chef of Michelin-starred LUME Milan, is on the a la carte spring menu together with numerous other delicious creations. http://www.lumemilano.com/