Art Night is coming to London for one night only on Saturday 1st July. The event will host over 60 free events, ranging from live performances and exhibitions to interactive instillations and dances.
Lindsay Seers is hosting one of Art Night's events, Mental Mental², which will combine video instillation with live performance.
Fatos, the curator of Art Night 2017, spoke about how the setting of East London has influenced the art this year. How has this location influenced your event?
Well, my instillation takes place at the Masonic Temple at Andaz, and is directly linked to the temple itself. The location has so much history, it has definitely been a big challenge to take all that on. Its original goals were about gaining access to consciousness, and getting into the nature of life and mankind. Very deep and profound questions you can see!
For my instillations, I have chosen to focus on one person who is totally out there: Aleister Crowley. Crowley was once called the most wicked man in Britain. He was considered to be pure evil, with no moral code. But in actual fact, a lot of the stuff published about him was inaccurate. He was made to appear like a villain when his intentions were never evil. His aim was to challenge all parts of morality, not to dictate it. He wanted to liberate people from the prisons they inflict on themselves in society. Actor Michael Byrne will be playing the Crowley, who (despite being known for playing villains) fights the idea that he plays evil characters. Supported by actor Francesca Dale, Michael was perfect for the role because both actor and character argue what it means to be evil.
Your instillation combines video with live performance. It sounds very exciting. Tell us a little bit more about how you have combined the two mediums to tell this story.
Projected film is still such a magical phenomenon, I think. And it makes sense to project in such a magnificent hall. To see and to feel the presence of people from the past. The hall is a theatre and was a natural place for rituals, so some of these things in my performance used to happen for real. It can make these moments a lot more heightened, especially the rituals, which isn't necessarily an affect you get with cinematic elements. It can be frightening when a human enters the room because it brings in tension. The audience doesn't know what will happen.
You have produced a lot of work and been involved in such a diverse array of projects and exhibitions all over the world. Do you have any key themes or elements you particularly enjoy exploring in your work that perhaps worked their way into Art Night?
Well I have actually had an instillation at the Temple before in 2006, where I became a human projector, so it was great to be back and use that location again. The focus there was about the way we project ourselves onto the world, instead of being subjects of the world. I've used these metaphysical ideas in a number of my works.
Spending a lot of time in the temple has been amazing, I've questioned myself more about what evil is, and who we blame for it, and that is definitely something that underlies the concept of this entire piece.
What have you enjoyed the most about working on this particular event?
I think the idea of it just being there for this one night. I have put in so much work, perhaps more than usual, just because it only gets one chance. It can bloom and die in this one moment, and then it becomes exclusive that perhaps people talk about, but only a select few will ever experience.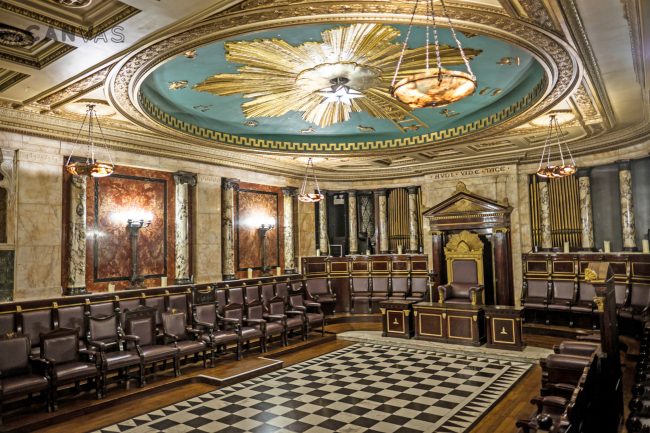 Find out more about Lindsay Seers at her website
here
.
Find more about Art Night at their website
here
.