"We are here to make our voices loud and clear."
Kasia Uscinska is the Nasty Women UK Co-Director and Producer, organizer of the Nasty Women UK Art Exhibition, which took place in the Stour Space, Hackney Wick, over the weekend.
Talks, comedy, spoken word, live music, and workshops, together with art installations, sculptures, crafts and all sorts of art form were designed to empower women and raise their voices.
Nasty Women UK is part of a global art movement that brings together people of all genders, races, faiths and LGBTQIA identities through art, from poetry to film, fine art, drama, dance and music in support of women's rights.
"We organized this event to give a platform for female artists to show their work because it is much harder for women to be represented in galleries," asserted Kasia, who also revealed that 65% of art graduates are females but only 33% of those represented in galleries are women.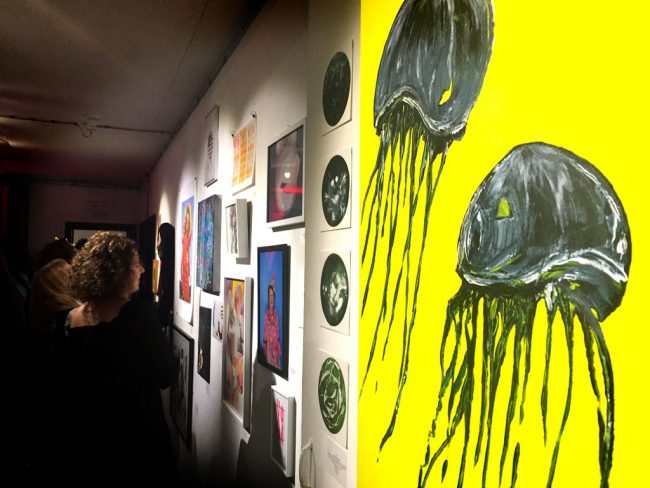 The movement was founded in New York in January 2017 in reaction to the misogyny and intolerance towards minorities, which has seen a terrifying growth in recent times, not only in the reign of Donald Trump but also in the UK.
"From the 'Legs-it' tabloid headline following Brexit talks between Theresa May and Nicola Sturgeon to bosses forcing female staff to wear high heels to work or the Conservative government partnering up with the self-proclaimed anti-abortion and anti-LGBTQ DUP party, hatred and intolerance have been on the rise and civil rights that generations of men and women have campaigned for are being threatened," affirmed Kasia.
The event in the Stour Space was the first one of this kind in the UK and has been organized in conjunction with End Violence Against Women, which will receive 100% of the profits made by the artwork sale and donations.
EVAW is a coalition of women's charities, researchers, activists, survivors and NGOs who works to improve local and government policies in response to violence against women and girls and to enhance public awareness about it.
Antonia Kimbell, co-director and curator, explained that the exhibition aimed to inspire and provoke whilst providing a platform for discussion on gender equality and equity, as well as being a celebration of the diverse talents and skills of women.
"We have received a phenomenal response to our call for submissions from over 100 artists," she said.
Every piece on display has been donated by the artists themselves and some of them came all the way from America, Turkey, and even Syria.
A lot of the art was quite personal and dealt with people's personal stories of abuse.
For example, one of the artworks was made by a woman who discovered that a male co-worker was filming her through a hole in the toilet. The piece is about reclaiming her space, which had been strongly violated.
Another one was made by the great-great-grand-daughter of Emmeline Pankhurst, one of the key suffragettes that helped women get the right to vote in the UK. The work features a letter written by Emmeline from the Holloway prison, where she was confined.
The opening night featured Joelle Taylor, an award-winning poet, playwright and founder of SLAMbassador UK, the ex-Royal Ballet dancer Vanessa Helen Fenton, the experimental a capella group Florence Lawrence Chorus, musicians Bishi and IMAN and DJs Bonnie Reilly and the Rhythm Sister Collective.
Women power was soaking the space and hung on the walls. Strong statements in form of creative expression were on display and the organizers were thrilled about the great public response received in support of the Nasty Women's cause.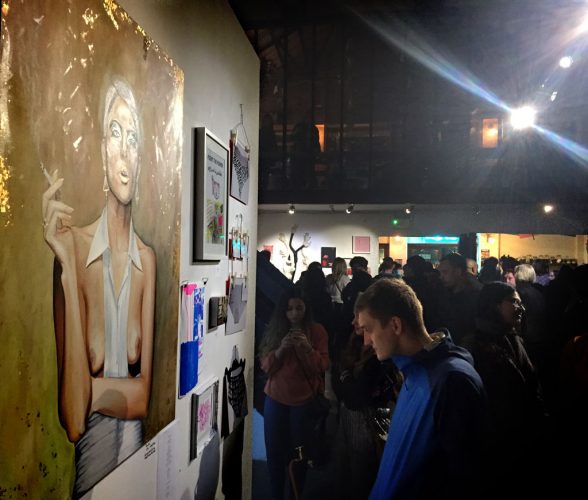 As you can read on the Nasty Women official page, "this is a time to stand up and be counted, to speak out against intolerance in all its forms and to amplify the voices of those that go unheard. This is the time to proclaim that you too are a 'Nasty Woman' and create powerful, positive identities."
To contribute with a donation to End Violence Against Women, click here.