Interview with the founder of CrowdMnA.com, a new marketplace to buy and sell IT, digital and technology ventures.
Tell us what CrowdMnA does?
CrowdMnA operates a disruptive new marketplace for the sale of IT, digital and technology ventures, often considered too early, uneconomical or challenging to sell. The marketplace specialises in the sale of ventures at very early stages of development, including prototypes, pre-user and pre-revenue ventures, as well as trading businesses. The entire transaction is completed online, with ventures being sold by auction or private offer to thousands of visiting buyers, who are further leveraged through the use of crowdsourcing and financial incentives to source more buyers.
What types of ventures for sale is CrowdMnA attracting?
We see many digital and tech entrepreneurs that have an innovative idea solving a big problem, but for a variety of reasons are no longer able to continue and fully exploit their market advantage.  These businesses, often websites and apps, can be at the pre revenue stage or more advanced generating revenue, but now seek an acquirer to take the venture to the next level.
We also see many working IT solutions from many technical founders that have spent substantial amounts of time coding difficult and disruptive solutions to problems, so are often deep in intellectual property. These ideas can be fully working prototypes or at a pre revenue stage. Often they are shelved gathering etherdust, but now www.CrowdMnA.com is giving the founders a marketplace to sell them.
Recent examples of displaying ventures on CrowdMnA include websites and apps with often new ideas that have not started trading or are generating revenue, ecommerce sites, technology and software applications that can be demonstrated solving a problem, SaaS businesses, AI businesses, first of their kind marketplaces, fintech and innovative health tech.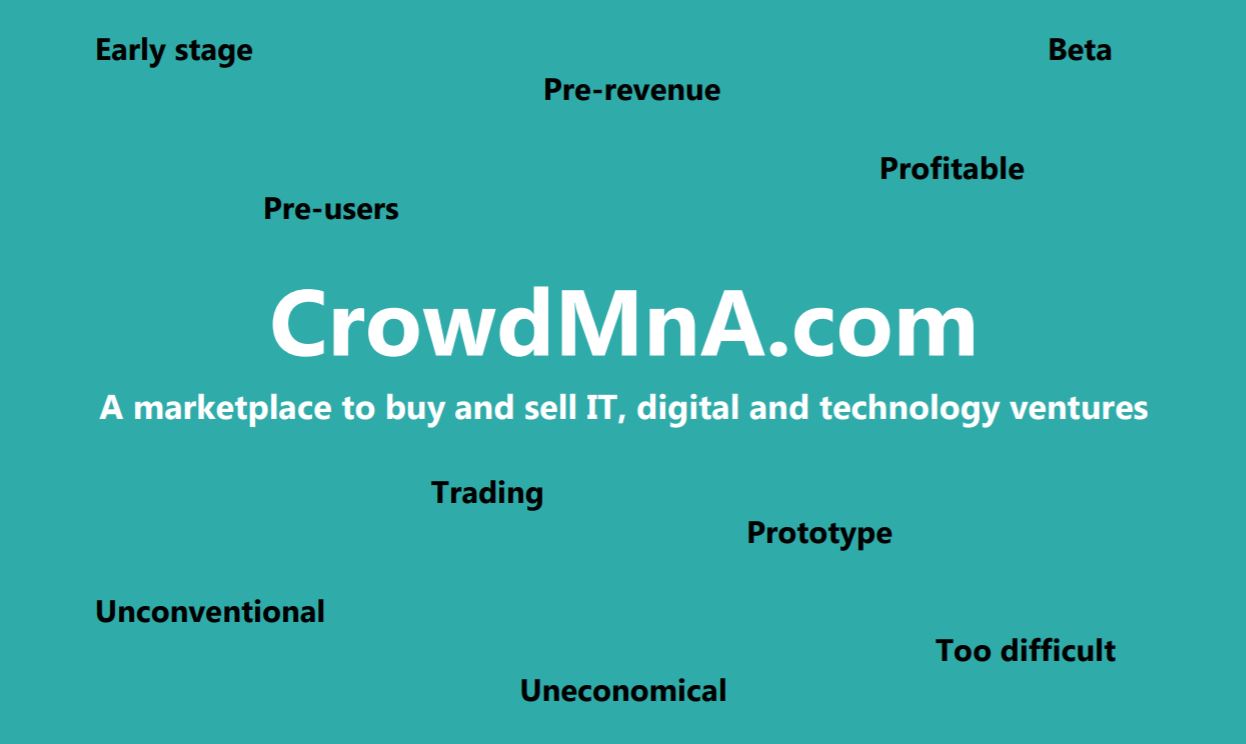 How does CrowdMnA work?
We have built CrowdMnA's platform to be as simple as possible for sellers and buyers.  The entire transaction can be completed online, from the initial venture evaluation and due diligence, to bid and sale price acceptance in a public auction or private sale, including the use of a free sale and purchase agreement.  The exchange of the venture's assets for the agreed price is also completed online using a Financial Conduct Authority approved escrow service. The escrow service is important in safeguarding both the seller and buyer during the exchange of the venture's assets and the transfer of the sale price.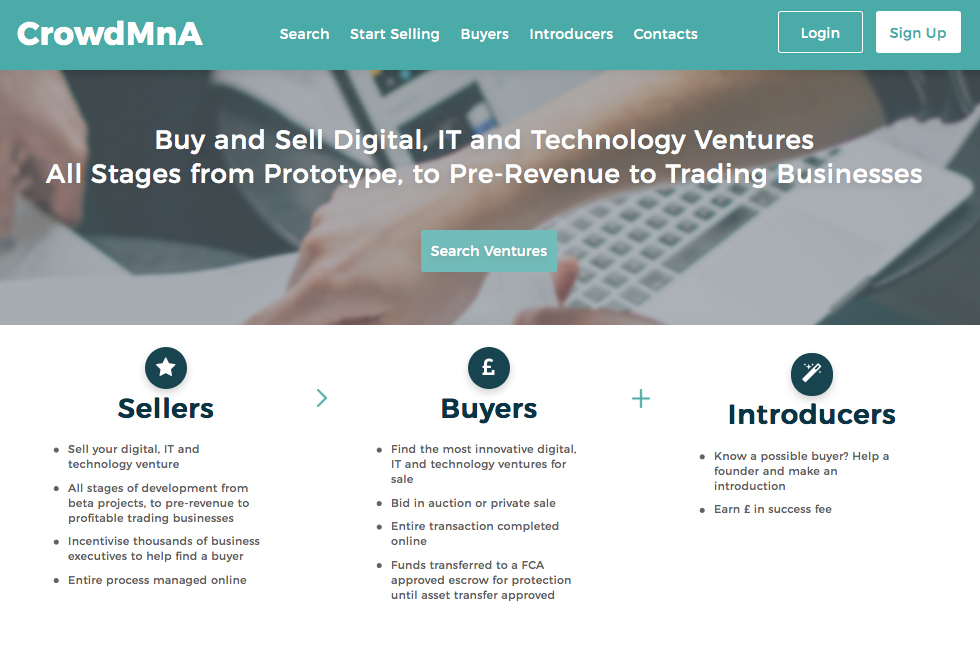 I was pleased that CrowdMnA.com was accepted into the Financial Conduct Authority's Innovation Hub in order to receive direct support and guidance regarding the regulatory framework relevant to the activities of CrowdMnA.com.
We understand it's free to display a venture on CrowdMnA.  How do you make a return?
The display of a venture for sale is free.  We charge a commission on the successful sale of each venture, so no sale no fee.  In addition, we offer free legal documents for parties to use, including a non-disclosure agreement for sellers wishing to hide their business's name and also a sale and purchase agreement, which can save both parties thousands of pounds and weeks of time.
You are the first marketplace of its kind using crowdsourcing to help source buyers. How does this work?
Most of us if we are lucky, sell a business only once. Some super-talented people do it several times.  When you do arrive at this point you want to ensure that you are reaching out to the widest possible audience to find a buyer.  On CrowdMnA sellers can incentivise the 'crowd' to leverage the knowledge and contacts of thousands of business and technology executives to introduce potential buyers. The networking power of crowdsourcing ensures no stone is left unturned in finding a buyer for displaying ventures. Sellers can choose to incentivise the 'crowd' offering modest banking style payments for each introduction or a small percentage of proceeds of a successful sale.
You are very passionate about the UK tech scene, how does CrowdMnA help the tech ecosystem?
I recently sold my own technology business, so having operated in the tech sector for a number of years I am very aware of the challenges faced by entrepreneurs selling their ventures. In enabling the sale of early stage ventures that are not conventional, mature companies, CrowdMnA is adding liquidity to the whole development life cycle of technology businesses all the way back to early stage prototypes. This enables hard-working founders to realise funds from ventures, they might not have previously sold, to start new ventures or provide vital reinvestment back into the UK's technology sector.
Website: https://crowdmna.com
Contact: contact@crowdmna.com