The way people work has changed. The number of self-employed and freelance workers in the UK has increased from around 3.3 million in 2002, to over 5 million in 2018 and rising, leading to a larger proportion of Britain's workforce now operating from home or seeking out an office substitute than ever before. However, the existing co-working options bring with them their own pitfalls: too noisy and distracting or lacking in decent Wi-Fi and plug access. Meanwhile there are many beautiful restaurants which are very busy in the evening but quieter at lunch and not open at all for much of the rest of the day. This is what inspired Des Gunewardena, Chairman and CEO of luxury restaurant group, D&D London alongside entrepreneur Dominika Sadowska, to develop: The Workroom.
Launched as an app on 10 June 2019, initially in five of D&D London's locations including 100 Wardour St, Bluebird Chelsea & White City, Fiume and Radici, The Workroom is completely unique. Combining the very best aspects of a private members club, co-working space and restaurant, The Workroom is an easy and enjoyable freelance office solution for modern professionals. Empty bars become standing desks, unused booths become conference rooms, resulting in restaurants that are full throughout quieter times, where the space may not otherwise be fully utilised. Like other sharing economy business models, The Workroom serves as a platform connecting restaurants with the increasing numbers of freelancers and entrepreneurs.
The Workroom app allows users to select their location of choice and book a table with ease. This then serves as their office for the day, available as individual day passes or multiple bundles of passes to be used as and when required. Whilst a lot of freelancers already choose to work from a café or restaurant, it can often be awkward for both parties. The restaurant team resents the customer taking up a table for a prolonged period and not spending enough to warrant their stay, whilst the customer can feel on edge and distracted for the very same reason. The Workroom legitimises the trade off, leaving both customer and staff knowing exactly where they stand.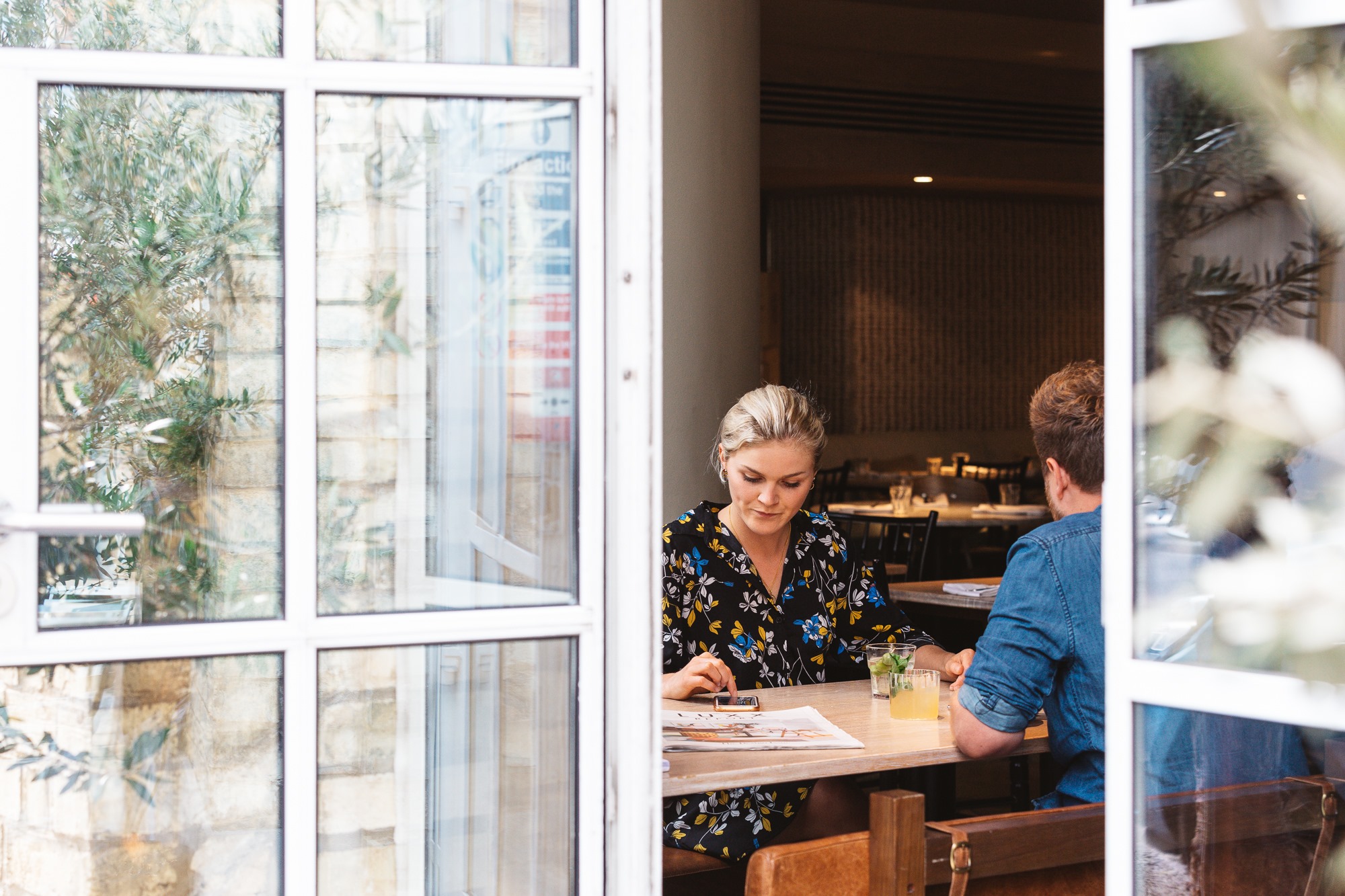 Each Workroom location has super-fast Wi-Fi and an abundance of plug sockets as standard, complimentary tea, coffee and water and a beautifully decorated and comfortable workspace. Also, as The Workroom is based in a number of established restaurants, the food available for a business breakfast or quick lunch is of a premium quality. Whether it's Smashed avocado, poached eggs and chilli on sourdough at Bluebird Chelsea or the Scottish crab and Amalfi lemon tagliolini at Fiume, guests are guaranteed a good lunch. There might even be some free samples and tasters on offer when the chefs in house are testing and developing dishes for their new menus.
Des Gunewardena, of D&D London and co-founder of The Workroom said, "There's been a big shift in the way Londoners operate day-to-day. I myself am hardly ever in our office and I've certainly noticed more people using our restaurant spaces to work in and while other operators are trying to combat that, we thought why not embrace it? Introducing The Workroom initially into five of our restaurants will hopefully make them busier during quieter times through the week and also bring in a new audience who may not have visited before."
Looking to the future, The Workroom has plans to expand across the Capital, branching out into other restaurants in addition to the original five.