Lauren Baker is a British contemporary multidisciplinary artist who exhibits internationally. Her work explores human connection, metaphysics and the expansiveness of the universe. Signature neon works portray the power of energy through her poetic typographic and celestial chakra artworks. Passionate about environmental issues and sustainability, the artist uses light to express the 'secrets of the universe' and aims to raise the vibration of love and connection within the world.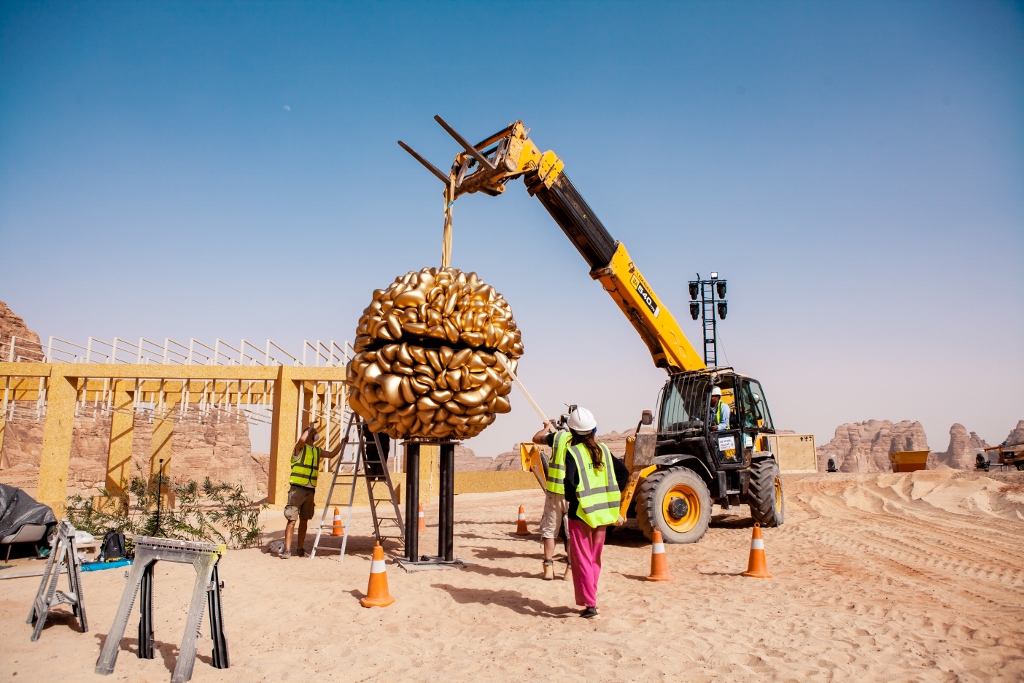 G: What did inspire you to become an artist? 
I was on a quest searching for the meaning of life, and it led me to art. Through my travels in South America, experiences with shamans in the Amazon Jungle, and just the simple profoundness you can find by simply being in nature… I found that art is medicine and I found true happiness in creativity.
G: What was your breakthrough moment and how long did you work for it? 
I always thought there would be one piece of artwork, or one collaboration, or one show that would be a turning point, however my journey feels like it was more an accumulation of consistent dedication to develop myself and my practice. There have been many moments, significant milestones, where I've been like OMG this is unreal…. like when I got commissioned to make a crystal grand piano with half a million crystals from a sheikh in Qatar which sold for £420k, (2015). I remember having hundreds (maybe thousands) of crystals sparkling all over my studio floor in the process! I had a team of 23, was juggling multiple projects and had two studios at that time – I hardly slept – I was grafting away. I tended to take a few months travel after big projects to recoup and stay inspired otherwise I'd burn out. Now, 9 years in to my art career I know the wisdom of having a more balanced (art)life! Other standout moments…. Being invited to create installations at the major museums (Tate modern, Tate Britain, V&A, and recently, Tate Exchange) – is always such an honour. And just last month, with thanks to MTArt Agency, I was commissioned to create two 4 metre sculptural installations inspired by the frequency of the sun and the moon, in a desert in the middle East within a Unesco protected world heritage site – once placed, I watched the sun rise and then set sparkling on my artworks, it was a full moon, with a back drop of megalithic rocks and it was beyond magical. In these moments, I'm so grateful for the years of dedication to my practice, and my ever-evolving journey.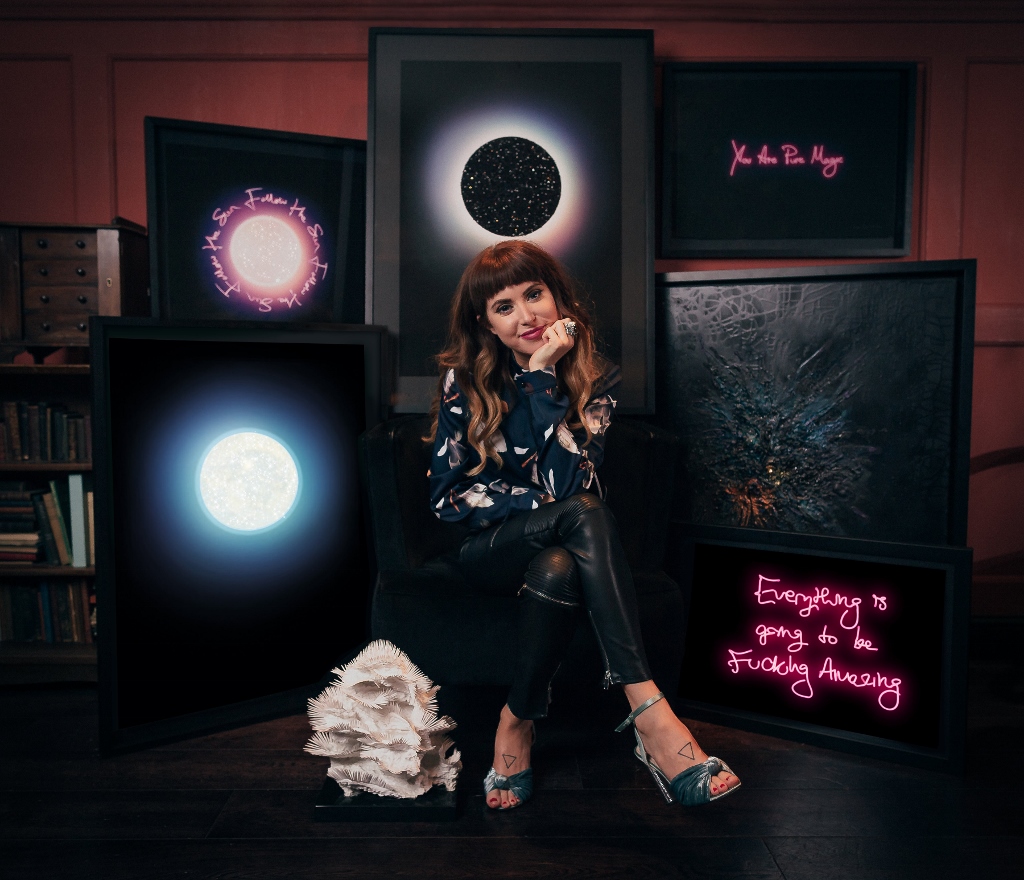 G: What you are working on right now?
I'm in my Hackney Wick Studio working on commissions and my new collection. It's an exciting time. Recently I've been focused on large scale environmental art activism installations – such as 'Letter To Mother Earth' at Tate Exchange and 'An Open Dialogue With Nature' at Saatchi Art's The Other Art Fair. I have a mission to plant 8888 Trees in the Amazon. I'm currently experimenting mixing new materials and am inspired by science and metaphysics – with a desire to interpret unseen energy.
G:  What kind of personal/professional habits do you think helped you on your creative journey?
As an artist it is your job to stay inspired! You need to know your own creativity triggers in order to tune into the frequency of your wildest dreams and to be fearless enough to believe in them vividly. I've found life coaches and mentors to encourage me to dream big and made me accountable to take inspired action.
I have morning rituals which create 'super human conditions' for a super charged powerful day. This involves waking up (late) and keeping my eyes closed until I recall my dreams. I make a hot water with apple cider vinegar, ginger and lemon drink, and do some short journaling in bed, a 7 min breathing meditation. Then if I want to get active for a creation  day, I'll make a bullet proof coffee (google it!) or if it's a softer day, an earl grey tea, then Im on the yoga matt for stretches, about 20 min of Kundalini yoga, and I finish with 100 sit ups and a head stand, cold shower and then my mind/body/spirit is ready for an epic day. BOOM!
It took me a long time to really get that the creative journey needs solid foundations and good organisation! My most useful apps/software are: Trello, Planoly, Xero, Emma, ArtLogic.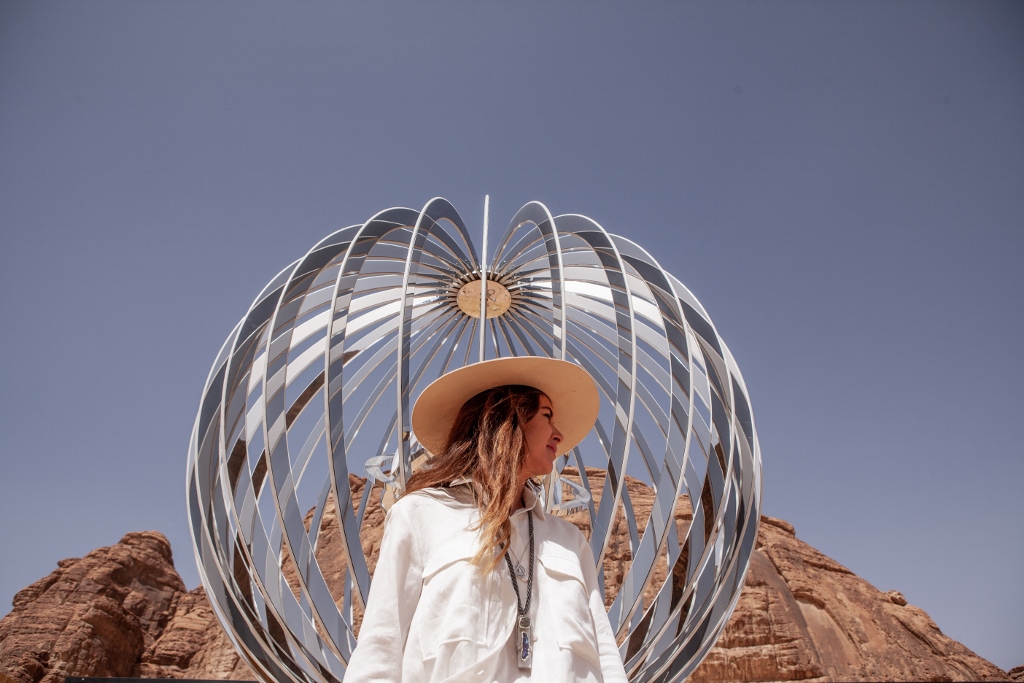 G: What's your advice for upcoming artists, how to spread the word about their projects?
When you meet new people, always have the intention to genuinely connect rather than 'schmooze' or 'network'.
Instagram is a powerful tool for visual artists. Tic Tok is going to be huge. Emerging artists should think about their key messages – what do you stand for, what is your mantra, what issues do you care about, what is the essence of your soul and your higher purpose in this world? Once you understand yourself and your true desires, it will become easier to communicate this passion.
I'd recommend these books to any budding creative:
The power of now – Ekart Tolle – living in present moment
Big magic – Elizabeth Gilbert – how ideas form and you have to create, or the idea will flat away and be taken by someone else
5 second rule – Mel Robbins -5,4,3,2,1 ACT
The Artists Way – Julia Cameron – Artist solo dates + morning journaling to brain dump and see the gems come out on page 3.
G: What do you consider your most important work so far and what projects did you enjoy the most so far?
I've recently been focused on environmental art activism installations – during 'Letter To Mother Earth' installation at Tate Exchange, I simultaneously launched my mission to plant 8888 Trees in the Amazon Jungle. I spoke an open apology to nature on behalf of the human race and translated the sound waves of my voice into visual light wave frequencies that I projected on to a l0 metre scroll on the walls and floor of the Tate. It was 8 years since I connected with the wisdom of the plants in the Amazon jungle, and for each seed that grows into a tree, more seeds scatter, so the infinity of 8888 felt right. Please reach out to plant with me!
Link: https://onetreeplanted.giv.sh/fundraisers/fnd_27a6bc257813a63e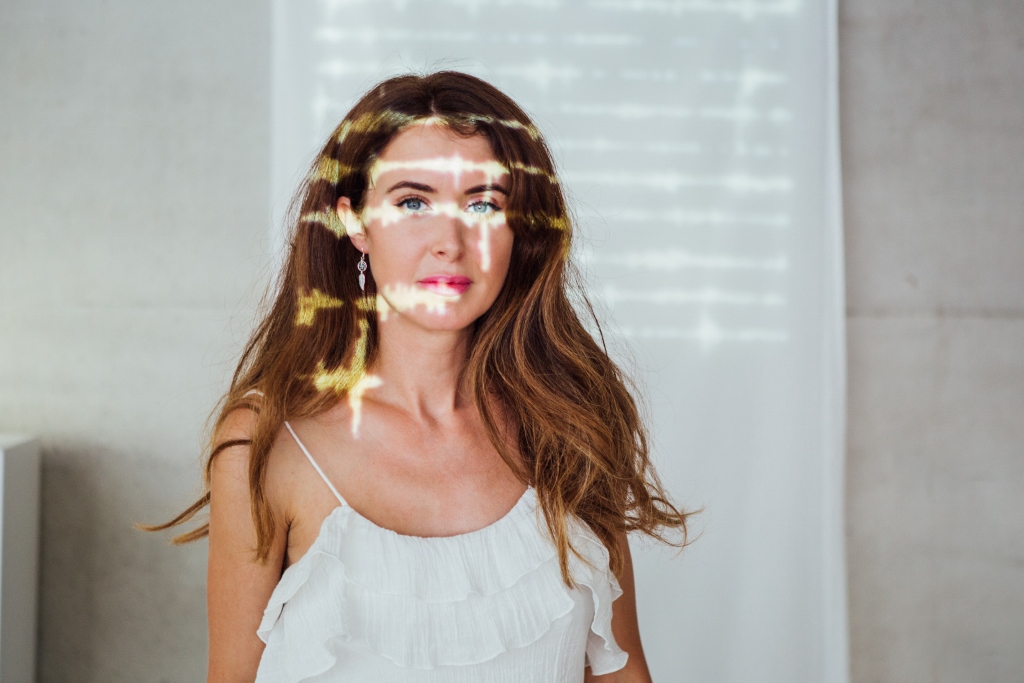 G: Who are favourite artists?
Anish Kapour for his large scale organic metallic sculptures, Roger Hiorns for his home grown crystal council house installation, Yayoi Kusama for her infinity rooms and yellow spotted pumkins.
G: There are so many art projects these days, how do you find your edge for the new projects? Where do you look for inspiration and how do you know when you find a good idea?
These days, I really tune into the projects I want to do. I don't say yes to everything.
Ideas often come from mixing two separate things to form a new dimension. Sometimes I contemplate on a topic or object or material and then apply my personal understanding of frequencies, consciousness and cosmic forces to take it in a new direction. I enjoy having my team to bounce ideas… it often start with me saying… 'Ooooh I've got a seed of an idea…' and then I launch into some free flowing ramblings and then I often go 'BOOM THAT'S IT…' and the idea falls out of my mouth as my mind is still processing it. I get really elated when its fast like this… im screaming YESSSSSSS to the team… that's how it usually happens HAHA.
Social links:
Instagram: @laurenbakerart
Facebook: laurenbakerart
Website: : www.laurenbakerart.com