Pasta and a fine wine go hand in hand. So well, in fact, that the two merged for the Bermondsey pasta hotspot, Flour & Grape. This independent and authentic corner Italian restaurant has carved out an excellent reputation for itself among the many pasta restaurants that pop up around London. The food here focusses on the two vital ingredients; the flour for the fresh pasta, rolled on site in the restaurant's version of its own small pastaficio, and the grapes for the extensive selection of handpicked Italian wines.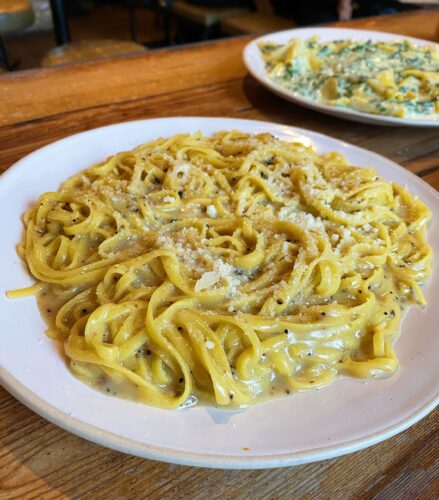 The décor is tasteful and rustic; a trattoria with a comfortable atmosphere and warm afterglow. Exposed brick walls, rustic mirroring and low-slung leather upholstery create an authentic Italian feel in this South East London setting. The menu is not huge; the idea is to share a few starters, followed by well-sized yet not overwhelming portions of pasta, to dabble in desserts, and to accompany each with the wine suggested on the menu. The fluffy caramelised onion bread, ready to be soaked in olive oil and balsamic, was itself worth a return journey. Eight pasta dishes are on the menu; the two vegetarian options – Fazzoletti with spinach, mascarpone and nutmeg, and Taglierini with preserve truffle and butter emulsion – were exceptional. Vegans are also catered for, with a Bucatini of tomato, confit garlic, black olive and basil proving equally popular with meat eaters. Flour and Grape also excels in filled pasta, with the Tortellini with roasted pork shoulder and sage butter sumptuous and flavoursome. Each plate is filled with perfectly aldente pasta, and an ideal helping of sauces.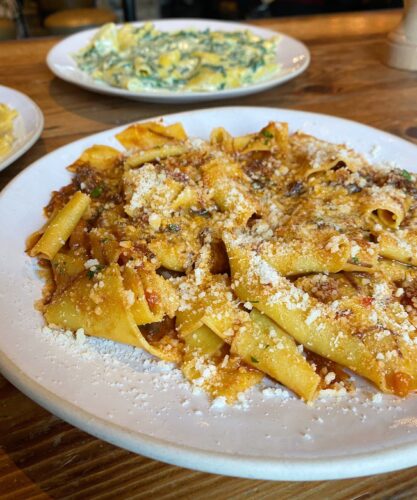 Emphasis is here not on just the fresh pasta and authentic ingredients, but also the fine wine accompaniments. Flour & Grape prides itself on affordable yet elegant Italian wines so each dish is accompanied by a suggested wine pairing.  The red Barolo which we tasted alongside the beef-short rib Pappardelle was excellent. A pastaficio by day, bar by night, Flour & Grape has recently expanded to include a casual yet intimate downstairs cocktail bar, featuring exposed brick and leather upholstered benches. Here at Two one Four, customers can spend an hour or so sipping on cocktails or G&Ts prior to being seated for their meal, or sample the non-alcoholic cocktail list.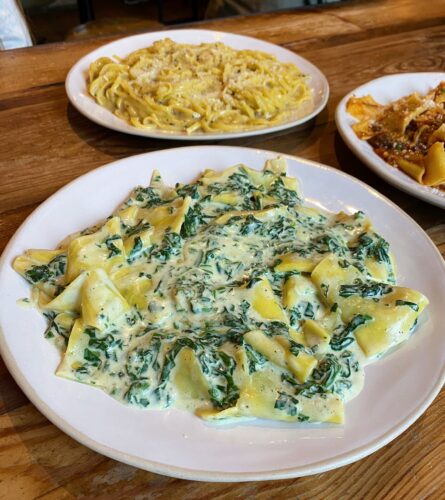 Indulgent, yet affordable, is not something that is often heard in London. However, Flour & Grape pride themselves on their ability to produce exceptionally high-quality food, at prices that are on the low side in comparison to many other London eateries. Experienced in the pasta scene, Flour & Grape has trialled and perfected their business model, so as to present their customers with the excellent value for money both in terms of food and service. In place of a generic booking system customers can either simply turn up or use the Walk Up app to join a remote and virtual queue. Keen also to encourage customers to support to the hospitality scene, Flour & Grape is continuing the Eat Out to Help Out scheme throughout October, with 25% off food for parties seated between 17.00 – 17.30 between Tuesday and Friday.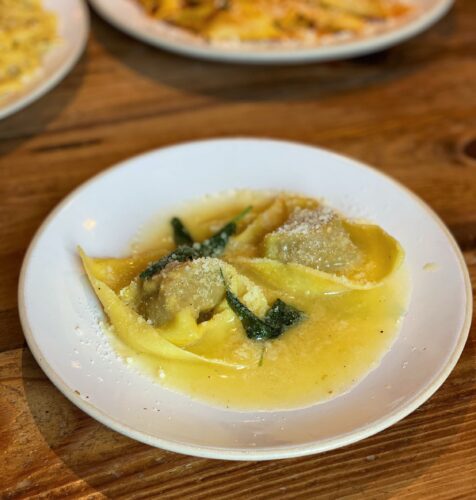 The restaurant has also adapted to the challenges posed by Coronavirus, ensuring that tables are well distanced and dividers in place. Seating has been reduced from 60 to 40. Founder Nick Crispini acknowledges the turbulent times, and issues surrounding trading over the past few months. However, as a business, he and the Flour & Grape team have worked hard to adapt – particularly through the introduction of the Flour & Grape Pasta At Home box. Delivery or pickup of a box of freshly rolled pasta is now readily available, featuring the restaurant's most iconic pasta dishes. Keen to perfect the at-home service, Nick illustrated how careful thought and detail has gone into ensuring the DIY pasta kit meets the same exceptional standards you will find when visiting the Flour & Grape premises.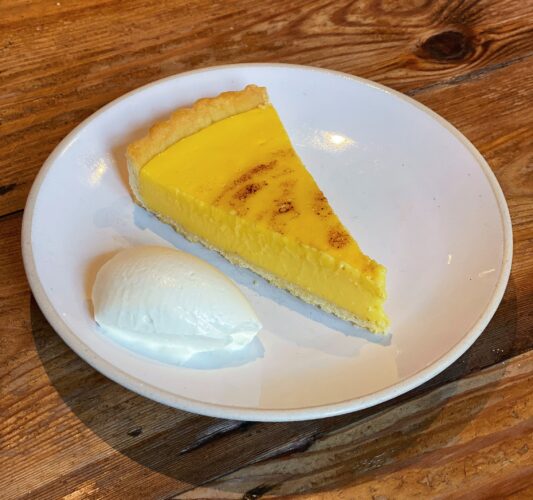 Good for – Fantastic pasta and selected wine in a cosy, lively ambience, finishing with a bill that leaves you pleasantly surprised.
Not so good for – if you're eating on a tight schedule, as reservations are not in use and seating not guaranteed.
Price – ££
Open Tuesday – Sunday 12-3pm & 5-10pm
Flour & Grape
214 Bermondsey Street
SE1 3TQ