The separation of refugee families is an all too familiar issue seen in many countries. The global pandemic has worsened conditions for displaced refugee youth while also overshadowing their hardships. With artistic direction from Amir Nizar Zuabi, "The Walk", a travelling festival, aims to address this ongoing refugee crisis and highlight the youth who are affected. At the heart of this travelling celebration is a 3.5-metre puppet of a nine-year-old Syrian refugee named Little Amal. In collaboration with Handspring Puppet Company, Good Chance, a humanitarian theatre company, has created Little Amal for an unprecedented public art project that will walk across the globe. Set to commence in July of 2021 and end in November, Little Amal will walk over 8,000 kilometres to find her mother. Starting in Gaziantep near the Turkey-Syria border, Little Amal will travel through Greece, Italy, Switzerland, Germany, Belgium, France, and the UK to reach the Manchester International Festival. On this valiant journey to find a better life, Little Amal will visit over 70 cities, towns, and villages where she will be welcomed with art, parades, music, and dance.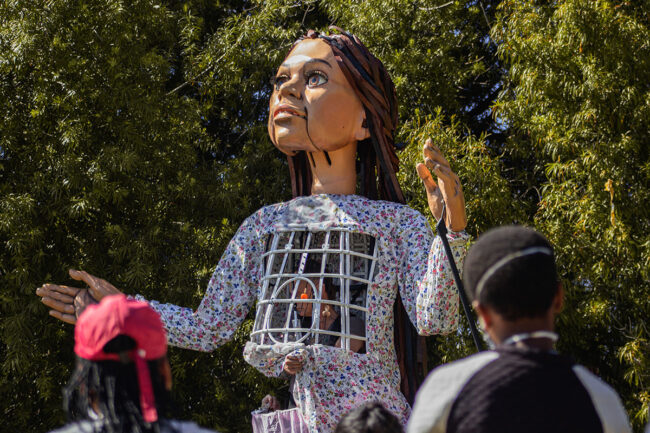 Little Amal was first created as a character in Good Chance's play, The Jungle. In the play, Little Amal represented the hundreds of children who were separated from their families in the Calais camp, a refugee and migrant camp where Good Chance built their first theatre. Good Chance is now taking her symbolism to a larger scale in order to draw the attention of a global audience. In order to make her outer stature reflect her inner force, Good Chance brought Handspring Artistic Director Adrian Kohler and Executive Producer Basil Jones out of retirement and on to the project. As award-winning puppet makers, Kohler and Jones took to the challenge with enthusiasm. Kohler and Jones used moulded cane for her body and carbon fibre for her head, hands, arms, and legs. Although these materials were the lightest and strongest they could work with to ensure that Little Amal could endure extended periods of walking in varying conditions, Kohler and Jones created two backup versions of her in case of any mishaps.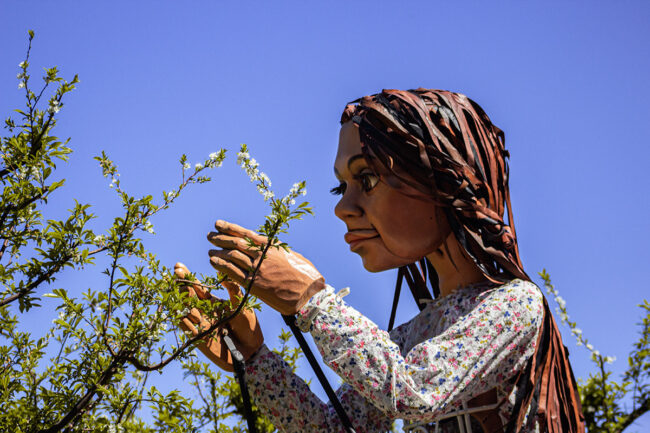 With one puppeteer on stilts controlling her legs,  two puppeteers controlling her arms, and another supporting her back while controlling her face, Little Amal makes synchronised life-like movements that will allow her to connect with the people she meets. Even without any vocals, her voice will be heard through her compassionate and spirited body language. Her universal language will help to rewrite the narrative that many refugees are seen through. Instead of being seen as a hopeless pitied "other", Little Amal will show the world a refugee story of hospitality, kindness, and bravery. Her journey will bring humanity to diverse communities and will be live-streamed, giving anyone in the world the chance to see her story unfold. Honouring the many who were silenced in efforts to find a better life, Little Amal's triumphant undertaking will hopefully inspire a wave of acceptance and empathy towards refugees around the world.