Imagined and created by multidisciplinary American artist Jessica Licciardello, 8 Minutes to Freedom is a body of work, constituted of paintings, music, and a film. The artist found inspiration in her personal experience dealing with domestic abuse. 
" I decided to leave an abusive relationship that I was in for a very long time. It had taken me a while to get to the point of making that decision, and when the opportunity presented itself, I was doing laundry in the basement of my apartment building, and there were eight minutes left on the drying cycle. I just saw that number eight, and I said to myself, that's it, I that's the amount of time I have to make this decision."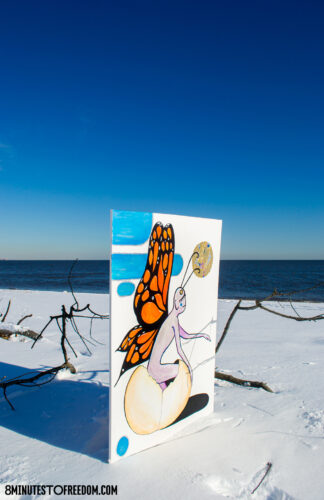 Exposed to art from a very young age, Artist Jessica Licciardello has been using her art as a sort of visual diary to express, describe, and communicate her emotions and to reach many people. She graduated from Marist College with a degree in studio art and art history and has been immersed in the world of art in various ways. 
One of her favorite quotes is "Creativity takes courage" by Henri Matisse, and it is something she strongly believes in. She wants everyone who lays their eyes or ears on 8 Minutes to Freedom to "enjoy the work, find peace, and courage within themselves." She hopes that they get inspired and motivated to take positive action and decisions for their lives.
Paintbrushes are not the only tools that she makes magic with. Jessica creates music, takes pictures, makes films, and is a graphic designer and creative director for Bella Mag in New York. We can see her work all over her websites (jldelloartwork.com; 8minutestofreedom.com) and on her Instagram (Jldello), where she is very active.